All updates featuring
Dina Ket
Slender teen Dina Ket is back for more metal bondage antics! She is so funny and flexible! I challenged her to a RigidSpreader escape, which is always fun to watch. Girls rolling around in this device really give you a good look at everything, while they are focusing on an impossible task. With this huge heavy steel collar on her neck, Dina looks amazing! She is definitely perfect for heavy steel bondage, being very light herself, which is a contrast I love. I think I'm going to keep her around to play with her some more! What would you do with Dina in this position?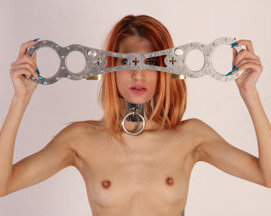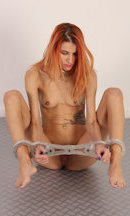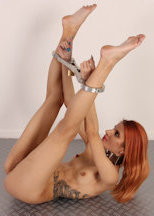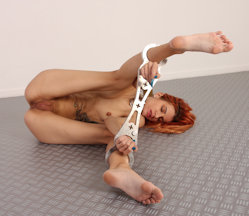 Remember curious teen Dina Ket? She always seems to get herself in trouble! The slender teen is not easily impressed though. Even with one hand locked in the Automatic Handjob Trainer and ballgagged, she is defiant and even gives me the finger. But the machine doesn't care. It will train her right arm to give nice handjobs, whether Dina wants to or not. I even add a little lube for smoother action! Dina will learn, she's still young!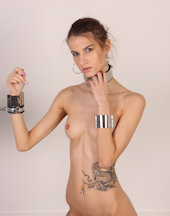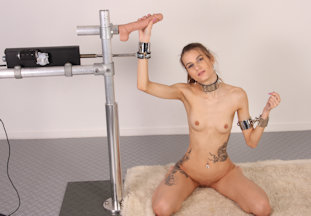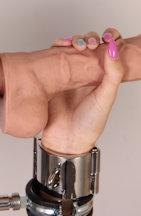 Dina Ket asked if she could see our studio. Of course! Anyone can come visit! Curious and excited, Dina was led into a room where she found a heavy chain bolted to the floor. A collar was locked to the other side of the chain with the largest padlock she had ever seen. She tried lifting the chain, but it was incredibly heavy. It is a fitness Power Chain, weighing in at a massive 12 kilograms (without the heavy padlock and collar). Tiny Dina only weighs 45 kilos herself! She shuddered at the thought of being locked into this extremely heavy setup. Obviously, that is exactly what happened to her. Suddenly, all of Dina's clothes were gone, and she was locked into the heavy collar attached to the 12 kilogram Power Chain! Oh no!!