All updates featuring
Padded Rattlefree Collar
Awesome tall teen Dina Ket returns for another chance to say 'I hate you, FoToRo'. She probably has every reason to say that, considering what I had in mind for her. Balancing in tall heels, Dina encounters a ceiling chain and an ass hook. She instantly gets the message and locks the hook to the chain. After inserting the hook (without any hesitation or problem!), I tighten the chain so the hook can't come out anymore. Dina is now completely stuck. She can't lift herself up, because of the heels. She can not remove the heels as that would suspend her on the ass hook, which is not a good idea. The key is too far away, and even though Dina is super flexible and she can bend over to reach the floor, the key is just out of her reach. I guess she will have to stay here for a while… hating me.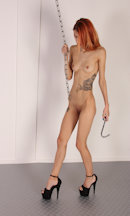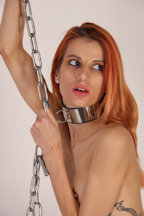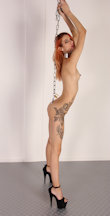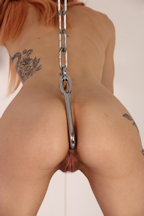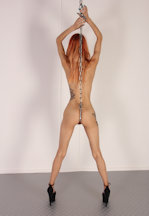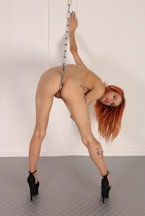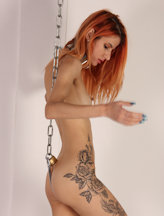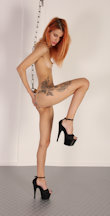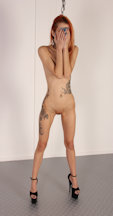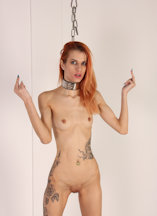 After her recent nipple clamps torture, I thought Lina wouldn't come back… but here she is again! Ready for more steel in this member request! Lina is tightly cuffed and her ankles are locked together as she waits for what's coming next. In her chastity belt, she tries walking around the frame, but with her feet locked together, she can only shuffle or hop. Soon, she finds herself locked in the frame, on full display, with her chastity belt removed. Her ankles, thighs, wrists, and upper arms are locked in place and she is gagged. Who wouldn't want a framed Lina Roselina in their house? It's a work of art!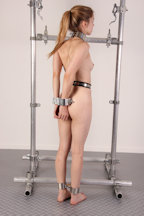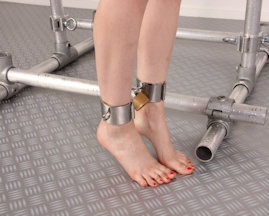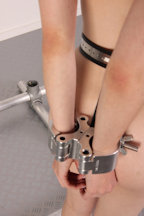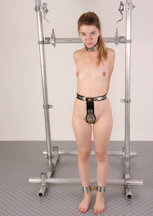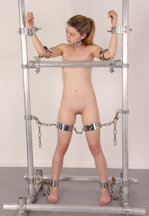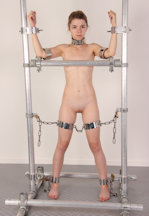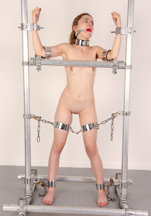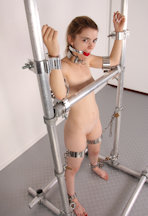 Who else thinks tiny Lina Roselina needs some more nipple clamps training? She is such a naughty girl! Time to teach her a lesson with the Nipple Clamps Training Machine. But this time, it is installed vertically. Lina is lying down, locked to a frame with heavy cuffs. She knows what is coming… and she knows she won't like it. Lina Roselina has very sensitive nipples! She moans and wriggles as the machine pulls relentlessly on her clover clamps. Faster and faster it goes! There's nothing she can do to stop this torture!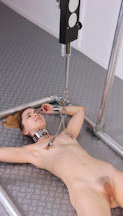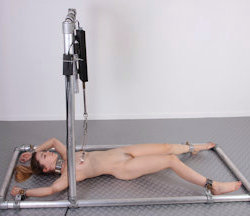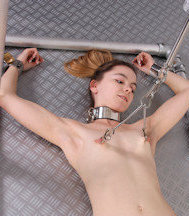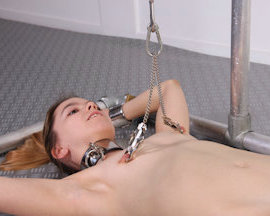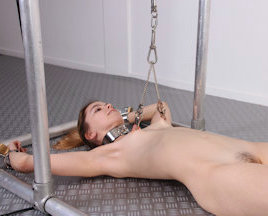 Remember curious teen Dina Ket? She always seems to get herself in trouble! The slender teen is not easily impressed though. Even with one hand locked in the Automatic Handjob Trainer and ballgagged, she is defiant and even gives me the finger. But the machine doesn't care. It will train her right arm to give nice handjobs, whether Dina wants to or not. I even add a little lube for smoother action! Dina will learn, she's still young!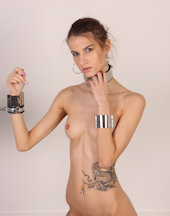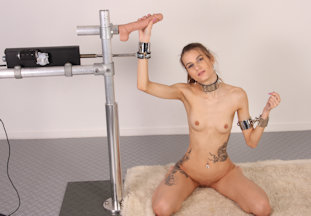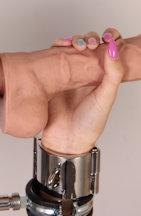 Tiny Lina is back! She is so much fun to work with, because she is small and light and flexible! It's fun to build things for her because she loves to try ANYthing. We made a frame for her to sit on, so her feet couldn't touch the floor. Her ankles were locked to the frame, so there was no escaping. We screwed her wrists to the wall with brackets, which was a bit scary for Lina but very exciting. Then we installed a magic wand to be exactly on her clit and turned it on. There was no way Lina could escape the vibrations, and soon she was lost in her own world. Yes, she really had an orgasm… or two… or three…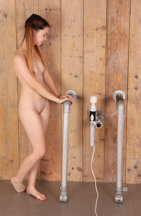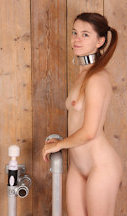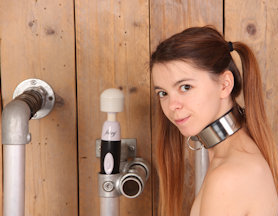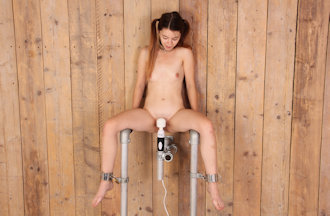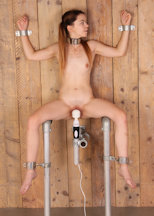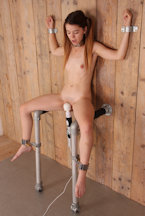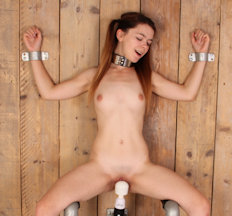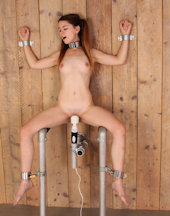 Tiny 19-year old Lina Roselina is very brave! This teen girl looks very innocent, but she does love some kinky things in her private life! We told her to clamp her nipples and labia, add a heavy ankle spreader bar, and then cuff herself with her hands overhead. We harness gagged her too! Lina was completely helpless, and she couldn't remove those evil pinching clover clamps anymore. She tried moving around, and even turning, but it only caused the clover clamps to swing violently, hurting her poor nipples and labia. Quite a predicament!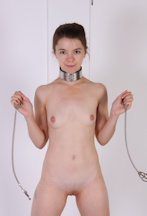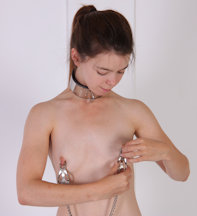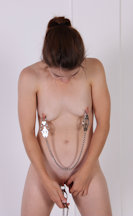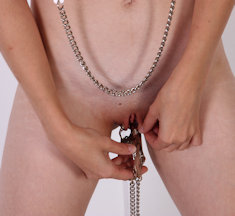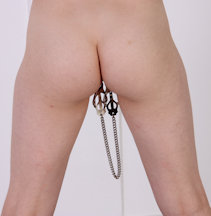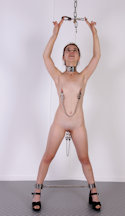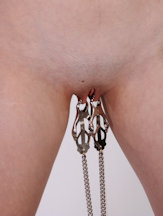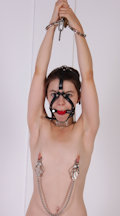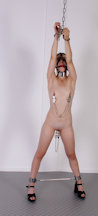 Tiny Polina is back! Remember this exceptional bondage talent? She needs more training though, today will be her first time trying clover clamps. And they suck, we all know that. Polina tried them and wanted to take them off straight away, the sting was a lot for her! We had to put some steel mitts on her to prevent her from removing the clamps. Polina tried, but without her finger she couldn't do anything about these evil clamps. Which gave us a great idea: what if we attached the clamps to a 2kg (4.4 pounds) weight? Polina would be stuck, without any bondage! Check out the amazing video, she really couldn't do anything about her predicament!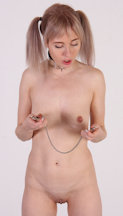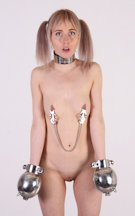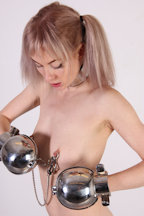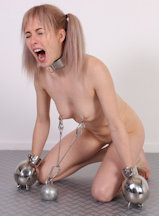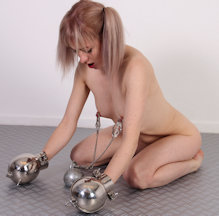 New gear time!! First of all, we are proud to present the Rattlefree Collar! It is an improvement on our standard Padded Collars. By using a big D-ring at the front and a double locking post at the back, there's no more rattling! In some situations, that is a good thing! But the biggest reveal today is definitely the Carrara Locking Mask! What a beautiful piece of gear, made by Carrara Designs! It is a fully adjustable mask, and it locks into place, so our poor test subject Melisa Mendini can't take it off. She can still talk though, she just can't eat (or do naughty things with her mouth). The mouth piece has a separate padlock so she can be fed without taking off the mask! And the chin rest can be raised by turning a screw, to close her mouth if we are tired of hearing her talk. Gorgeous girl in gorgeous gear! Don't miss the picture set and video!