All updates featuring
Hannah Claydon
She's back!! The tiny busty gorgeous lady is back and locked in a chastity belt! This super tight small chastity belt is custom made, and it is made of hardened steel, so it can not be cut off easily. If the key is lost, Hannah would be in serious trouble. And there is more trouble ahead, because she stumbled across our RigidStock TL XXL, three times as thick and heavy as a regular RigidStock TL! Will Hannah be able to handle this? We threw the keys on the floor to tease her, but she did not really seem to appreciate this joke….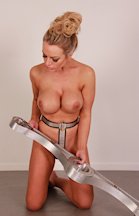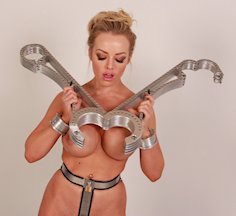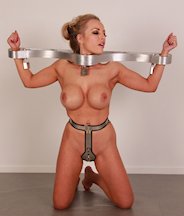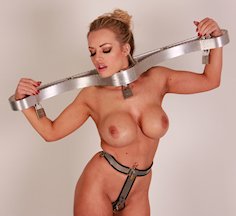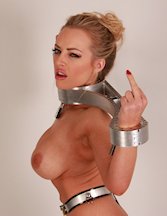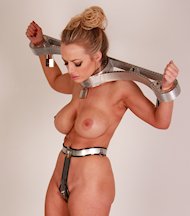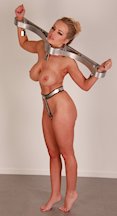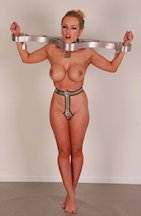 300 updates! We made it! Thanks to your loving support, we have locked hot girls in cold steel for almost 6 years now! To celebrate, we wanted to revisit the most popular update of the last months: Hannah Claydon Boob Cuffed. That wasn't so easy, because TV glamour star Hannah was a little shocked at having her boobs cuffed last time. She said she would never do this again. But we really wanted another boob cuff update, so we managed to convince her once again to come over. This time in a standing frame (like requested), with her boobs chained with heavy chains overhead, and her wrists cuffed behind. One slip in those high heels and she would be dangling by her boobs!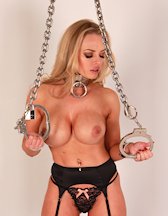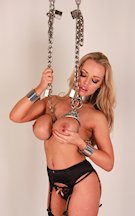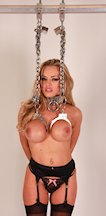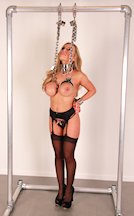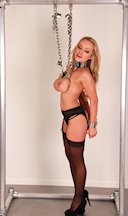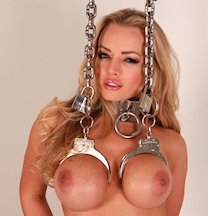 As I had the amazing Hannah Claydon in a chastity belt and collar for 24 hours anyway, why not play with her a little bit!? I mean, what's the harm? Unlike most models, Hannah actually has 8 attachment points instead of 6. Yes, work that one out in your head… ;-)
A pair of neck cuffs are such a perfect fit for Hannah's boobs, it just has to be seen to be believed! Yes, she is really cuffed to an overhead frame by her boobs! I restrained her wrists to spread her arms out, and a chain across her lap, to prevent her from standing up. But all this wasn't really necessary, as I found out later in the shoot. Even with all other restraints removed, Hannah could still not escape from the frame. Cuffed only by her boobs, she was completely stuck until someone with a handcuff key would help her. Watch her get frustrated by the idea that her boobs can keep her from going anywhere!