All updates featuring
Boob Cuffs
Denise! The young submissive wants to be owned 24/7, and she loves a good challenge! I think I might take her as my sub, she is just so perfect! Huge boobs that can be cuffed, very obedient, flexible, and so cute! Denise is boob cuffed, wearing a huge heavy collar, and her arms are pulled in a strappado. She is gagged with a 2″ ballgag, and I start tightening her boob cuffs. Click… click… so tight! Then I clamp her nipples, and hang two big padlocks on the nipple clamp chain. Denise starts drooling and moaning… what a challenge! She loved it!!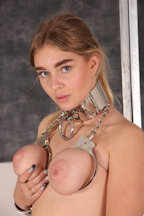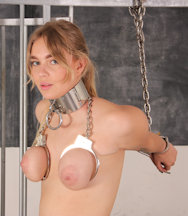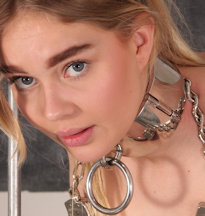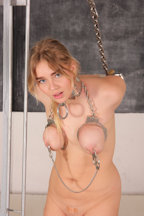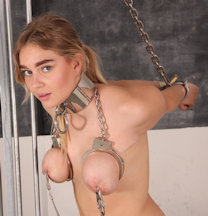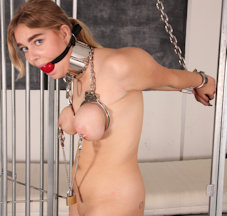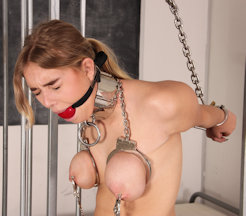 Thiccy Niccy is back for a new predicament! She is wearing the tallest heels in our studio, and her breasts are cuffed tightly. I chained those locked tits to the ceiling and cuffed her hands behind her. Now Niccy was balancing precariously on her high heels, if she would lose her balance it would be very painful. To make things worse, her pierced nipples got clamped with mean clover clamps, which didn't help her concentration. Niccy is a perfect sub, cuffable boobs, always in for a challenge, and very obedient! I just love playing with her!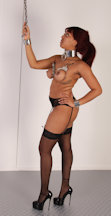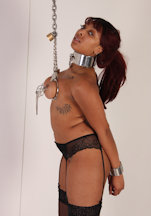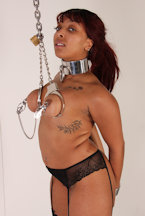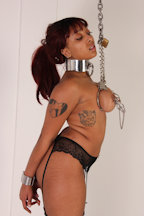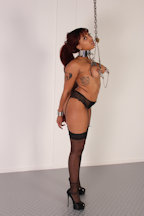 Our pretty slave girl Ariel is back for more metal bondage training! She loves pet training, and we have all of the equipment for her! A dog cage, collar, leash, and even a dog bone harness gag! Of course, Ariel's large boobs need to be locked in boob cuffs, we looped the chain behind her neck so she has some support. Pet training with Ariel is a lot of fun, she knows a few positions already and she is very playful. We think we should keep her!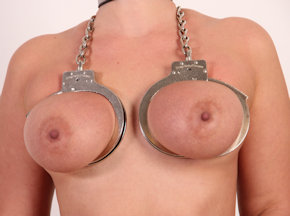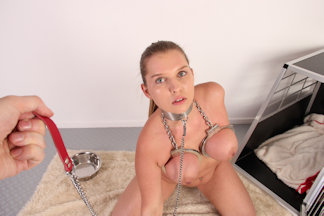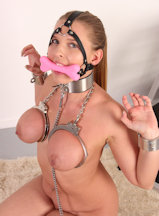 We gave new girl Clara three neck cuffs. She was a little confused, as she only has 1 neck, but she soon worked out where the other two should go. They were attached to the wall by a chain, so she would be stuck by only her boobs for this afternoon. It can be quite frustrating having big boobs that can be cuffed. Models sometimes feel it is not fair they get some challenges that other models can't do. Clara has always been happy with her big breasts, but not today, she would need a key to be released, where other models would just have walked away. Life is not fair!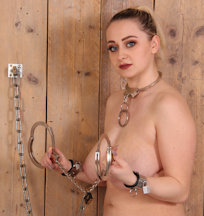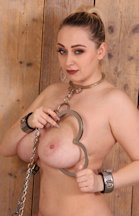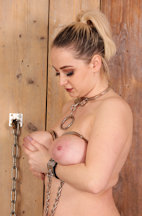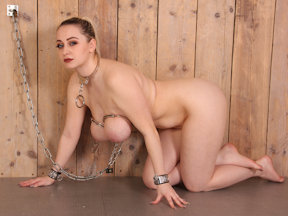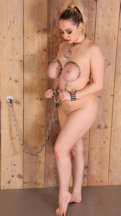 We found a new model with a perfect body for metal bondage! Arabella is a stunning red head diva, with some very unique bondage skills. Her small waist, super flexible arms, and her ability to open her mouth really wide are surely going to be a lot of fun for tight belts, extreme elbow bondage, and huge gags. But her most fun feature are her natural boobs that can be cuffed and locked! Arabella did not expect her boobs to be cuffed in this update. In fact, she did not know what to expect at all. But with her boobs chained to an overhead frame, balancing precariously in her super high heels, Arabella must have been wondering what she had gotten herself into!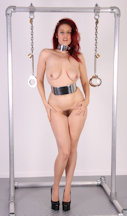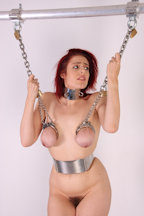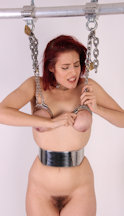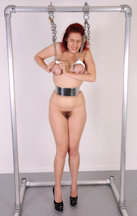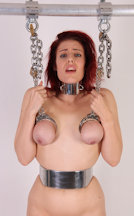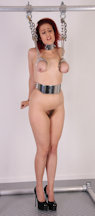 Surely 2 boobs cuffs will fit on each of Katarina's huge natural boobs? We cuffed her boobs with 1 cuff each before, but two makes it more secure. Katerina in a chastity belt, boob cuffed, wearing a heavy collar, that's something you don't want to miss. To make this a bit harder for her, we cuffed her left wrist to her right boob and her right wrist to her left boob! Behind her back! With double handcuffs of course. Then we gave her the key and watched her struggle, those giant natural breasts swinging as she tried to reach the keyholes. We love Katerina. She should be in bondage permanently. Especially her boobs. Did we mention boobs?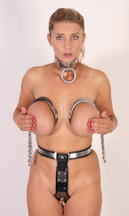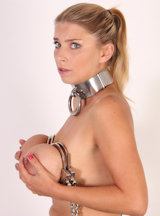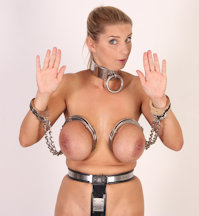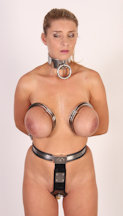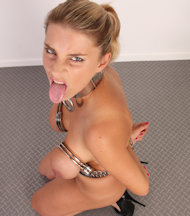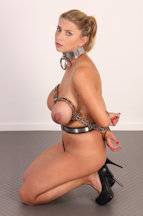 You have probably seen the ongoing Chastity Deal with Stella Cox over at www.chastitybabes.com. She is locked in custom made boob cuffs! And a chastity belt of course. Perfect opportunity to show you how submissive Stella actually is. Here she is displayed as a metal bondage pet, collared, boob cuffed, belted, and caged. She is also wearing a fox tail butt plug! Steel mitts are added so she can't pry at her belt, take out her buttplug or play with her boobs. Yes, this is all very necessary, because Stella looks cute, but she really can't stop masturbating. It's true, google it :) She's been told that if she behaves like a good pet slave, those clunky mitts might come off. Maybe…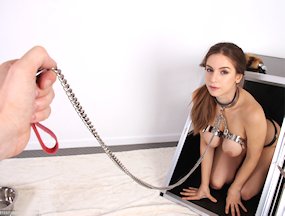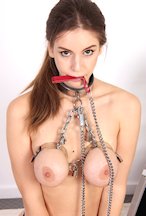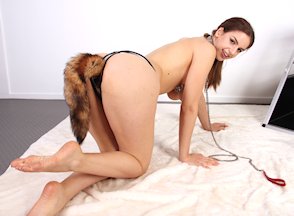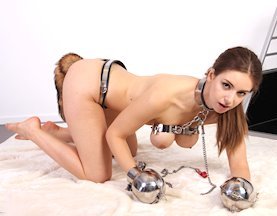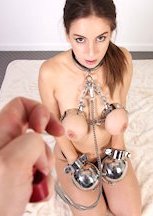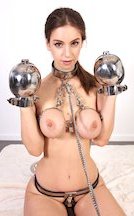 We got her! The famous funny sexy girl with the huge natural boobs: Katerina Hartlova! Of course, we had to cuff her famous boobs right away! Two big neck cuffs fit her perfectly, and there was no chance she could get those off without the key. We used the frame setup that was so much fun before with Hannah Claydon, but even better this time. Katerina was stuck, her wrist cuffed low so she couldn't stand up, held up by her boob chains. She is a wild one though, so it takes a lot of metal to keep her in place. Watch the video to see what happened, it's pretty funny!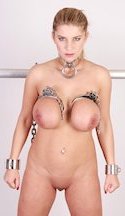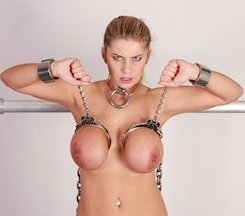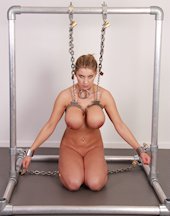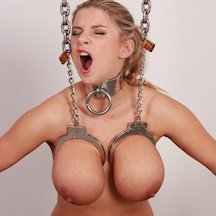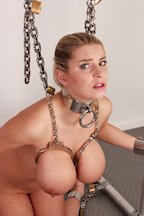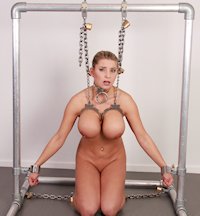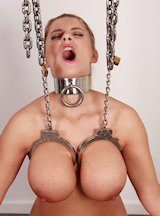 Stella Cox is back for more! And we have more! Some new items for this perfect bondage pet girl today, like a brand new gag with silver strap, a pair of cuffs on her boobs, and an ass hook that is locked to her large steel collar! We love playing with Stella, she is a true submissive, and anything goes! She absolutely loves to squirm around in the tightest bondage and the craziest gear, she is super flexible, cute, and her natural boobs are perfect for bondage! Definitely one of our best models, and she is in an interesting predicament today! Drooling, painful nipples, and a straight posture! Watch her struggle!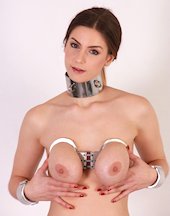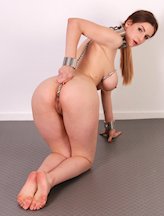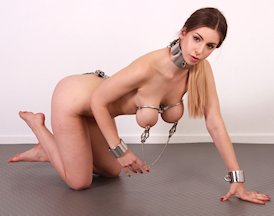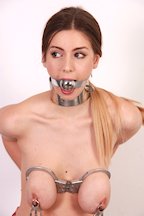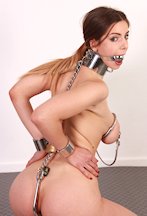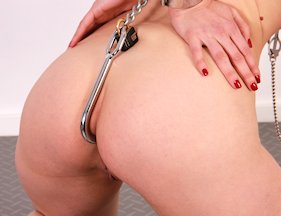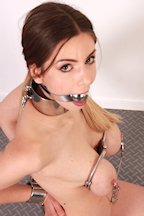 Jasmine James is back and she is more fiery than ever!! Her bright red hair, lips, and corset are awesome! We wasted no time locking her into a RigidStock, and then we had this great idea of cuffing her boobs to the stocks with very heavy chains! Lots of fun, although we had to gag Jasmine for this, because she did not like this situation at all! The evil part was throwing her the key, because if she wanted to try escaping the stocks, she had to move one arm up or down, making the other arm pull her boob cuff. Lots of moaning, drooling, and sweating, Jasmine was furious! She almost got the key in the lock, so we took it from her. Sorry Jasmine!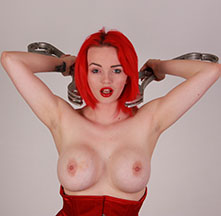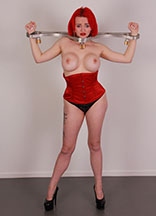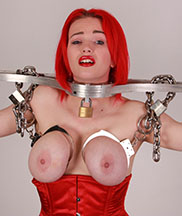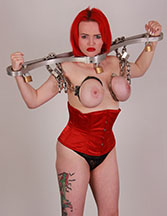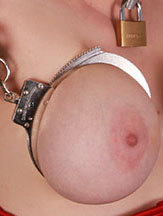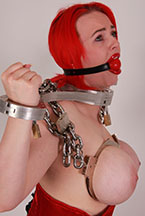 'What are these for?', new girl Dani asked, fingering a pair of dangling cuffs. We told her it would be a surprise, revealed after her wrists and ankles would be chained to the metal frame. Locked in heavy metal cuffs on her neck, wrists, and ankles, as well as a tight chastity belt, Dani didn't feel at ease. She doesn't really like surprises. When we cuffed her boobs very tightly, all she would say is 'let me out!'. So after a while, we let her out. Her wrists and ankles that is… but we (kind of) forgot to take of the boob cuffs. Interesting!!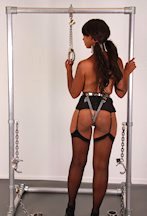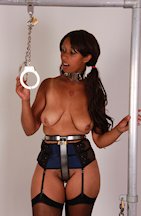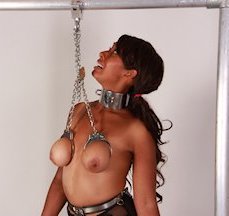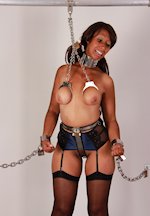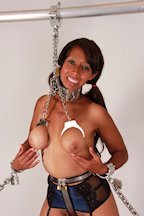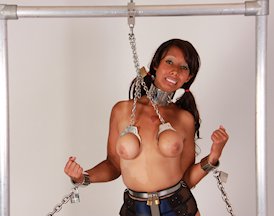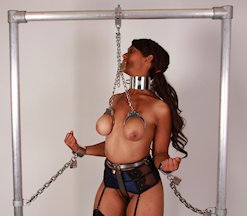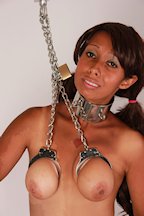 300 updates! We made it! Thanks to your loving support, we have locked hot girls in cold steel for almost 6 years now! To celebrate, we wanted to revisit the most popular update of the last months: Hannah Claydon Boob Cuffed. That wasn't so easy, because TV glamour star Hannah was a little shocked at having her boobs cuffed last time. She said she would never do this again. But we really wanted another boob cuff update, so we managed to convince her once again to come over. This time in a standing frame (like requested), with her boobs chained with heavy chains overhead, and her wrists cuffed behind. One slip in those high heels and she would be dangling by her boobs!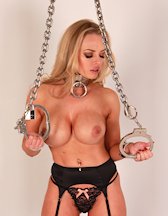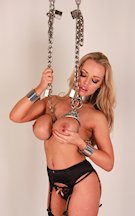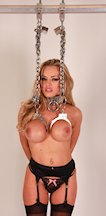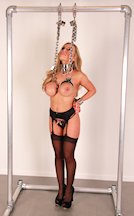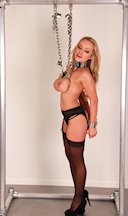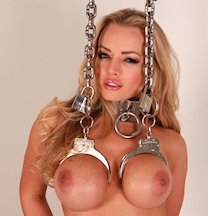 As I had the amazing Hannah Claydon in a chastity belt and collar for 24 hours anyway, why not play with her a little bit!? I mean, what's the harm? Unlike most models, Hannah actually has 8 attachment points instead of 6. Yes, work that one out in your head… ;-)
A pair of neck cuffs are such a perfect fit for Hannah's boobs, it just has to be seen to be believed! Yes, she is really cuffed to an overhead frame by her boobs! I restrained her wrists to spread her arms out, and a chain across her lap, to prevent her from standing up. But all this wasn't really necessary, as I found out later in the shoot. Even with all other restraints removed, Hannah could still not escape from the frame. Cuffed only by her boobs, she was completely stuck until someone with a handcuff key would help her. Watch her get frustrated by the idea that her boobs can keep her from going anywhere!