All updates featuring
Fucking machine
The frame is back! This heavy steel frame locks a girl on all fours, securing the wrists, ankles, and neck. The stomach bar makes sure she can't move at all. Latex Rapture really wanted to try this position, including a fucking machine! Lots of fun of course, controlled orgasms are the best! There was absolutely nothing she could do, locked in cold steel, as the machine kept going and going! Latex Rapture already wrote me she wants to come back for more. Much more!!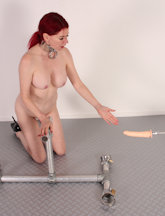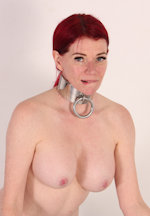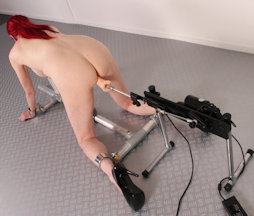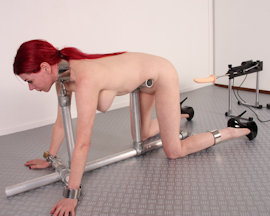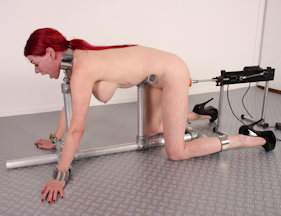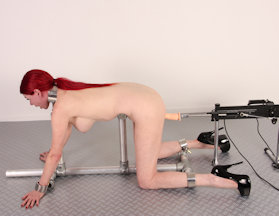 This new girl Medusa is amazing! She's up for anything, she said. Well, that was great timing because I just designed a frame for my fucking machine she was going to have to test! Locking her wrists and ankles to the sides, the frame put Medusa in the perfect position for the fucking machine. She really liked it, judging by the sound of her moans. But it got really interesting when I locked her collar to the frame, now putting her in a head-down ass-up position. I turned up the speed and just watched! Great show! I need to get Medusa back for some more tests!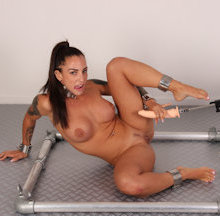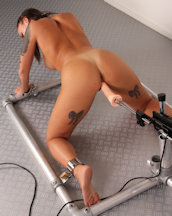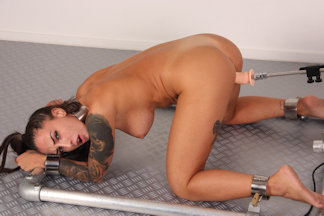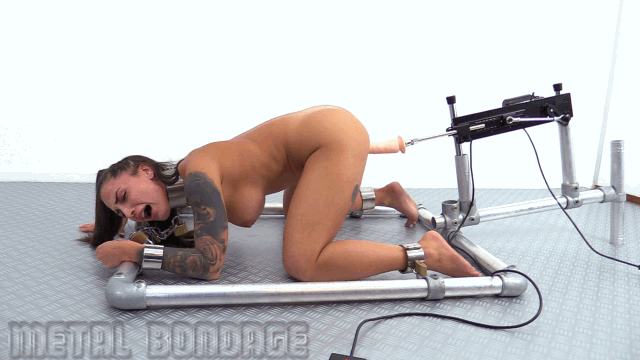 What if a One Bar Prison could move up and down? I just had to try it! Combining the One Bar Prison with a Fucking Machine makes a very fun challenge for new girl Nina Grace. She is standing in extreme Pleaser Domina heels, so she can't lift herself up, she is already on her toes. The dildo can move freely inside her, up and down, but it is still holding Nina in place. This turned out to be a rather difficult situation for her, as she got more and more aroused, but she still needed to focus on standing straight. Don't try this at home!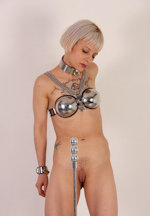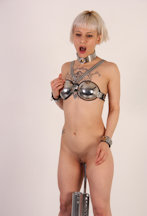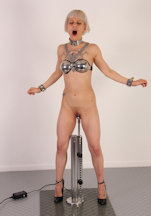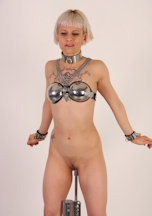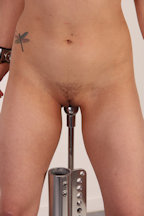 We haven't done many updates with our fucking machine yet! Time to get cute young Ariel on all fours, lock her down to a metal frame and let the machine run for a while! Ariel was excited but also a bit scared by the fact that she wouldn't be able to control anything. It took her a little time to get into it, but once the machine was running at a nice steady speed, she seemed to enjoy her predicament a lot! She started moaning so we gagged her! A very intense session for Ariel!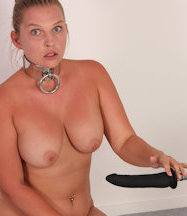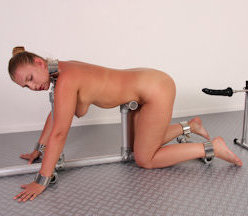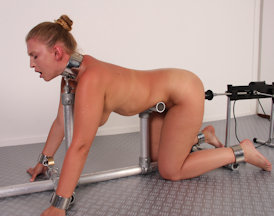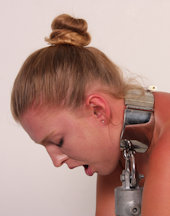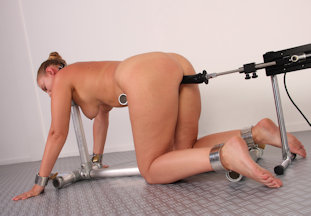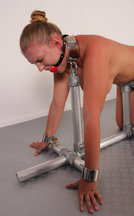 A new challenge for Darina: we told her to sit on the steel pipes, so we could attach her ankle cuffs to them. She was sitting there with her legs spread when we gave her the control box to the fucking machine. Darina smiled, she loves this machine! We let her play for a while, but she had way too much fun, so we decided to cuff her wrists to the wall, so we could operate the controls. Much more fun!!! Darina went for a ride, and she loved it!! Don't miss this awesome update!