All updates featuring
One Bar Prison – Metal Horse
Slave girl Moni came to my studio to have a go on the Spring Loaded Deepthroat Trainer! She a very tiny girl, so she had a lot of trouble pulling the springs back. It was very intense to see her battle against the predicament. Moni was slowly getting tired, giving her less and less time to breathe. This cute girl was not giving up though, she is a trooper! Moni can definitely handle a lot, she is great! Plus, she is locked in a chastity belt pretty much 24/7, which is always a plus!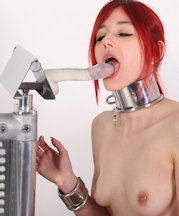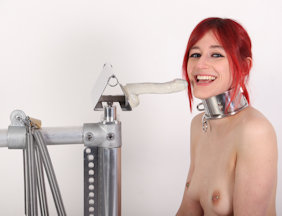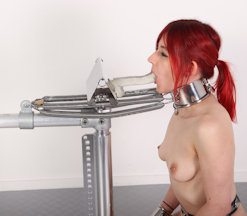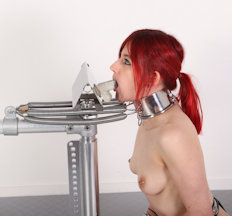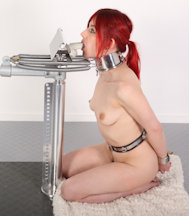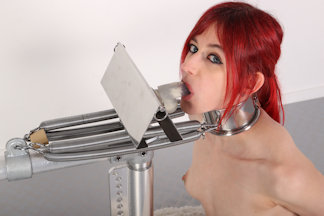 Alexis Luna is a very strong girl, but can she keep up the fight against the Deepthroat Trainer? She can probably last longer than most models, but eventually her strength will be depleted and she will be in a real predicament. Alexis had a good start, but after I adjusted the springs to pull even more on her collar, her deepthroat time really started to increase. Her relief time was getting less and less as she grew more tired, until I had to rescue her at the end. Beautiful powerful attempt on this contraption, with lots of drool and struggling!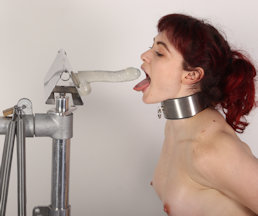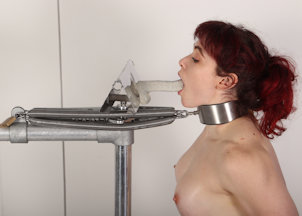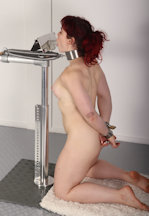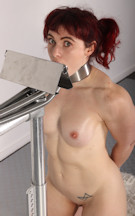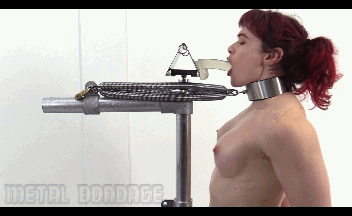 Cute 19-year old Denise wants to do every submissive training I can think of, so she can become a good slave girl, she says. Well, I guess that means she has to go on the Deepthroat Trainer! It looks easy at first, and Denise is very well trained in blowjobs, but 4 strong springs pull her back every time she tries to fight for breath. After a minute or two, Denise is already exhausted, and she gets pulled back all the way again and again. Her makeup starts to run, and her power is slowly fading away. It's a beautiful fight, but Denise was losing. I had to rescue her in the end!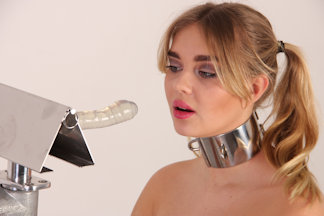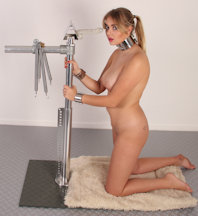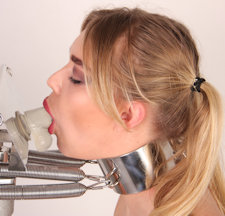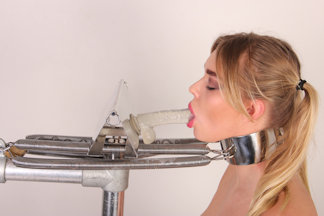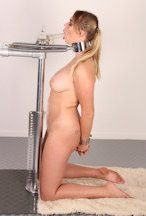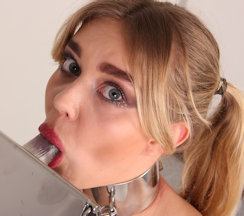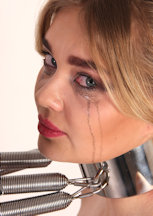 May 29, 2022 ---- picture set and video clip
A bigger dildo, a smaller girl, and a brand new battle! Sweetie Plum takes on the Spring Loaded Blowjob Trainer today, and it is an epic fight. At first, she is strong enough to pull back all the way, giving her a chance to swallow and breathe. But then her hands are locked behind her back and the spring attachment point is moved back. Now Sweetie is in trouble. As she gets more and more tired, she can't pull back so hard anymore and the dildo shoves deep into her throat every time she lets go. At the end, I saved her when she lost the battle and got stuck. Poor Sweetie!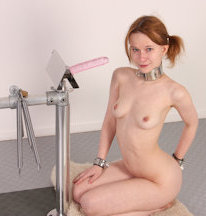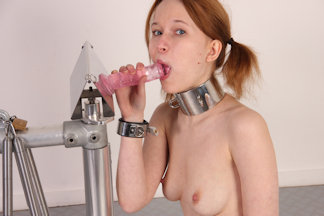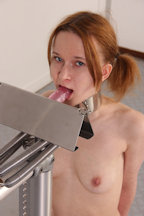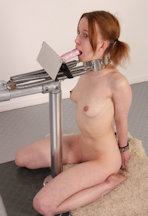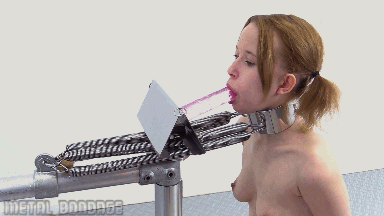 Vina!! She is back and ready to battle the Spring Loaded Blowjob Trainer! Vina might look like a cute girl next door, but she is super kinky and she loves a good challenge. Well, this is a very interesting one: she will have to battle 4 strong springs pulling her back onto the dildo. At first, she manages to pull back for longer times, giving her time to breathe and swallow. But as she gets more and more tired, the dildo is going deeper and longer into her throat each time. It's a beautiful struggle to watch this awesome girl fight with this device!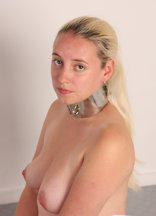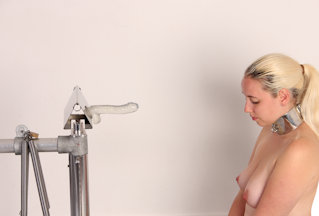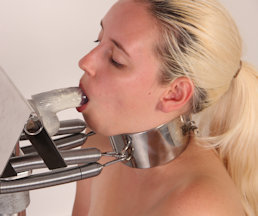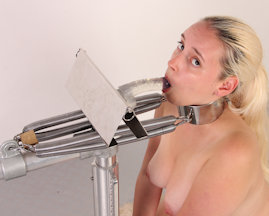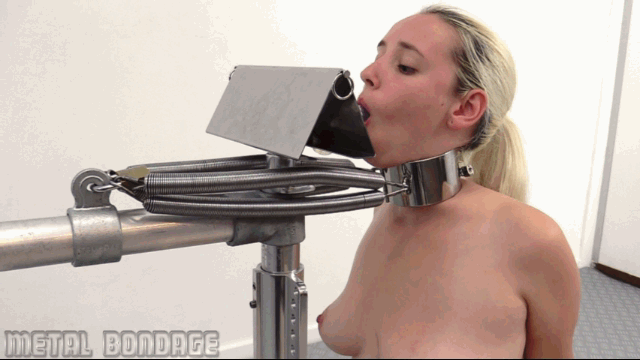 April 11, 2021 ---- picture set and video clip
Sweet little Cherry English is back again! What better way to welcome her back than putting her in a very challenging predicament? The dreaded spring loaded deepthroat predicament seems like a perfect training tool for submissive Cherry. She is very good at deepthroat, but usually she is in control. Now she is fighting the springs that pull her collar back with quite some force. She has to work very hard to pull back from the deepthroat position. Eventually she will tire out and she will be stuck with the dildo deep in her throat. It was a beautiful fight, with lots of drool and tears! Don't miss this update!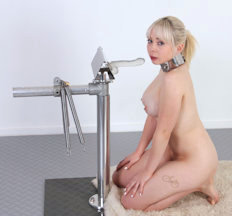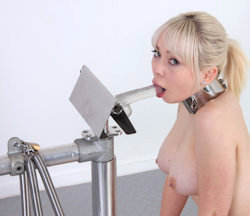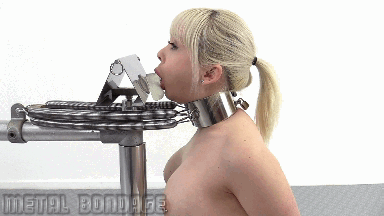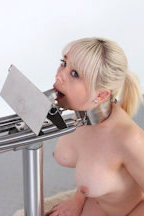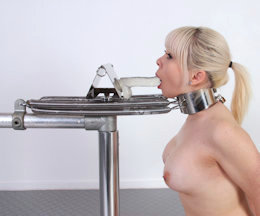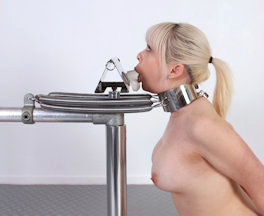 New girl Jessy Joy wanted to take the Spring Loaded Deepthroat Challenge, even though she was heavily pregnant! She's an expert blowjob submissive, she told us. And she really got very excited by our previous Spring Loaded Blowjob Trainer updates with Stella Cox and Liz Rainbow. Well, of course we let her have a go! The high tension springs attached to her collar pull her back deep onto the dildo, so Jessy had to work hard to get some air. Eventually, she tired out and she was stuck in a deep throat position. Don't worry, we rescued her! Great effort by this new girl!!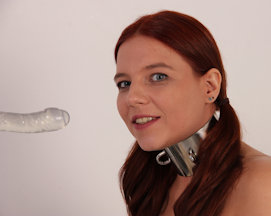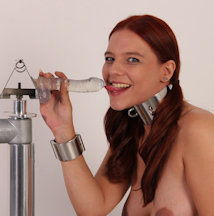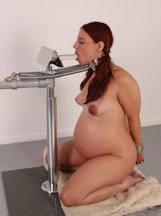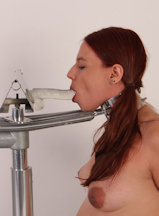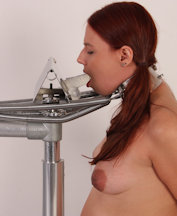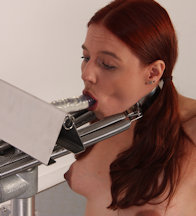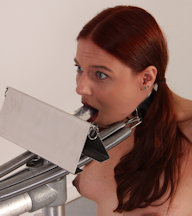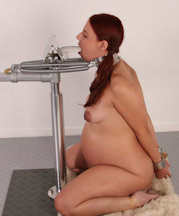 The second girl ever to try our deep throat spring loaded predicament is Liz Rainbow! She can deep throat, we know that (google her), but can she manage herself on this device? The springs pull her back by her collar, making the deep throat position the 'default'. She needs to work to pull back, and she gets more and more tired as she does. Lots of drool of course, because Liz is a deep throat queen! She worked so hard, but in the end we needed to save her and free her from the device…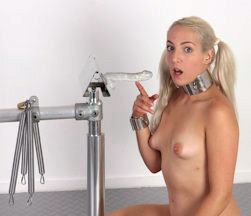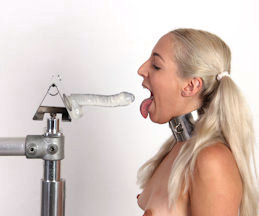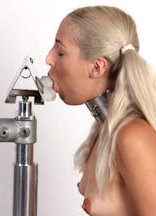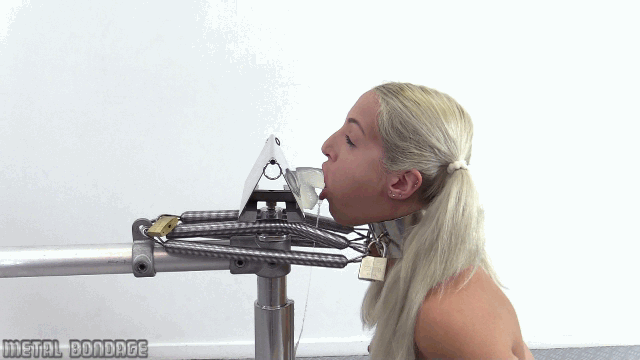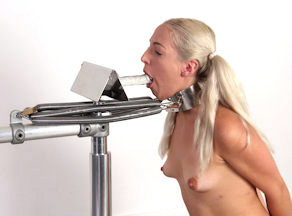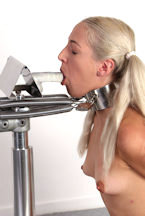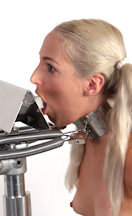 Stella Cox! She is a submissive AND a deep throat queen. Sounds like the perfect girl to us, let's test her skills with our latest invention: the spring loaded deep throat predicament contraption! Four high tension springs are locked to Stella's collar, so that her RESTING position is when she deep throats the mounted dildo. If she wants a break, she needs to pull back hard on the springs. But the springs pull her back of course, resulting in a beautiful deep throat struggle. Don't worry, Stella is a professional, she can handle it. ALthough even for her, this was quite a challenge!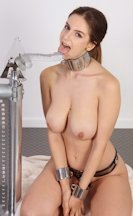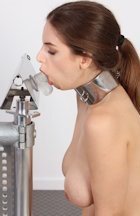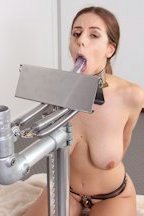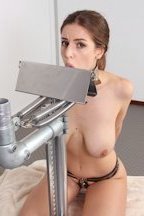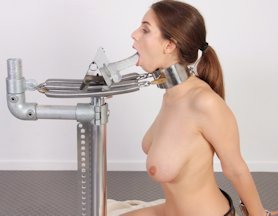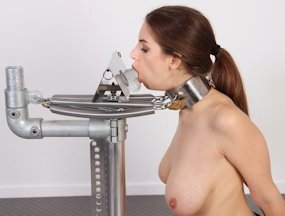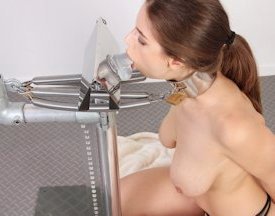 Very awkward! That's how Melissa would describe this predicament after today's shoot. And she is probably right. She stands in her heels with her legs cuffed to the sides of the One Bar Prison with the Metal Horse attachment. She can't move at all! Although she can turn a little from side to side, she can't lift her pussy off the awkward metal triangle. Melissa felt like she was on display! We added the RigidStocks, even though that's not really necessary, but Melissa looks awesome in stocks (we know this from previous updates). We love creating nice metal statues from gorgeous and famous glamour girls. This is a work of art! So beautiful! Melissa wasn't nearly as impressed as we were…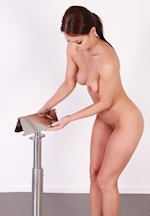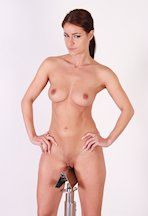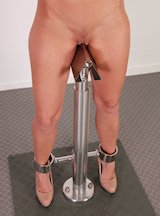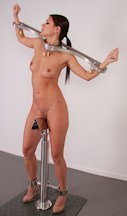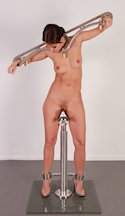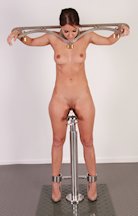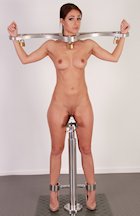 A new attachment for the One Bar Prison! The Metal Horse will keep a girl on her toes! Who better to test this with than the fittest MetalBondage babe of all: Misha! This girl has got muscles, let's hope her calf muscles are strong, because she is going to need them if she wants to avoid the metal triangle to split her in two! Well, it's not that bad, but it's not comfortable either. We lock her ankles to the One Bar Prison, so she can't step off the Metal Horse, and then we raise the device so Misha is on her toes. Perfect! Misha's legs will tire soon so she will have to rest on the triangle. Medieval torture methods often were as evil as they were genius. They used wood, we use metal!