All updates featuring
Tracy
Chastity belts are so great for training! It isn't really bondage, but since we hold the keys, we can still make the girls do anything we want. Tracy and Nicole were in the belts for a few hours already (we did this first), and they REALLY didn't want to go to the toilet in their belts. So we told them they would stay locked in the chastity belts until they tried nipple clamps to our satisfaction. Now remember, these girls had never seen nipple clamps before, let alone tried them, and these Japanese clover clamps have the nastiest pinch of them all! It was just a matter of how badly they wanted out of their belts… Even though they both have very sensitive nipples, they were real troopers! Anything to get out of chastity! Tracy and Nicole did great, and once they were over the initial pain, they really got into it. They were even tugging each other's clamp chains for fun! Ouch!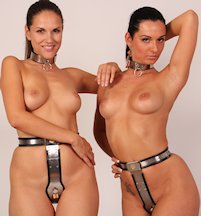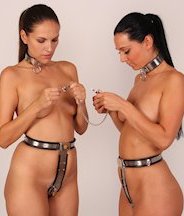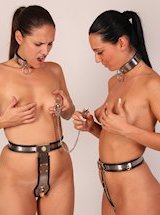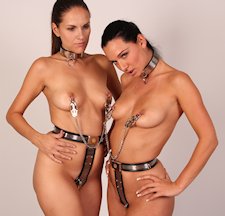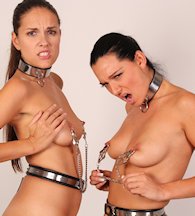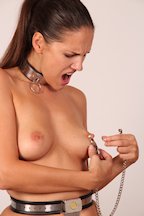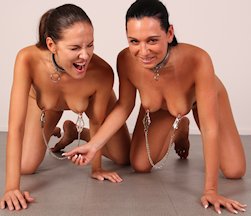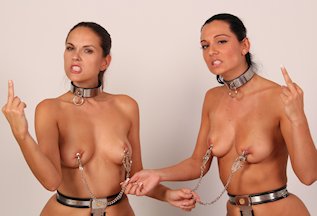 We love using our Connect-A-Model restraints system! It consists of little metal bars, collars, wrist cuffs, and ankle cuffs, so anything is possible! When we connected two models by a collar spreader bar last time (the wonderful Claudia and Nelly), some of you felt the bar was a little too long. They could not kiss each other, but if the bar was just a little bit shorter, they still could not kiss and it would be even more frustrating! So we try that today. Best friends Tracy and Nicole are soooo close, yet so far. They will have to escape their collars before they can kiss. And they will have to escape their wrist cuffs before that. And their chastity belts? No way, they stay firmly locked on, we never give keys to chastity belts in an escape challenge. Ever.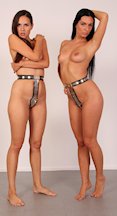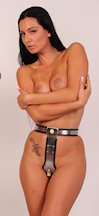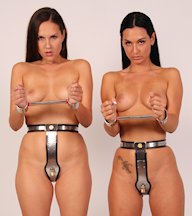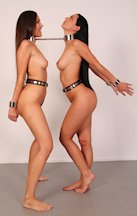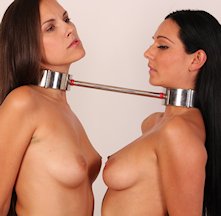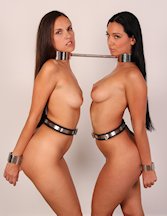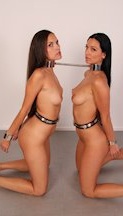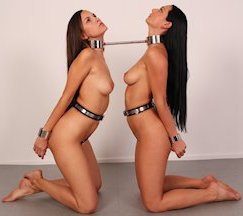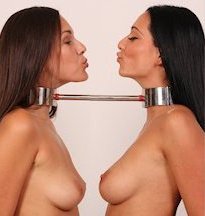 Tracy emailed us if she could 'go again'. Apparently she loved her last appearances with Ashley Bulgari (who also wants to return). Maybe, after almost a year, Tracy forgot what we do here, because she did not find this one easy. She is used to being locked in a chastity belt, because she knows she has been on this website too often to avoid a tight belting. But the amount of time she had to spend locked in the fiddle, with her arms around steel pipes… it was a little too much for her. Especially when we told her she would be there for 1 more hour after the pictures were taken if she could not free herself (with the key). We turned on the video camera and just sat back ;-)
Tracy is not locked to the pipes in any way, which makes this position so much more frustrating :)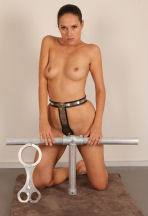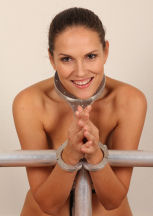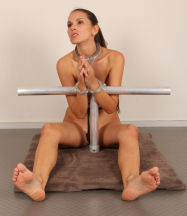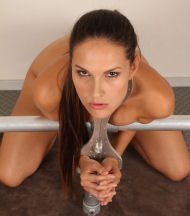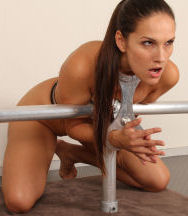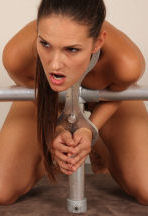 100 updates!! To celebrate, let's put two of our most beloved pet slaves in a metal hogtie, fixed to a horizontal bar, so they can not move at all!! This duo just loves shooting for us, even though they have to be in chastity belts now for every shoot. They did not really like the hogtie, but we just have to make things harder for them every time, so they can continue their metal bondage training and get used to the heavy restraints and exhausting positions. Lots of moaning and struggling in this update!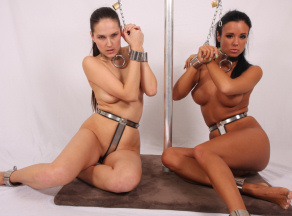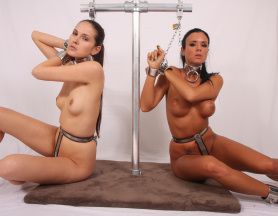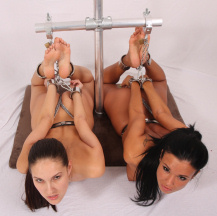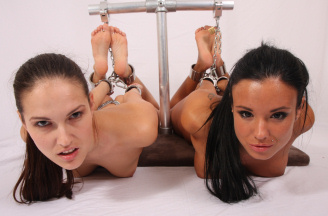 Tracy really loves to touch Ashley Bulgari's boobs. And we don't blame her! How come these girls are so horny all the time? Aaaah, of course, it's the chastity belts! And probably the heavy metal collars too… We try to separate these girls by putting Tracy in the cage and cuffing Ashley to the outside. But even then Tracy finds a way to fondle Ashley. We'd say the chastity belts really did their job! Cage fun with Ashley Bulgari and Tracy, a must see!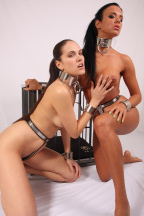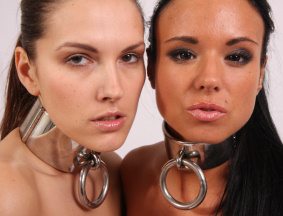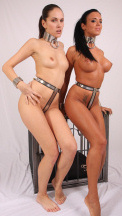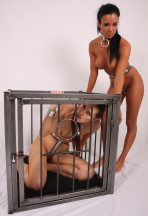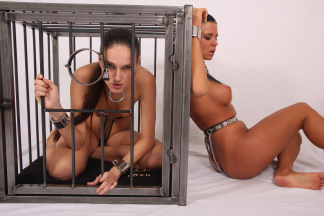 Playing around with our two belted slave girls Ashley and Tracy in RigidCuffs (a RigidStock and a RigidSpreader), we suddenly had a brilliant idea: let's do a Rigid 69! It turned out to be one of the hardest positions we have ever invented. Imagine the belted tanned beauty of Ashley Bulgari lying on her back, her neck in the RigidStock and her legs in the RigidSpreader. Then add the lovely belted Tracy on top, her hands in the RigidSpreader and her ankles in the RigidStock. They could not move an inch, you have to see the video to find out why this position worked so well. Definitely the hottest MetalBondage position so far!!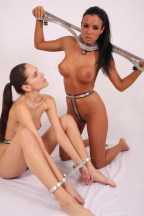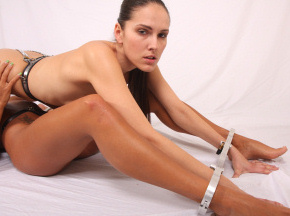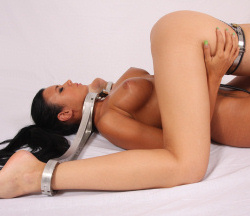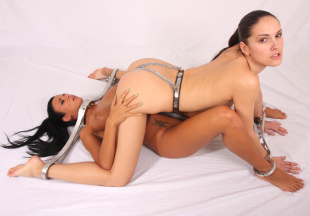 Yes! They are back! Tracy and her trusty tanned friend Ashley Bulgari decided to visit us again! These girls can't stop touching each other. with all this kissing and fondling each others boobs, we thought it would be good to give them a MetalBondage.com obedience training. This means chastity belts, of course, and matching locking collars. It also means kneeling and patiently waiting for your master. Well, that's where it all went wrong… The bar separating these two pet slaves wasn't long enough, and they soon found out they could just reach over enough to kiss. And fondle. And giggle. And struggle in their collars. Sigh…. We guess more training is needed…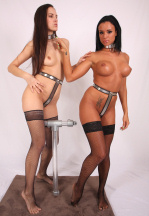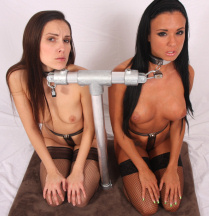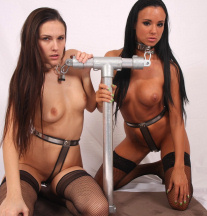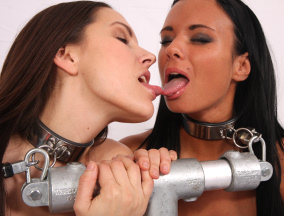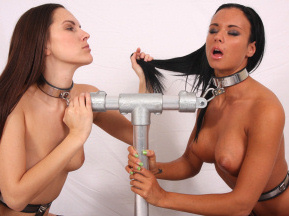 Today, we are very proud to add two more MetalBondage pet slave girls to our models page. Some of you may even recognise the stunning tanned beauty of Ashley Bulgari. Her close friend Tracy is equally gorgeous, although maybe not as submissive as Ashley. Still, these two girls are locked into very tight metal restraints and chained to each other… for your enjoyment! It's a treat to watch these stunning bodies move around in metal bondage, ferociously testing their heavy bonds. Let's hope these girls will return, because there's so much more we can do with them ;-)