All updates featuring
Ashley Bulgari
Ashley Bulgari is captured again! It's been 4 years since we saw her last. Ashley gained a few tattoos, and she is still a very popular stripper girl! We don't like watching stripper girls on stage, all we can think about is how we would lock them in metal gear. So we just captured Ashley again, to secure her in some more steel. She usually doesn't mind, but this time it was very hard for her, because we invented a new configuration which turned out to be much harder than it looks. This tight belt with added spreader bars is keeping her in a very awkward position and it is hard for her to keep her arms up. Even though she is a fit stripper, Ashley got tired real fast!!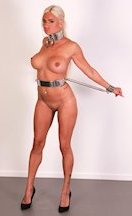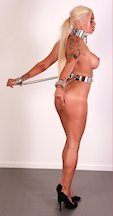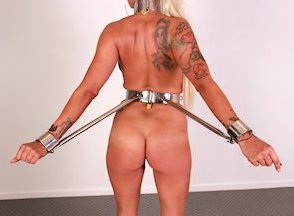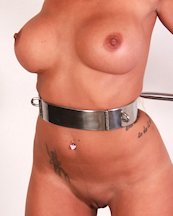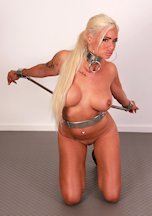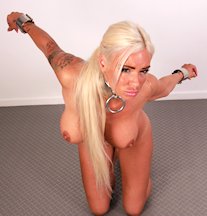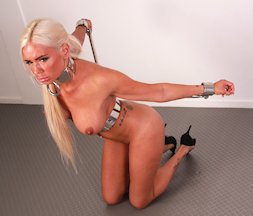 Ashley Bulgari introduced many of her friends (Tea, Tiffany, Tracy) to MetalBondage.com, and today it is time to bring in Eileen Sue. They appeared together on www.chastitybabes.com before, where they were custom fitted with colorful full chastity outfits! Of course, they had to be locked into those for today's shoot! Ashley and Eileen look incredible in their belt and bra, and we thought they would look even better in RigidFiddles! As a special challenge, we locked them into the fiddles with their arms around a horizontal bar! The key is on the floor, so they will have to grab it with their toes to be able to free each other! Will they be able to do it, or will they be stuck and angry?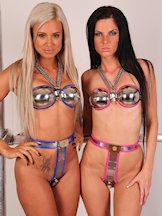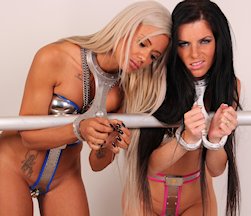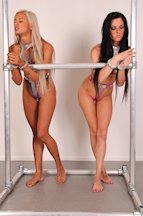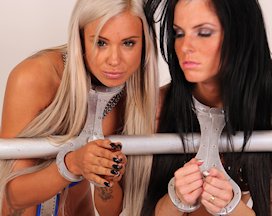 Sometimes the simplest contraptions are the best. Just take a naked Ashley Bulgari, make her kneel in front of a steel cross and lock her wrists to her waist! Oh, and remember to make the side pipes just long enough so she can not slip her elbows over them. Take your time shooting some pictures and video, until her knees start to hurt because the floor plate is not as soft as it seems. Then, after about 45 minutes, give her the keys to unlock herself and rub her knees. You will notice she is a lot more submissive than when we started. This is what we call cross training!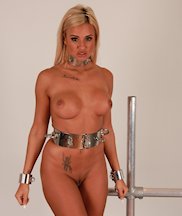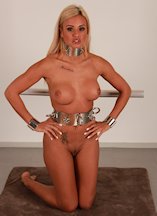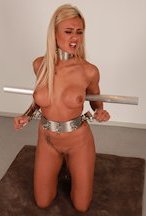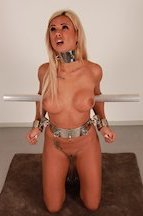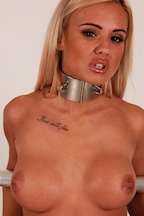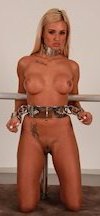 A fiddle shoot is always fun. For us, not for the models. They have to keep their arms up for about 2 hours and some models are tougher than others. At the end of a fiddle shoot, the models are always very tired in their arms. Here we see them chained together by their fiddles, receiving the key so they can help each other escape. Of course, their chastity belts remain firmly locked, so these tired girls can not get any comfort or relief.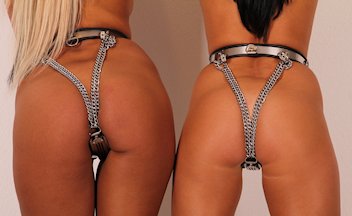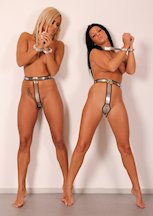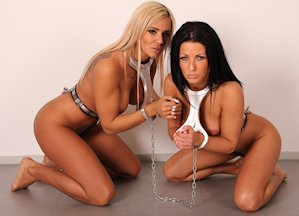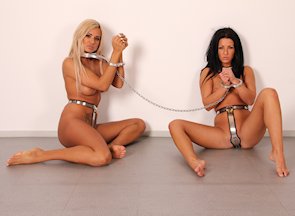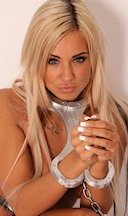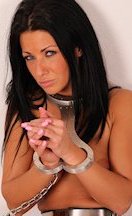 Our resident pet slave Ashley Bulgari decided to introduce yet another one of her hot friends to MetalBondage.com! The only problem is: Ashley has already been belted and so is not permitted to shoot without a chastity belt, which means her friend will be belted on her first shoot! That's kind of a hard introduction for poor Tea, but don't worry: the big boobed friends are having a lot of fun with our new dog cage this week! Putting each other in the cage turns both of them on, they both like the power play and the submissive role! Great to watch this duo play, hot picures and video!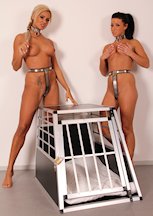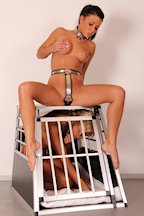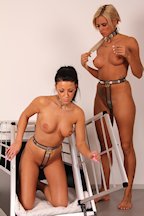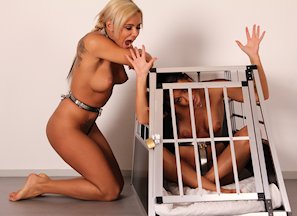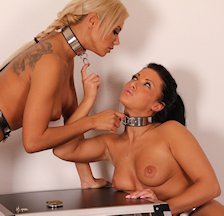 It has been a while since Ashley Bulgari visited us, but we managed to lure her back with an interesting dare. She is to lock herself in the Sleepless collar and make herself comfortable. Sounds easy! Of course, Ashley is belted, but she does not even notice that anymore, she is now very used to being locked in a chastity belt. Nope, the thing that concerns her more is the insane height of the Sleepless Collar, and its massive spikes. It is very heavy and very tall, so sitting up is not very comfortable. But when Ashley finds out that she can not lie down at all, she loses her temper a little and starts to complain. Well, let's keep her locked like this to see what happens!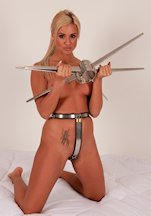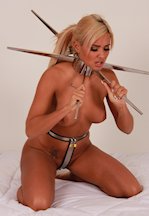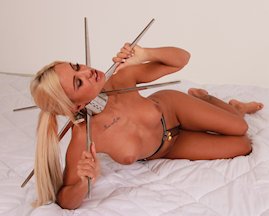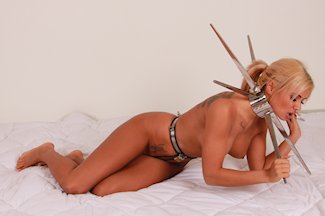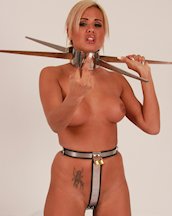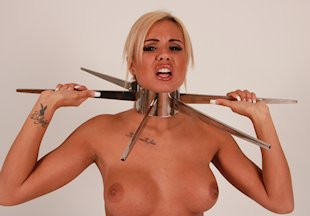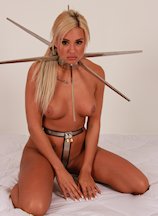 So what if we used our custom Connect-A-Model system to connect two collars? A simple and brilliant plan evolves into a very crazy shoot with two of our top models: Ashley Bulgari and Tiffany. Locked into tight waist bands and cuffed behind their backs, these girls are the first to experience a rigidly connected collar, and straight away they face a lot of problems. Ashley is slightly taller so she is pulling Tiffany up by the neck. They decide to kneel down, but they have to coordinate this very well or they will hurt each other. Soon, these girlfriends start to talk about their immediate future: what if they have to go to the toilet? Would they be able to drive a car? Have sex? They say it feels like being two snakes locked together, but as they find out they can still rub their boobs together, they are still enjoying themselves a lot! Funny stuff!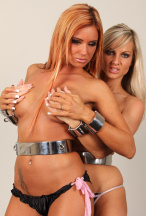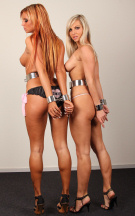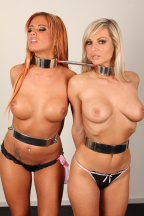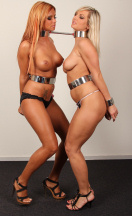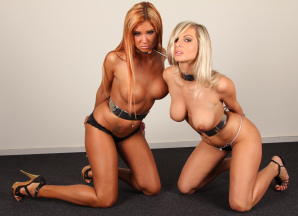 100 updates!! To celebrate, let's put two of our most beloved pet slaves in a metal hogtie, fixed to a horizontal bar, so they can not move at all!! This duo just loves shooting for us, even though they have to be in chastity belts now for every shoot. They did not really like the hogtie, but we just have to make things harder for them every time, so they can continue their metal bondage training and get used to the heavy restraints and exhausting positions. Lots of moaning and struggling in this update!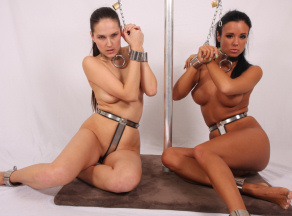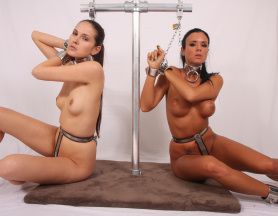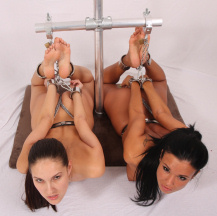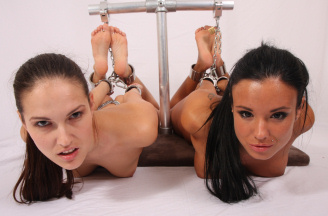 Tracy really loves to touch Ashley Bulgari's boobs. And we don't blame her! How come these girls are so horny all the time? Aaaah, of course, it's the chastity belts! And probably the heavy metal collars too… We try to separate these girls by putting Tracy in the cage and cuffing Ashley to the outside. But even then Tracy finds a way to fondle Ashley. We'd say the chastity belts really did their job! Cage fun with Ashley Bulgari and Tracy, a must see!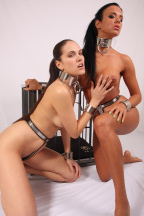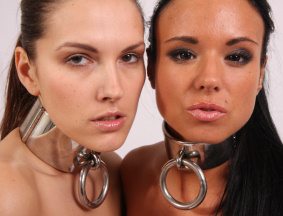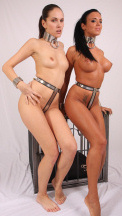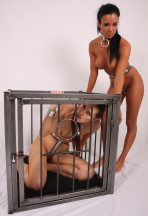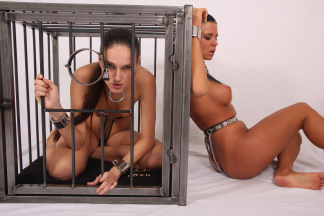 Playing around with our two belted slave girls Ashley and Tracy in RigidCuffs (a RigidStock and a RigidSpreader), we suddenly had a brilliant idea: let's do a Rigid 69! It turned out to be one of the hardest positions we have ever invented. Imagine the belted tanned beauty of Ashley Bulgari lying on her back, her neck in the RigidStock and her legs in the RigidSpreader. Then add the lovely belted Tracy on top, her hands in the RigidSpreader and her ankles in the RigidStock. They could not move an inch, you have to see the video to find out why this position worked so well. Definitely the hottest MetalBondage position so far!!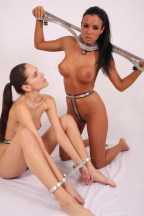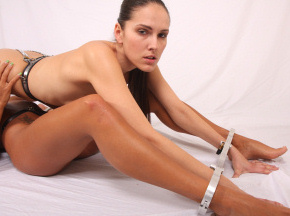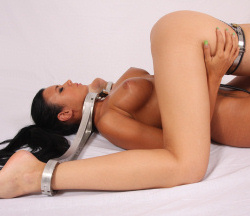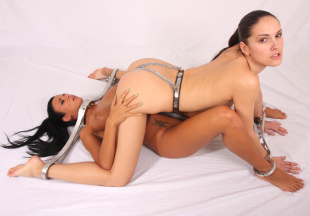 Yes! They are back! Tracy and her trusty tanned friend Ashley Bulgari decided to visit us again! These girls can't stop touching each other. with all this kissing and fondling each others boobs, we thought it would be good to give them a MetalBondage.com obedience training. This means chastity belts, of course, and matching locking collars. It also means kneeling and patiently waiting for your master. Well, that's where it all went wrong… The bar separating these two pet slaves wasn't long enough, and they soon found out they could just reach over enough to kiss. And fondle. And giggle. And struggle in their collars. Sigh…. We guess more training is needed…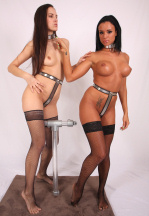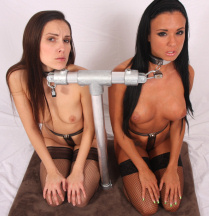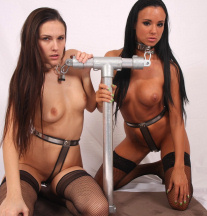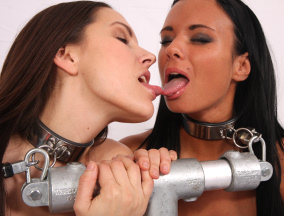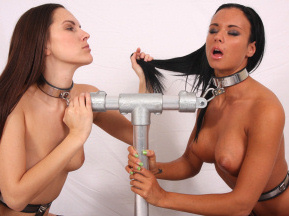 Today, we are very proud to add two more MetalBondage pet slave girls to our models page. Some of you may even recognise the stunning tanned beauty of Ashley Bulgari. Her close friend Tracy is equally gorgeous, although maybe not as submissive as Ashley. Still, these two girls are locked into very tight metal restraints and chained to each other… for your enjoyment! It's a treat to watch these stunning bodies move around in metal bondage, ferociously testing their heavy bonds. Let's hope these girls will return, because there's so much more we can do with them ;-)