All updates featuring
Janna
Something about Janna Grace makes us want to gag her really tight. First of all, Janna loves when she starts drooling (she really does!), plus it gives her a really angry expression. A nice comfortable RigidStock ensures Janna will not attack anyone. And to make her even more angry, nipple clamps were added, as requested by so many of you. She may like the bondage, but she really hates the stinging pain of nipple clamps. There is absolutely nothing she can do about it, thanks to the wonderful design of the RigidStock. But even with no way to take off the clamps, or the gag, Janna is still going to try. She has to, because these clamps are hurting her like hell! Good luck Janna!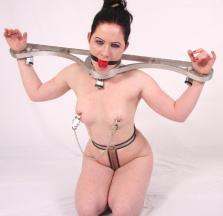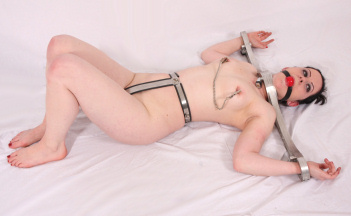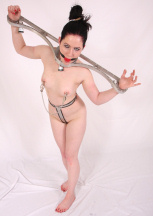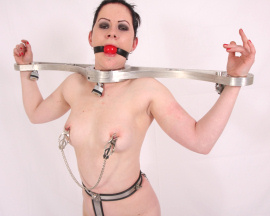 It seems we have neglected to gag our models lately… we were probably too busy with all the new girls and gear we had! Unfortunately for Janna, this time we remembered to use a ballgag – a huge one, which almost none of our models can take! Janna tries, and she manages to get it into her mouth. We quickly locked her into the RigidSpreader before she can take it out again! Janna Grace is definitely one of the upcoming fetish models on the internet. Look how easily she can do the RigidSpreader hogtie, a very hard position, even when there isn't a huge ballgag strapped tightly into your mouth!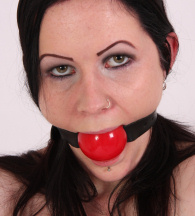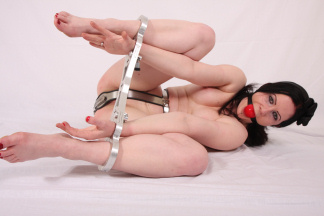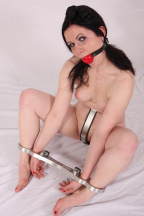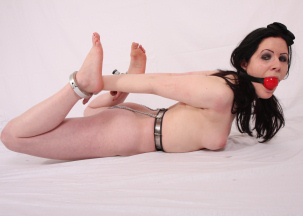 Poor little pet slave Janna is still a little shy. We decide to leave her alone for a while, to get used to her new life in metal bondage. She is in a tight chastity belt and a steel cable chastity bra. A tall posture collar and a tight ballgag make sure she doesn't forget her position as a pet slave. We have to lock her wrists to her belt of course, so she can't take off her gag. The bondage prevents her from getting comfortable, but she still tries, a little scared and hesitant. It's so much fun to just sit back and watch this girl come to terms with her metal chastity bondage!