All updates featuring
Pling
Pling is back! The Swedish bondage model comes with her own chastity belt that is locked onto her most of the time, so that's great, saves us a lot of work. But we always need to lock more gear on Pling, because loves it! So here she is, in the tall Giraffe Collar, chained to a pole, in a tight metal reverse prayer. Now here's the challenge: the keys to her cuffs are on the floor. In a reverse prayer, most models can not even pick them up. But Pling is a struggler, she manages to get the keys, accidentally releasing her extremely long hair out of its bun, which does not help her struggles at all! In fact, she gets more and more tangled in her own hair. Big troubles for Pling!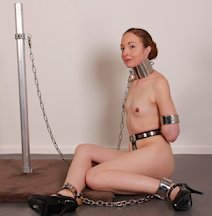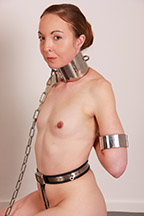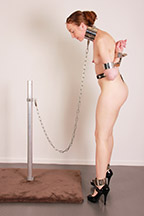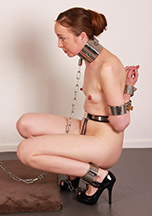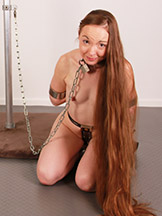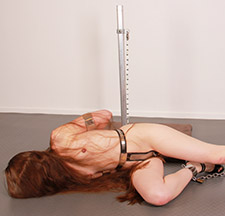 Swedish fetish model Pling is such a cute girl! She genuinely loves bondage, and she is one of the few models who actually come to the studio in their OWN tight chastity belt. She usually doesn't even bring the keys, so we just have to shoot with the belt on! Pling loves to try all of my heavy metal gear, and she had been wanting to be locked in the heavy stocks for a quite a while! Well, okay… if you insist… Pling puts up a lovely struggle, her long long braid swinging around as she tries to get comfortable in this steel predicament! Nice!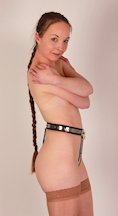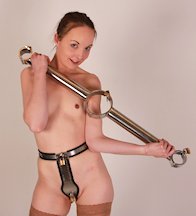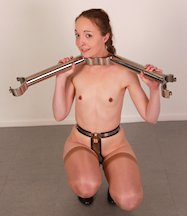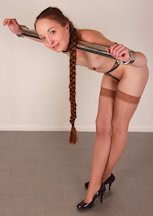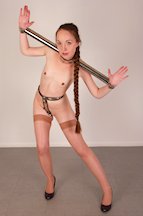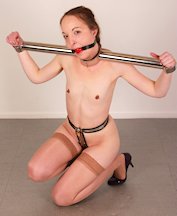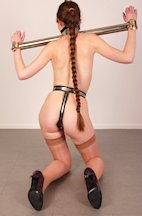 Long haired Pling was feeling a little playful (must be the chastity belt that she now wears almost permanently)… very playful even! Toying and hanging around the Globe Cage, we think she just asked for it: a nice afternoon in this steel round prison! A whole afternoon? Yes, why not? Pling loves bondage, and we love seeing her in bondage, so we gagged her, locked her wrists to the cage, locked her ankles outside the cage, and she was all set for an afternoon of fun! Well, maybe she didn't like sitting on hard metal and drooling after about 2 hours, but that's not our problem! Enjoy watching Pling trying to plea her way out with her sad eyes and whimpering!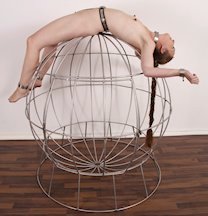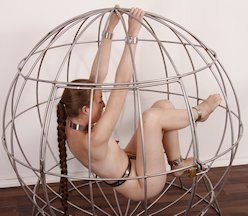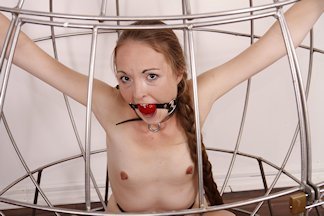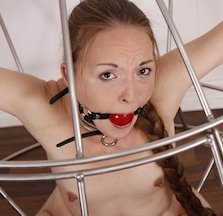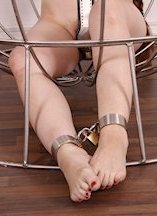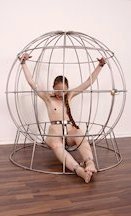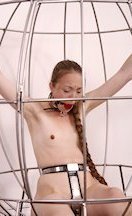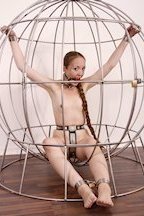 Swedish bondage model Pling is probably the only one of our girls to actually have her own steel restraints! She has a full set of custom made SM-Factory restraints (neck, wrists, and ankles), and a chastity belt that she wears regularly! How can we challenge a girl who already loves her steel so much? Well, since she was locked into her SM-Factory gear, we decided to connect that to our doggy-style frame. Pling thought that would be easy, but we spaced her wrists very far apart so she could not really lean on her arms. She had to work really hard to relieve pressure from her collar! The strength in her arms soon started to fail, and the simple position becomes a beautiful static struggle! Don't worry though, Pling loves this kind of challenge!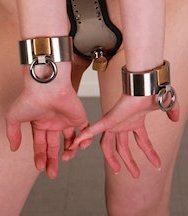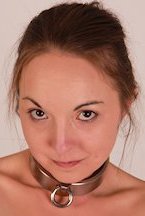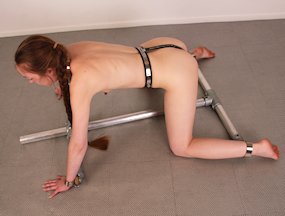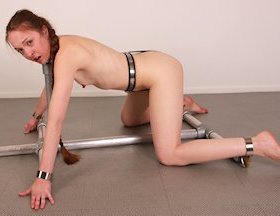 Cute bondage model Pling really loves metal bondage! She said she would come over every day if she could, to be restrained in the heaviest and most restrictive gear we have! Not only that, she also loves chastity belts, and owns and wears one in real life! Nice! We just had to lock her to this construction of steel pipes, using upper arm and wrist cuffs, knowing Pling would not mind if we left her there for a while. A pink ballgag kept her nice and quiet, and then we waited to see her wriggling about in this uncomfortable position. The pipes are just too high to sit or kneel, and too low to stand. But Pling didn't mind at all, she would stay there for days if we didn't release her!!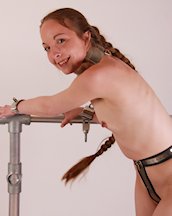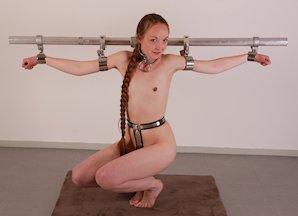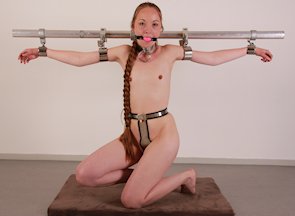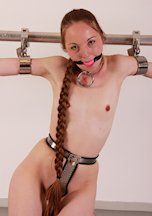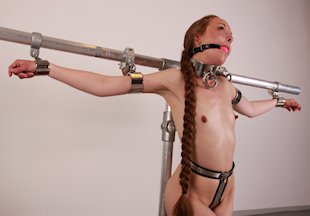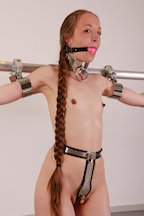 You know, we still haven't figured out what to call this heavy bondage device. After its first appearance, we received a lot of suggestions, but 'Ballet Stocks' really still sounds the best. Some members thought it looks a little like the model is cheering, but as the long-braided Pling finds out, it is not really a hurray experience to be locked in this device! We designed this for inescapable long term wear, it took many tries to get it just right, but it is still incredibly heavy and awkward! We love that! And yes, believe it or not, Pling loves these kinds of things too ;-)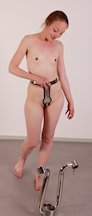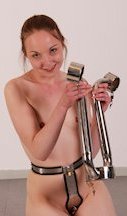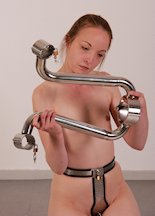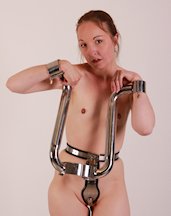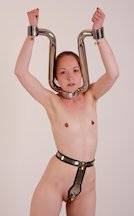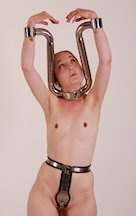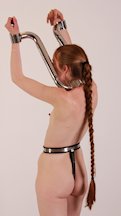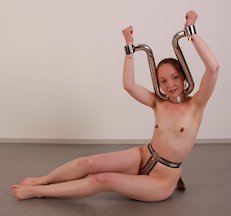 We received an email from Pling, a bondage loving girl you might have seen on some other websites. She was very curious (to say the least) about being locked into a chastity belt. So we invited her over for an afternoon and put her in a belt, making it very tight in the crotch area. Pling just loved every minute of it! She wanted more, so we threw a fiddle challenge at her. It is virtually impossible to escape one of those, but just seeing cute Pling struggle in her tight belt and RigidFiddle is definitely worth watching! She will be back for more extreme metal bondage, she is addicted!