All updates featuring
Thigh Bands
This funny girl was doing a Casting at ChastityBabes.com, so I took the time to shoot some more pictures and video with her, as she was waiting her 4 hours of Casting to be over. Electra didn't seem to take anything serious, lounging around in her chastity belt and thigh bands, hanging from my frame with a bored face. Of course, I locked her ankles and wrists to the frame. 'Hey!', said Electra, who was not expecting that. She tried to struggle, but she was completely stuck, spread eagled to the metal frame. Maybe this will teach her a lesson… probably not.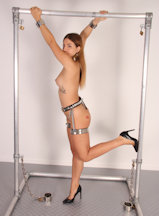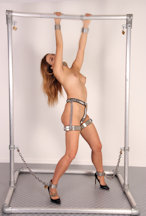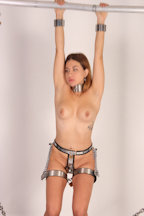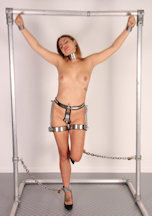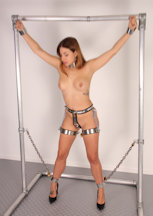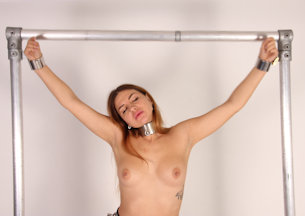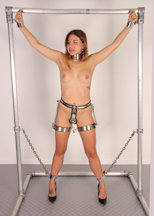 In this picture and video set, Aubrey is in a prison cell, locked in millions of kilos of steel. She does not enjoy this at all. It is very painful and unnecessary. There is so much steel, she can't even move. She is afraid to lie down. Aubrey is locked in a full chastity outfit, including belt, bra, and thigh bands. She is also locked in super heavy SteelBound restraints: a collar, wrist cuffs, ankle cuffs, and elbow cuffs. Two pairs of cuffs are added to each of those heavy steel cuffs: on her ankles, elbows, and even 4 pairs on her wrists. A pair of thumbcuffs makes her set complete. The guard comes and locks a chain to her collar and pulls her out of her cell. She is moved to a wall, where she is restrained even further: Aubrey is chained to the wall by her elbows and ankles, and an X-chain to finish off the position. Poor Aubrey!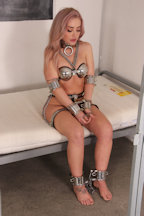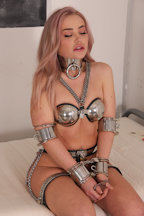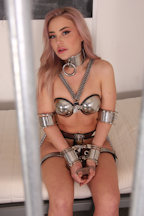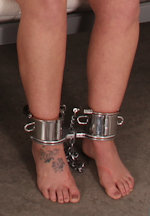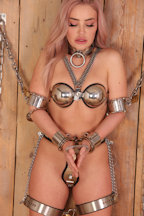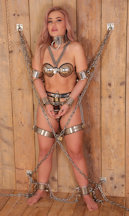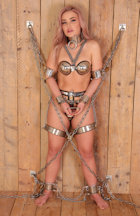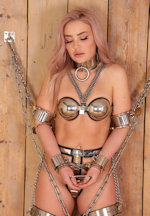 The Russian superbabe Katia came back to Holland again, and I asked her if she wanted to do a new photo shoot. It was probably not what she expected, and her expression did not tell me if she liked it or not. She remained rather stoic and dominant, even locked in heavy metal. Check out how she got belted at ChastityBabes.com. I then added a huge chastity bra to lock those big boobs up in steel. It was amazing, this tall Russian elegant playmate in full chastity with those rocket boobs. It was time to add something seriously heavy: the Custom SteelBound Stocks. It was a great shoot! Let's hope Katia thought so too…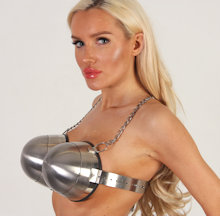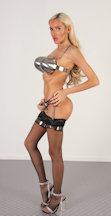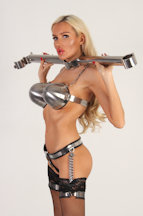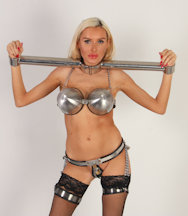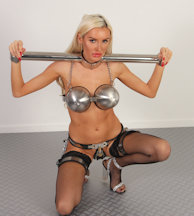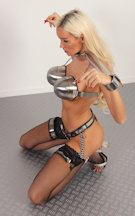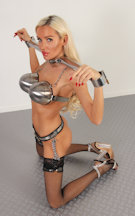 Sophia Smith is doing a Chastity Deal over at ChastityBabes.com. She is doing a lot of tasks and challenges there while locked in full chastity (belt, bra, and thigh bands). She was also locked in a collar, but we took it off for this shoot (which was also part of her Chastity Deal), because we had something more exciting for her! Our custom built Posture Fiddle is a very tough predicament device. It is small, with a very tall collar and oval wrist cuffs. Once locked on, you are really stuck in one position. With a big padlock on the back of the collar and another one beneath the fiddle, there was no chance for Sophia to escape this device. She tried though!! Such a fierce lady, she should be permanently locked in metal!!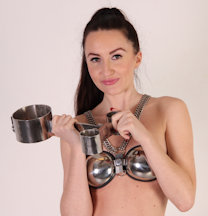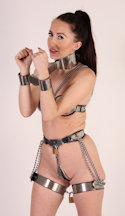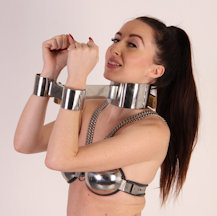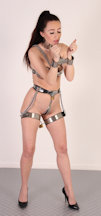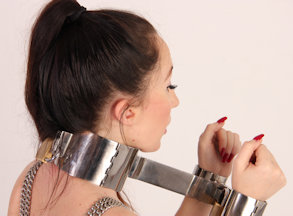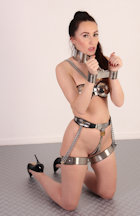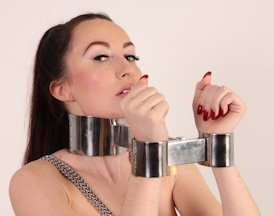 Australian bondage talent Cobie was wondering what it would feel like if her arms and legs would be locked together in this unique way. We found some really tight cuffs for her to try this pet bondage. It has been done in leather, but it's something else to try this in heavy steel! That's probably why Cobie wanted to try this, she absolutely loves bondage challenges. To see her move around on her elbows and knees in heavy metal is something you can't miss! Cobie is such a cute pet! We just wish we could keep her forever (for real)! Maybe next time we will not let her go, she is just too awesome!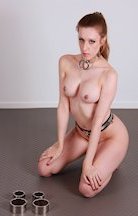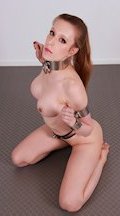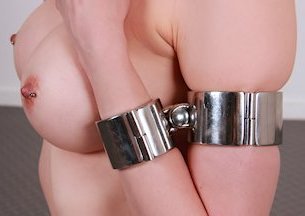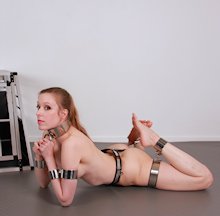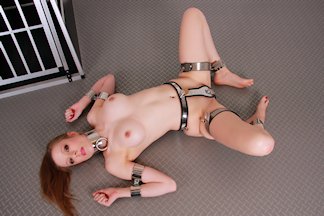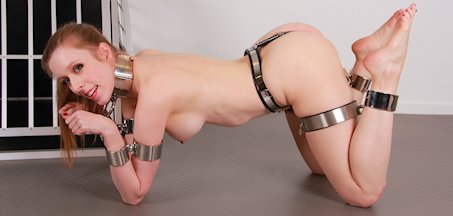 When the endless legs and flexible arms of Britney visited us, we locked her in full chastity, as you will have seen on ChastityBabes.com. She had to hang around the studio for quite a long time, to see how she would do in her chastity gear, so we had plenty of time to shoot her in some more metal, specifically the Wonder Cuffs. These cuffs need a flexible, tall, slender model, so Britney was the perfect girl in the right place! We locked the cuffs on her wrists separately, making her look like Wonder Woman, before attaching the middle piece that locks these cuffs together in a very rigid way. Britney is awesome, we could keep her in metal forever!