All updates featuring
Leyla Gold
We found a shoot from a few years ago that was never published. We were trying out all kinds of new equipment and one of our regular test subjects was the beautiful Leyla Gold. The locking Breast Press was one of the items we tried on her, even though here boobs probably didn't have the ideal shape for this device. Still, we were able to tighten the screws on her boobs, and since the device is locked behind her back, there is no way she can get it off her chest! Of course, Leyla always looked amazing in a heavy collar and heavy waist band, with her arms crossed and locked behind her back! Definitely worth a look!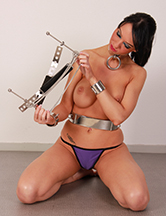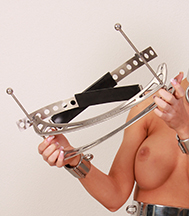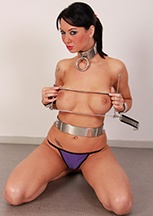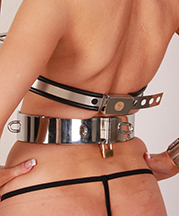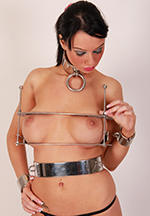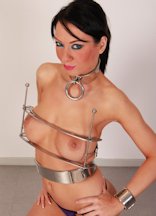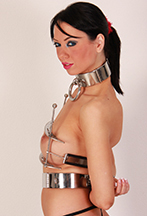 Aah the cage with the built-in collar! A fan favorite and one that we didn't feature for a long time. Let's get one of our pet slaves to lock herself in the cage again! With her bright blue eyes and massive boobs, Leyla Gold is a perfect play thing (well, she would be if she wasn't locked in a chastity belt for her own protection). Submissive and sultry, Leyla manoeuvres herself into the small cages, locking the door with a padlock. She then locks herself into the built-in collar, leaving her completely helpless. To make sure, we even lock her wrists to the corners of her cage, so she will have to stay on her knees, boobs dangling, big blue eyes pleading… Nice!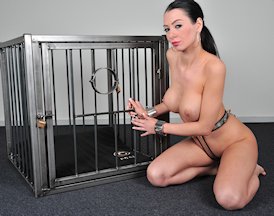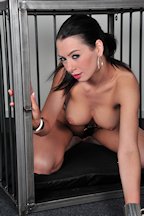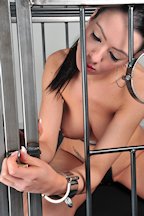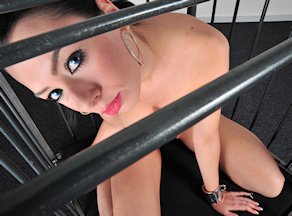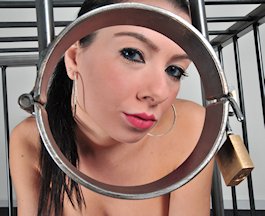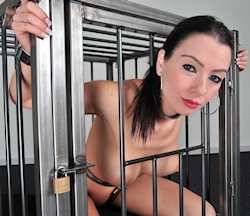 The most famous Dutch fetish porn star, Leyla Gold, has been on our website for some time now. She has been trained by us to prolong her ability to wear a chastity belt, a ballgag, and even nipple clamps! This time we tell her she will be wearing nothing at all! Just a little bit of metal we like to call six-point restraints. Leyla thinks it will be an easy shoot, but we have a devious plan: we lock her wrists to her waist band and then we add a shiny tight red ballgag. She can not reach the gag, so she is powerless yet again!! What would you do with her if you found her like this?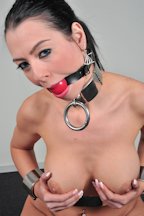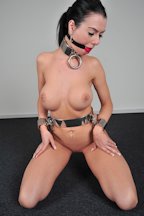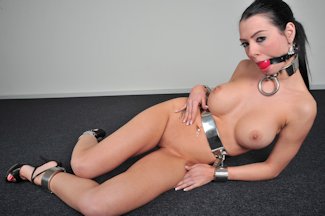 The wonderful Leyla Gold is well on her way to becoming a good metal bondage pet slave. She was belted last month and learned to take nipple clamps on her huge boobs. Now it is time to show her the right position for a slave girl: kneeling. So how do we prevent her from standing up, or complaining? Simple. We cuff her ankles together and we stretch her arms up to a frame with chains. There is simply no way she can stand up, remove her gag or any other restraints. A very effective training! Will Leyla like this? Probably not, especially after about half an hour…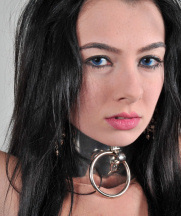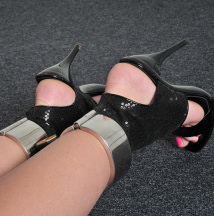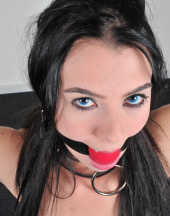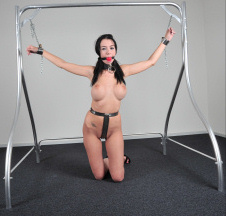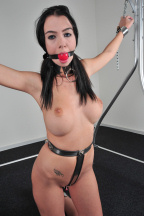 Wow, Leyla wants to take two steps at once! We told you she was very eager to be a MetalBondage.com model (see her first update here), so she wanted to get to the chastity belt stage in the second shoot already. And if that is not enough, she was really curious if she could handle nipple clamps. Not the weak sliding pinchy things, but the real deal: clover clamps! We decided to let her test them for herself. Watch as Leyla finds out how much these clamps hurt her huge boobs. Will she be able to keep them on her nipples for a while? Great stuff!