All updates featuring
Breast Press
Look at this cute new girl I found! It's Nina Nightbloom and she is a submissive from the Netherlands! Cute face and very long hair, as well as huge boobs! In fact, Nina likes her boobs to be played with. Experimented with. She's curious what can be done with her ample breasts. Well, I had just received the Ultimate Breast Press from HotSteelToys, so this was a great opportunity to test out this evil device. Not only does it squeeze the breasts all the way down, it also comes with a clover clamps attachment to stretch out the nipples in a very painful way. I cuffed Nina's wrists to the device as well, to make her helpless and vulnerable while her boobs were squashed and stretched. She loved it so much! I am sure Nina will be back soon, I have many plans for her. If you have a custom request for Nina's boobs, just write me and you might be able to get your dream video with her!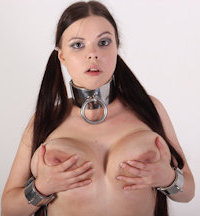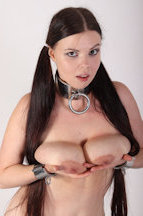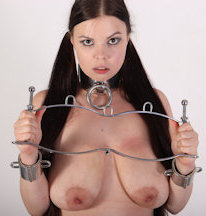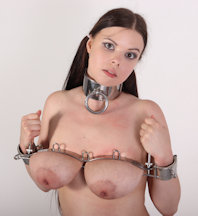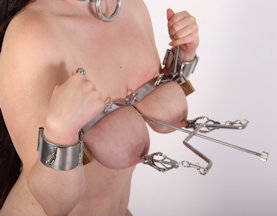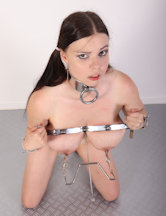 We found a shoot from a few years ago that was never published. We were trying out all kinds of new equipment and one of our regular test subjects was the beautiful Leyla Gold. The locking Breast Press was one of the items we tried on her, even though here boobs probably didn't have the ideal shape for this device. Still, we were able to tighten the screws on her boobs, and since the device is locked behind her back, there is no way she can get it off her chest! Of course, Leyla always looked amazing in a heavy collar and heavy waist band, with her arms crossed and locked behind her back! Definitely worth a look!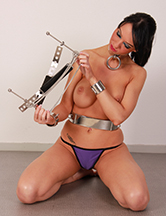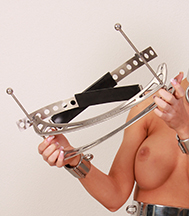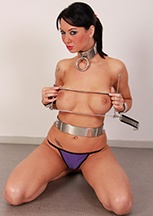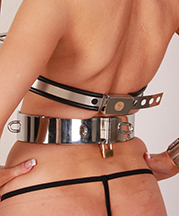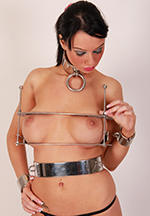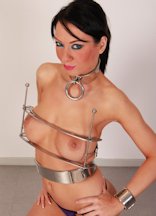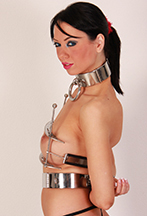 Big boobed Alais from the UK seemed like the perfect girl for our Breast Press! We haven't used that device in ages. But the real fun started when we impaled poor Alais on the One Bar Prison. She could not get off it and was getting seriously worried we might leave her standing there for hours. This girl is so much fun to tease! We pretended to walk away, leaving her all alone, stuck on the One Bar Prison, and then we came back and asked her about her predicament. She was not so happy, but the One Bar Prison really is inescapable for a girl in heels. Poor Alais!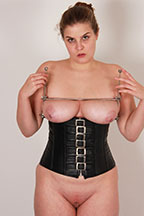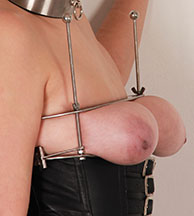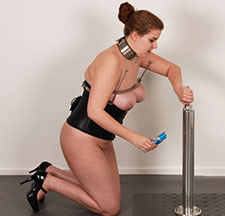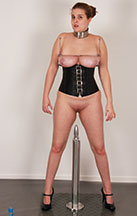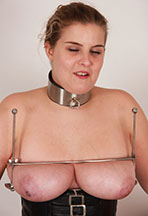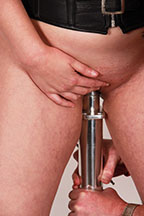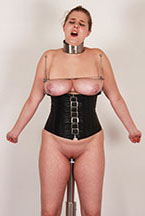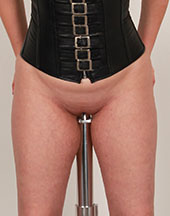 Lady Roswell Ivory is so composed and graceful! That's why it is such fun to lock her into a chastity belt, naked, and padlock a very heavy collar on her neck. Not at all lady-like, although she still will try to pose in a dignified way. Let's see if we can make her a little more submissive and worried… Some members have suggested we should try this locking breast press. We didn't build it, we bought it, and that was probably a mistake. It doesn't work really well, as the arch of the metal press plates is too big. But it is locking in the back, and it does work well enough to make Lady Roswell a little concerned about turning those wingnuts more and more… We will have to build one of these ourselves!!