All updates featuring
Sybian
Tiny redhead Olivia is so curious! She couldn't keep her eyes (and hands) off the Sybian, so I decided to build her a nice bondage frame. Olivia was very excited to go for a ride, she slid right onto the dildo, and planted herself on the Sybian. I let her play with the controls for a bit, but then I secured her wrists and ankles in place. Now I got to play with the controls! The red button controls the vibration and the green one controls the rotation of the dildo inside her. It was a wild ride! Good thing I secured her in place! Olivia is so awesome, you don't want to miss this cute metal bondage update!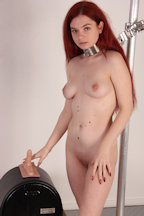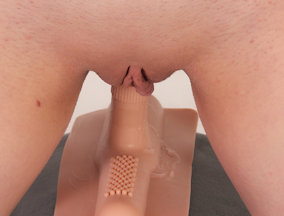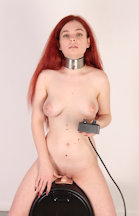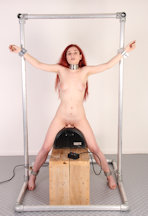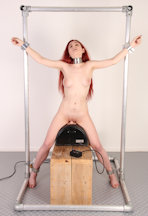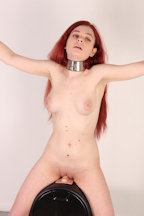 Please welcome Ivi Rein to MetalBondage.com!! She is a cute and curious young girl, willing to try everything at least once! Locked in a metal waist belt, collar, and wrist cuffs, she explores the Sybian with lots of curiosity. The dildo attachment is on there, which means the Sybian can not only vibrate, but also rotate the dildo inside of her. Ivi plays with the controls, and she chuckles. Before she knows it, she is locked to the metal pipes, with her waist firmly chained in place and her arms spread wide. This is going to be a fun ride!!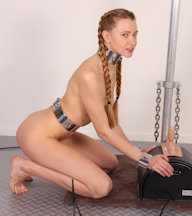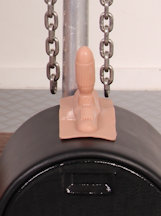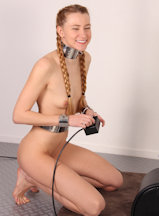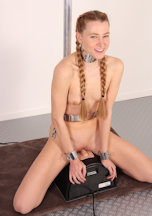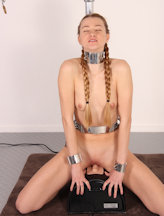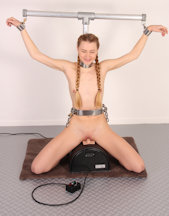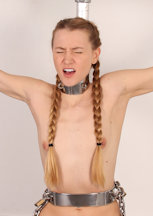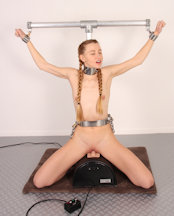 I did a very fun experiment with Liz Rainbow and Blondie Fesser! Liz was locked in full chastity (with plugs) for a day, and she could give her friend Blondie as many orgasms as she wanted. All day long. Blondie was nude and not locked in any chastity gear. At first, both girls thought this would be a very fun day. But as the day went on, Blondie got very tired and Liz got very very horny and jealous. We filmed this experiment mostly for ChastityBabes.com, but of course, we had to lock Blondie to a Sybian during the day. Her collar and wrists are attached to a pole, and Liz was free to play with the remote. It was fun for Liz, but her frustration was growing when she saw Blondie reach another orgasm!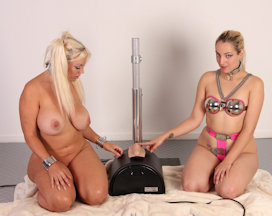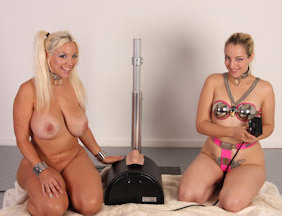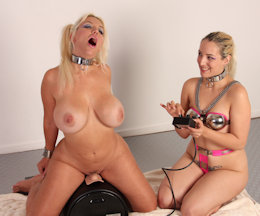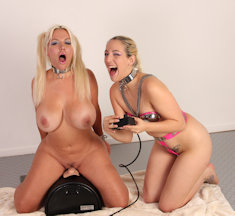 I built a Sybian seat! And Valentina Bianco is the first one to try it. I didn't like it when models could touch the floor with their knees or feet, because then they had control over how hard their clit was pressed onto the Sybian! With the Sybian seat, models will have their full weight on the most powerful vibrator in the world, without being able to lift themselves up. It will be awesome! Once you are locked to the seat (wrists, collar, and ankle spreader bar), you are in for the ride! Models on the Sybian seat have no control at all! Check out the video and picture set to see what happened to poor little Valentina!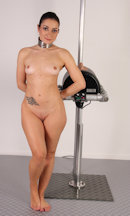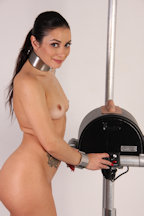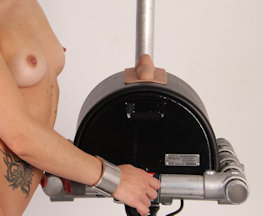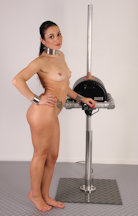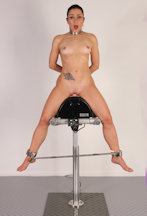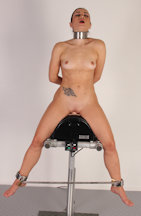 Having a Sybian machine in the studio attracts all kinds of people! Young Mira wrote us if she could go for a little ride on it. Just a tiny ride, nothing else. She is so cute! Of course, this is MetalBondage.com, so we locked some cuffs and a collar onto her. And she was not allowed to ride the Sybian unless we could lock her wrists to the wall. Mira quickly figured out that it wasn't going to be her who would be in charge of the controls. This brave young girl did it anyway, and the end of the video definitely gives away what her body thought of this ride on the strongest vibrator in the world!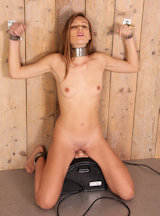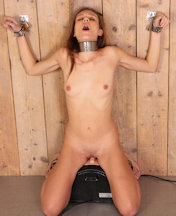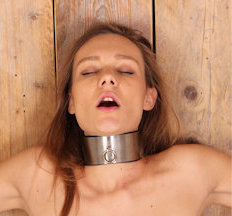 Yes, we know we already put Little Caprice on the Sybian. But it's Little Caprice. On the Sybian. So we had to do it again. We just love vibrating this cute girl when she is unable to stop the super powerful Sybian because she is locked in metal. Her neck is locked to the pipe, her ankle cuffs are chained so she can't stand up, and her wrists are cuffed behind her. Little Caprice is going for a ride again! One of the most popular babes on the net, and we are fortunate enough to shoot with her and let her have a good time. She will always come back for more, or in this case: more of the same.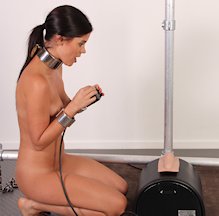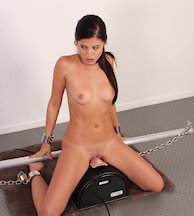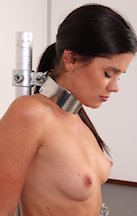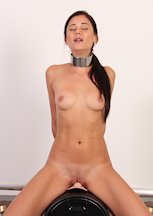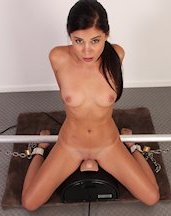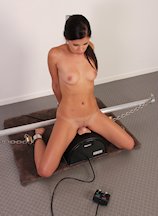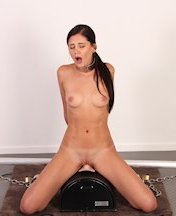 Don't search any further for your favorite bondage scene. This is it! Little Caprice in metal bondage, locked onto a Sybian! This machine is way more powerful than it needs to be, in fact it is the most powerful vibrator in the world. And Little Caprice is a very sensitive cute girl. Her waist and neck are locked to the metal frame, and her arms are attached to her waist, elbows folded over the metal bars. Her ankles are chained behind the Sybian, so she can't get up. The only thing we have to do is switch it on and turn up the speed! Caprice is in for the ride! It was a little too much for her perhaps, she couldn't even stand after this ordeal. Do not miss this, it is awesome!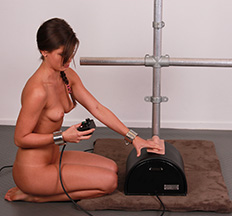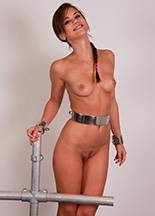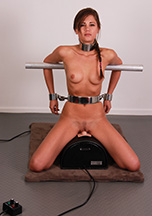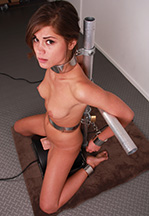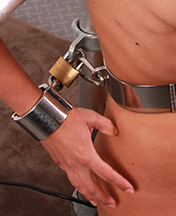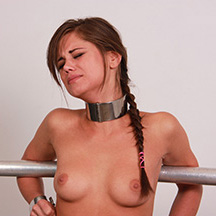 Tiny 19-year old Vina is back, and she is still curious! Remember the things she already tried? She wants to experience all the devices and restraints we have. 'What is that!?', she exclaimed when she saw a Sybian vibrator machine in our studio. Oh, it's only the most powerful vibrator in the world. 'Can I ride it?', Vina begged. Sure! As long as you are restrained in metal and we have the control box, you can ride it for as long as you want. Correction: as long as WE want. Get ready for the ride of a lifetime!