All updates featuring
Rigid Box Tie Device
Gorgeous playmate Yasmine is back! She has been shooting with us for very long, since the beginning of this website. Somehow she only gets more beautiful, with her fantastic natural body and sensual lips. We locked her in a hip-style My-Steel belt today and then got her into the Rigid Box Tie Device. Yasmine is so submissive, her big eyes were looking at the camera, almost as if she was afraid. Don't worry, Yasmine is used to bondage, we have locked her in metal many times, and she even tries her best to escape when we toss the keys on the floor, even though she knows it's impossible.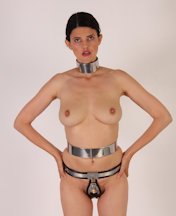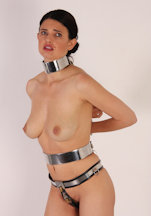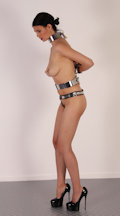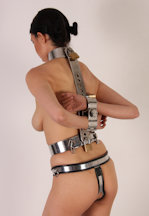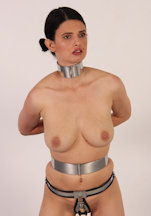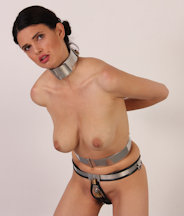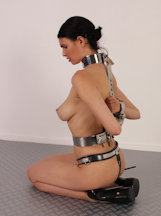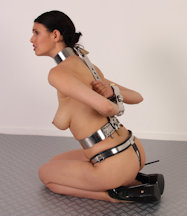 Lucy Lauren is back for a new challenge! Locked in the Rigid Box Tie Device, she wonders what the big pole is for. She soon finds out, as her nipples clamps are locked to the pole, making her stand on her toes. It's a hard challenge, she needs to stay on her toes to avoid pulling on the clamps very hard. But then it gets a lot harder! The attachment point is loosened, completely free to slide down the pole. It is very heavy, and Lucy tries to stop it from sliding, but it pulls her down hard by her nippples. She struggles against the weight, but soon she is down on the floor. Kneeling at the base of the pole, Lucy finds some keys, but she can't reach them. We make her stand up again by pulling the weight back up the pole. And then we release it again… ouch…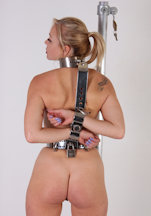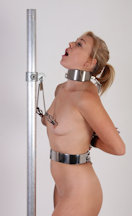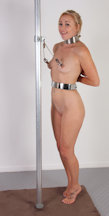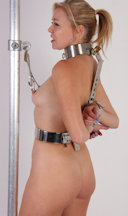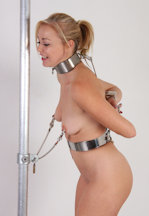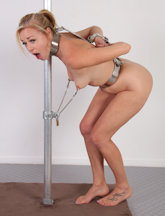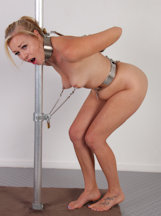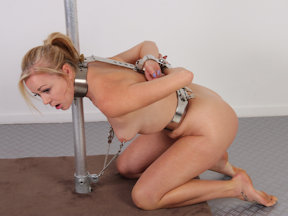 It is time!! Katie Thornton is back, locked in her custom made boob bands, and she will test the Rigid Boxtie Device. Watching her try to escape this device is going to be awesome! Her huge locked boobs are actually in the way when she wants to get the keys from the floor. But most models can not even pick up the keys. The wrists are trapped in a very rigid way, so Katie will have to lie down to get the keys. A very hard task with those huge breasts!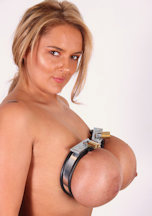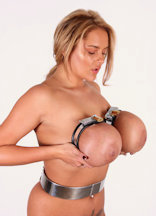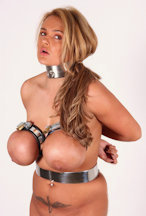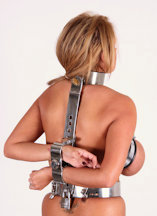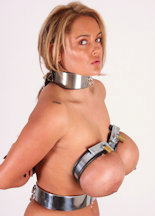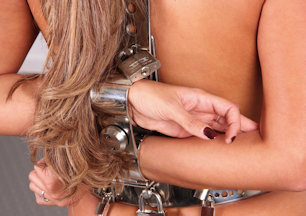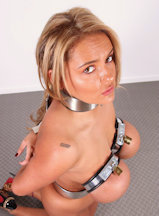 She told us: "If there's one thing I hate it's nipple clamps! Especially clover clamps!" Great idea! But first, we built a contraption on her back, between her collar and waist belt. Abigail wasn't sure what was going on behind her back, she was only focused on the moment we told her to put nipple clamps on her cute perky boobs. That really hurt! She wanted to take them off again quickly, but we secured her hands behind her back… in the Rigid Box Tie Device! Perfect for girls who try to take their nipple clamps off! Abigail was panicking when we told her she had to escape the device first if she wanted to take off the clamps. We threw the keys on the floor… an impossible task: even with the keys this device is inescapable, all Abigail was doing is hurting her nipples more by more around to reach the keys.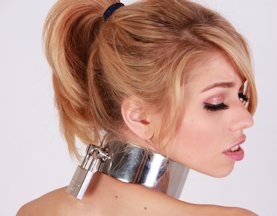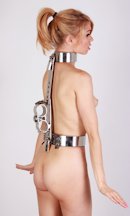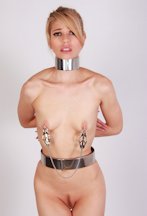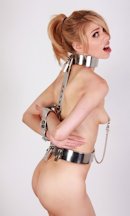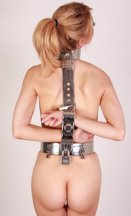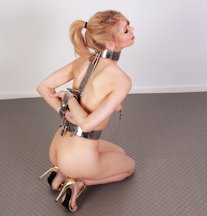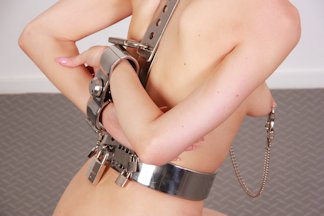 Tiny power woman Lana was once a mighty CEO. Now she is just another naked slave, locked in metal devices for our viewing pleasure. Her perfect round boobs are on full display when she is locked in the Rigid Box Tie device. This is a very rigid predicament, as she soon finds out. Even with all of the keys to the device on the floor, it would be hard for a girl to pick them up, let alone use them. But Lana gives it her best try! She struggles and struggles until she finds a way to pick up a key. Of course, she is still completely helpless after this small victory, because she can't reach any padlocks.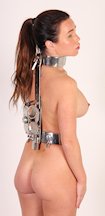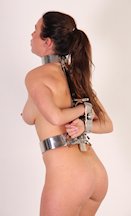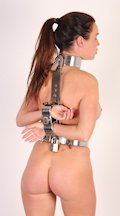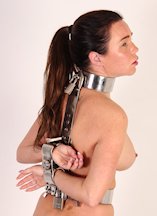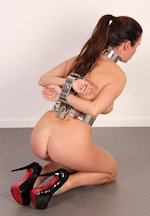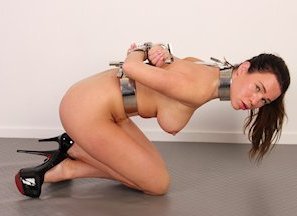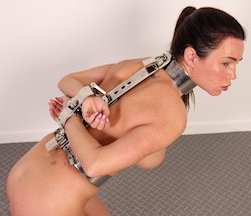 Tiny young Keira is back! After her last adventure, we didn't expect her to be back for more. The metal gear is so heavy for her, because she is so small. Still, she is here, and she wants to try some more. So we brought out the Posture Trainer. A serious bondage device, heavy and rigid. This device makes a girl completely helpless and vulnerable. Keira looks so cute, but there is nothing she can do, she can't even grab the keys that are on the floor. Beautiful and cute struggle, don't miss this one!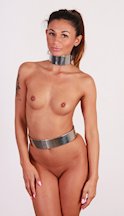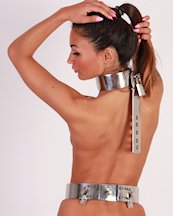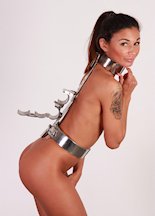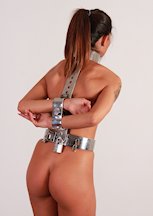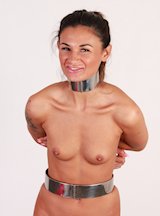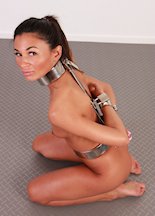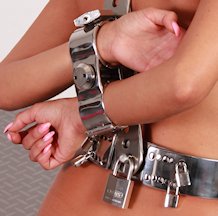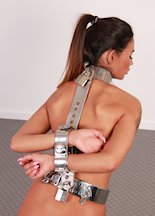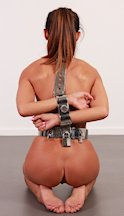 If there was ever a perfect girl for the Rigid Box Tie Device, it would be the incredible Lizanne from Belgium! This girl is just perfect. Perfect body, perfect measurements, perfect face. And she LOVES bondage! It's true. Every single piece of this Device fits her so well, it looks like it was made for her! A nude Lizanne, standing tall in her heels, locked in this device, so she is vulnerable and helpless. It is the best sight we've had here in the studio for quite some time! And Lizanne can stay in this device for hours, even an entire day, without complaining. She is even available for custom shoots, meet and greets (in this device or in a chastity belt) and studio shoots.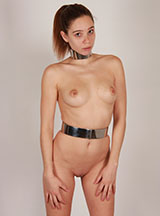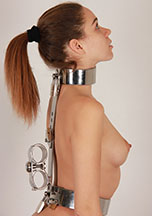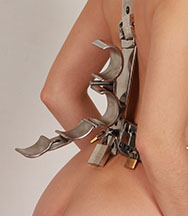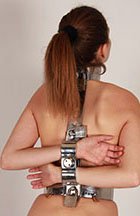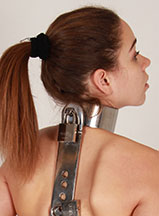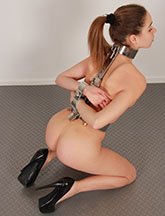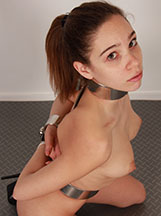 When we introduced our new Rigid Box Tie Device, Yu was not locked in a chastity belt. So a lot of people started wondering if a chastity belt could be worn in combination with this device. The answer is: yes! Of course! Especially when we have a model like the bondage loving Elise Graves, who wanted as much metal locked onto her body as possible! She wants to struggle, feel the unforgiving metal, she wants to be made completely helpless! So we gagged her, and chained her legs to her waist so she couldn't stand up. A lot of locks were needed for this gear, and we just threw all of the keys on the floor so Elise could struggle and try to escape! This is one of the best struggles you have ever seen in metal bondage, for sure!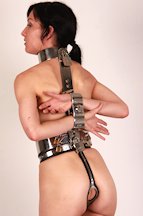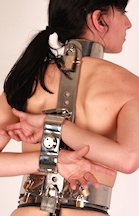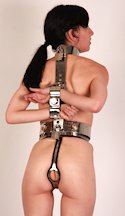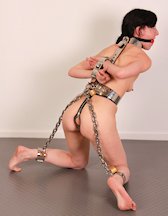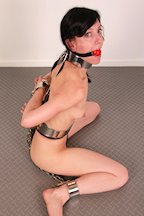 After a lot of designing, fabricating, and polishing, we came up with a way to make a very rigid metal box tie! MetalBondage.com proudly presents: the Rigid Box Tie Device! This modular device connects the neck to the waist with an adjustable heavy steel plate (for girls of different heights), and has a heavy steel adjustable waist belt. In between, there's a solid heavy box with two small wrist cuffs inside, which will keep the arms in a perfect position. This device is inescapable, as our test model Yu found out. Even with the keys, she couldn't do anything at all. Naked and angry, Yu looks awesome in our new device! The front view is so minimalistic with its clean collar and waist belt! A perfect posture training device!