All updates featuring
Magic Wand
Natalia Forrest!! She likes to be in control all the time. She just keeps talking, even if she clamped to the wall. Natalia is in no position to make any demands though, she will get vibrated until she cums!! There will be nothing she can do about it, and it is beautiful to watch. Especially because it is Natalia Forrest. Sometimes she just deserves a controlled orgasm in steel bondage. It will not change her or teach her a lesson, but it puts her in her place for just a little while.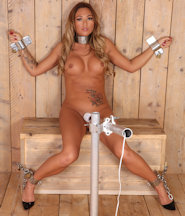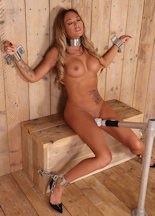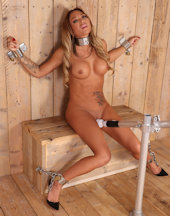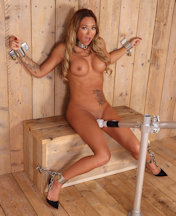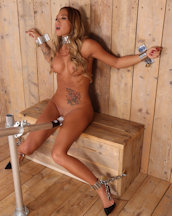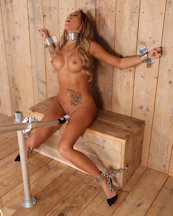 Nikki is back! This time, her flexible tall body will be folded into the orgasm frame. A metal contraption that leaves her very exposed and vulnerable. With her wrists locked to the top of the frame, all I have to do is strategically place a magic wand and turn it on. The orgasm frame will definitely do its job, there is no escape! It didn't take long for Nikki to reach a huge climax. I think she loves being helpless and brought to orgasm. I like her very much, she makes me want to build more contraptions to torture/pleasure her!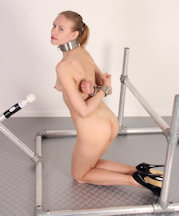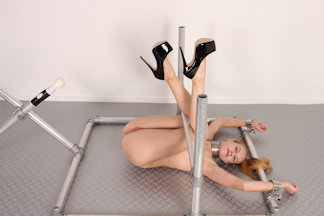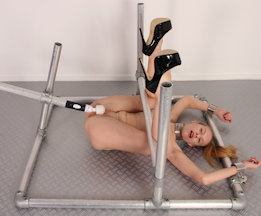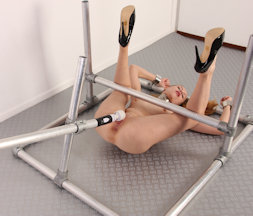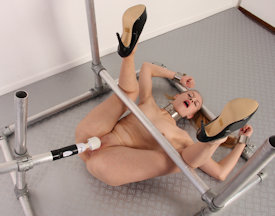 To hold Alexis Luna in place, I needed to build a REALLY sturdy frame! Wow, she is strong! This super fit girl is made for heavy steel bondage! I locked her to a 'chair' frame, with her legs spread open wide. Her collar was attached to the pole behind her and her wrists were secured to the crossbar. Alexis was not going anywhere, even with her impressive muscles she wasn't able to move the frame at all. A magic wand was added and she was in trouble now! She loves a good workout, so I gave her one! Alexis didn't even have to do anything! She was dripping and exhausted after this shoot! Don't miss this update, she's awesome!!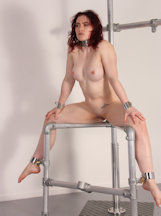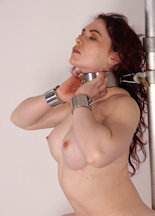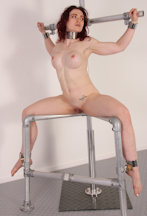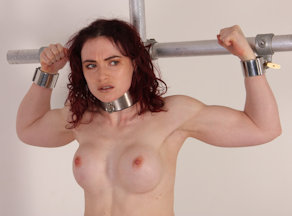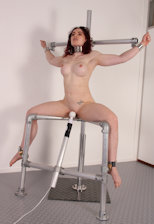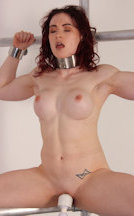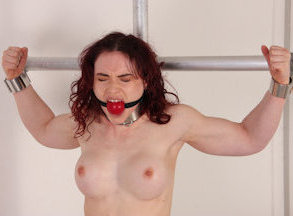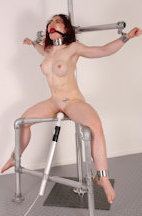 Tiny Lina is back! She is so much fun to work with, because she is small and light and flexible! It's fun to build things for her because she loves to try ANYthing. We made a frame for her to sit on, so her feet couldn't touch the floor. Her ankles were locked to the frame, so there was no escaping. We screwed her wrists to the wall with brackets, which was a bit scary for Lina but very exciting. Then we installed a magic wand to be exactly on her clit and turned it on. There was no way Lina could escape the vibrations, and soon she was lost in her own world. Yes, she really had an orgasm… or two… or three…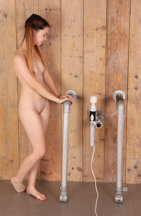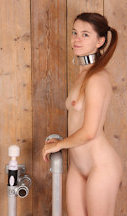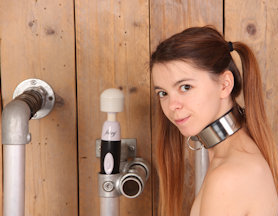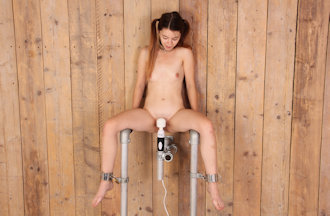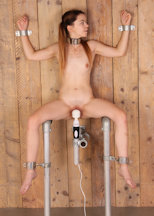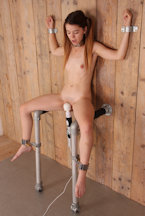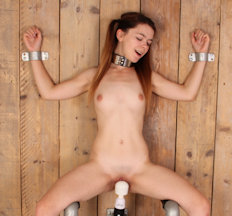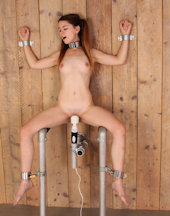 Cute teen Mira is back! Remember her sybian adventure? We loved vibrating her, her reactions are so pure, she can't stop herself. So we built a new small frame for her, this time she can lie down on her back, her wrists locked to the metal pipes. Her legs are chained high up in the air, allowing the magic wand free access to her pussy. All we have to do is turn up the speed and watch Mira drift off again! Metal bondage orgasms are so much fun!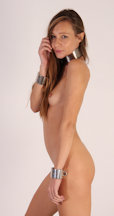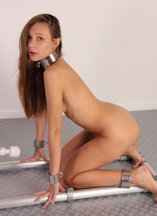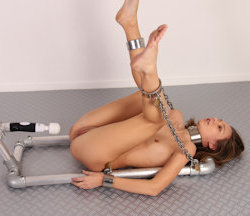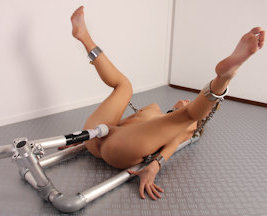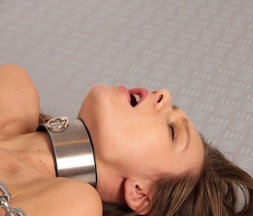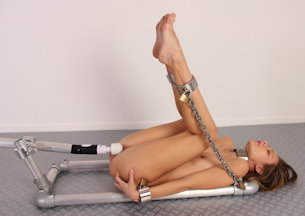 Please welcome tall kinky girl Vika Lita to MetalBondage.com! She is up for anything, she says. Well, we have an idea: why not create a magic wand harness out of metal! A heavy waist belt and some chains should press the wand right up against Vika's sweet spot. But what if she switches it off? We will have to put her in a RigidStock to prevent that! And a some nipple clamps for extra stimulation of course. Let's hope Vika can remain standing with this vibrator going at high speed! So much fun to watch her in this predicament!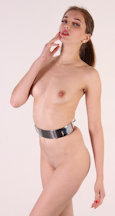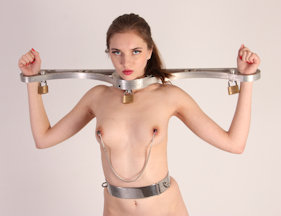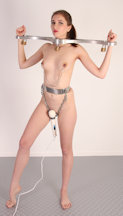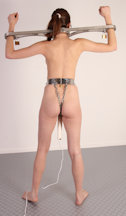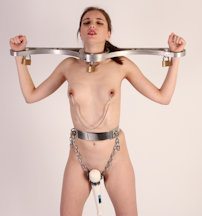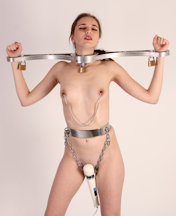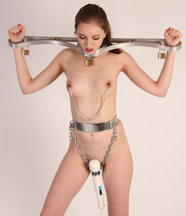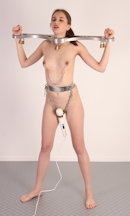 Please welcome Valentina Bianco to MetalBondage.com! This tiny girl loves to play with herself, so she should really be locked in a chastity belt. But let's be nice for once and give her what she wants. She won't be able to play with herself though, and it may be a little bit more than she asked for! The metal frame locks her in a fun position with her legs up and her wrists stuck to the steel pipes. A magic wand is placed right on top of her clit, and the fun starts! Watch how she stops struggling when the magic wand is turned on! This girl has got her priorities straight!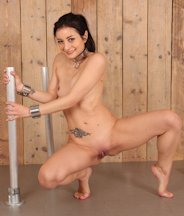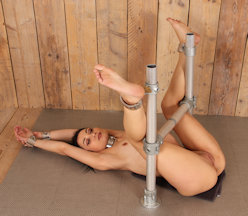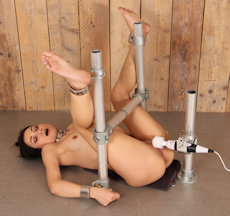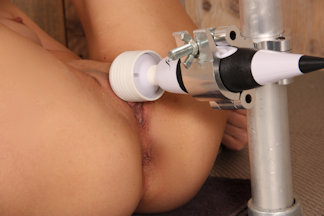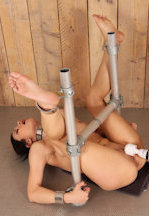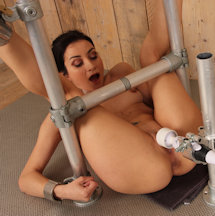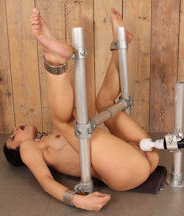 Famous gymnast babe Atlanta Morena is here for some metal bondage! Her extreme flexibility is so much fun to play with! We can lock her in positions that seem impossible, but Little Lanta can do them with ease. We chain her to the wall by her wrists and ankles, leaving her very vulnerable and wide open for some magic wand fun! There is absolutely nothing she can do about it, she is very helpless! Little Lanta never did any bondage shoots before, but after this one, she immediately asked when she could come back! We would love to play with her flexibility again, there is so much we can do with/to her! Enjoy this update!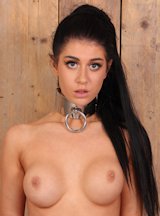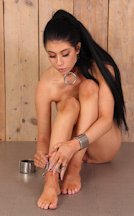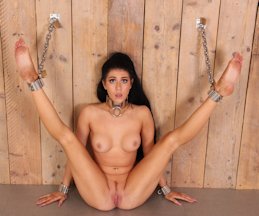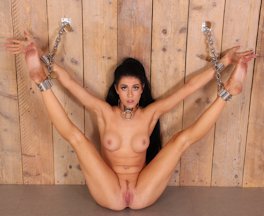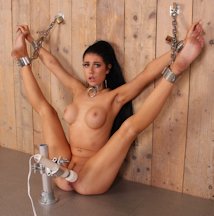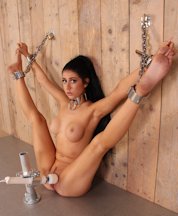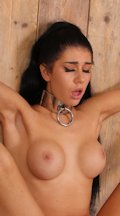 Mea was very curious about the eyes and the little T-bar that were bolted down to the floor. 'What is this?', she asked. Well, she shouldn't have. It's her own fault for being so curious. Locked in very heavy cuffs and collar, Mea soon found herself locked to the floor on all fours. A heavy chain prevented her from lifting her head too high, and she couldn't really see what was going on behind her. But she soon found out! A magic wand was installed and turned on… first at a low speed, then higher and higher. Mea couldn't get away from it, she had to go for the ride: the MetalBondage Magic Wand Challenge!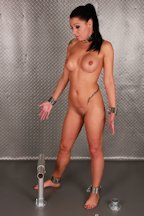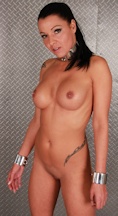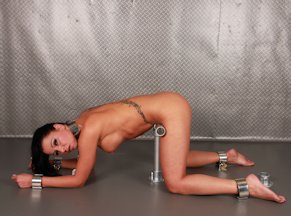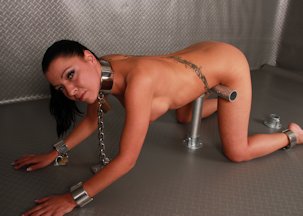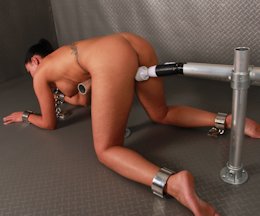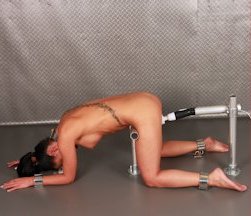 'I need to come over and try the frame!', Little Caprice wrote us in a cute message with lots of emojis. She must have seen the floor frame in one of our updates. Not many people know that the famous Little Caprice is actually a very submissive kinky girl. She loves bondage and especially pet training! She hates chastity belts though, she is way too horny for those. Well, we thought the perfect solution would be to give her exactly what she wants! The frame, but with a little extra bonus, to keep her happy. Turns out she does not like a magic wand when she can not control it. Oh well, she will have to deal with it now!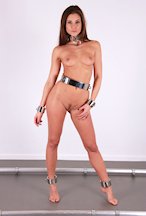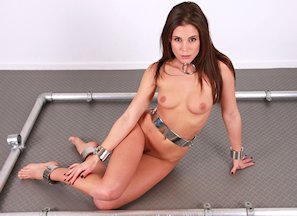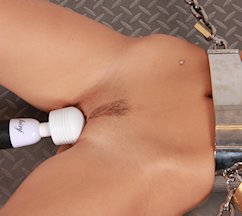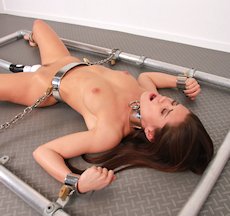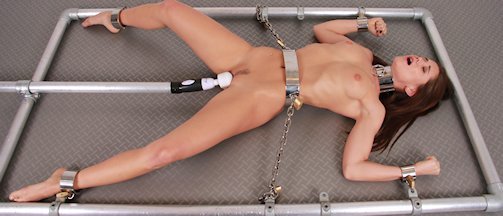 When the fabulous Stella Cox was over for a ChastityBabes.com challenge (check it out!), she got really frustrated and horny, so we decided to finally give her what she wanted. We chained her ankles and wrists to the wall so she was completely helpless. A magic wand was positioned and bolted down, resting on her sensitive pussy. All we had to do is turn it on and sit back to enjoy the fun! Stella got what she asked for, but maybe a bit too much?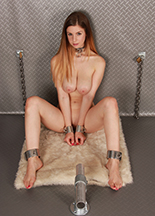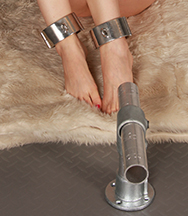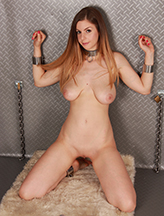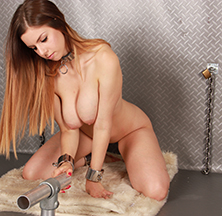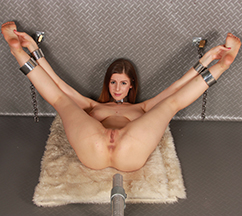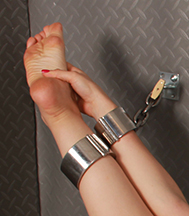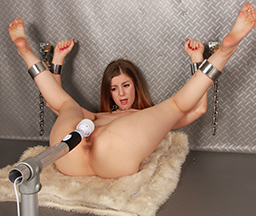 Uh oh! Darina is in some trouble! Well, that's how these 'peril' websites would describe it. We would just say: Darina is locked into a lot of heavy metal restraints, chained to the wall, with a magic wand vibrator pressed against a strategic spot. This isn't peril, or trouble, this is awesome! Darina's neck is firmly fixed to the wall, her arms and legs spread out wide. There is nothing she can do to stop the magic wand from doing its job. Maybe she doesn't want to stop it, we can't really tell. It looks like she is having a good time, what do you think?