All updates featuring
Arabella
Arabella doesn't like her boob bands. I always lock her boobs in steel, and she is getting annoyed by this. The boob bands are tight and uncomfortable. She tries pulling on the padlocks, but without a key, the tight metal bands aren't coming off. But to stop her from prying at the locks, I decided to lock her in a posture trainer as well. Now she really is the perfect secretary! Locked boobs, exposed, and helpless. I even left all of the keys on her office chair, but unfortunately this predicament is very inescapable!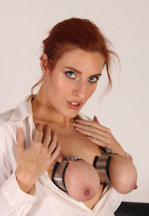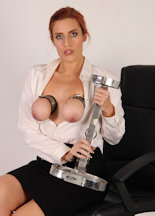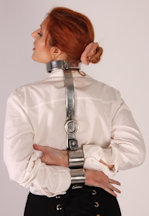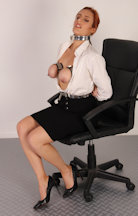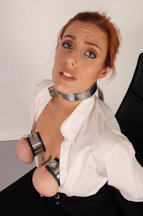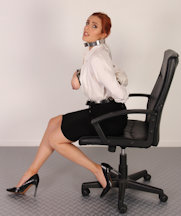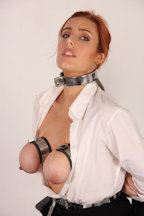 We made custom fitted boob bands for our pet slave Arabella! They are extremely tight, she keeps trying to get them off, but it's impossible without the key. She will be allowed out of her cage, on a leash, and she can have a little drink from her bowl. Arabella's eyes are begging us to unlock her metal boob bands, but we are not going to. She will have to get used to these tight cuffs on her chest. After all, they look awesome on her, don't you agree? Tight is right! Arabella will learn, she's a good pet.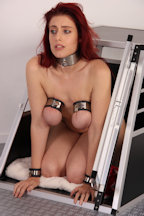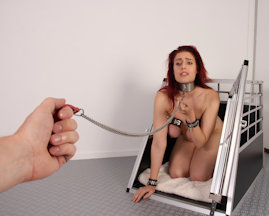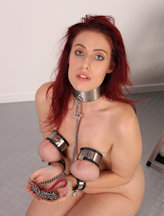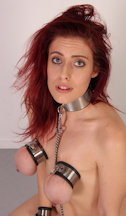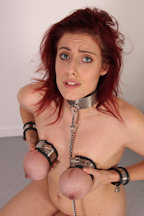 We found a new model with a perfect body for metal bondage! Arabella is a stunning red head diva, with some very unique bondage skills. Her small waist, super flexible arms, and her ability to open her mouth really wide are surely going to be a lot of fun for tight belts, extreme elbow bondage, and huge gags. But her most fun feature are her natural boobs that can be cuffed and locked! Arabella did not expect her boobs to be cuffed in this update. In fact, she did not know what to expect at all. But with her boobs chained to an overhead frame, balancing precariously in her super high heels, Arabella must have been wondering what she had gotten herself into!