All updates featuring
Sophia Smith
Sophia Smith is doing a Chastity Deal over at ChastityBabes.com. She is doing a lot of tasks and challenges there while locked in full chastity (belt, bra, and thigh bands). She was also locked in a collar, but we took it off for this shoot (which was also part of her Chastity Deal), because we had something more exciting for her! Our custom built Posture Fiddle is a very tough predicament device. It is small, with a very tall collar and oval wrist cuffs. Once locked on, you are really stuck in one position. With a big padlock on the back of the collar and another one beneath the fiddle, there was no chance for Sophia to escape this device. She tried though!! Such a fierce lady, she should be permanently locked in metal!!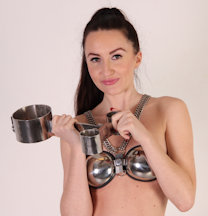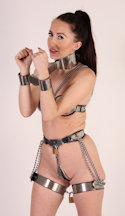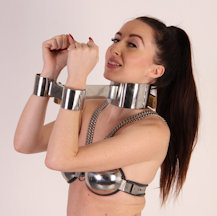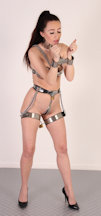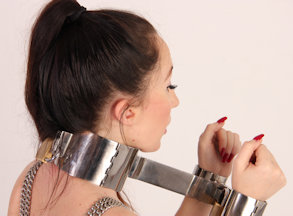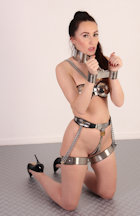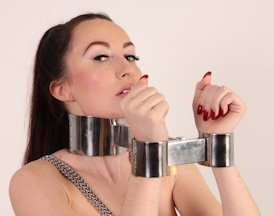 Remember Kerry in the Heavy Stork device? Get ready for some more over-the-top heavy metal bondage with a pretty girl, because this time we have managed to convince the gorgeous Sophia Smith to try this device! It is an insanely heavy device, because all pieces are massive (not hollow), the bars, the collar spikes.. Sophia couldn't even lift it. We placed the key next to her, but all she could do is just sit there. The collar spikes prevented her from falling over sideways, so her hands would never get near the key. Just sitting there in this heavy uncomfortable device, that's what they were originally designed for!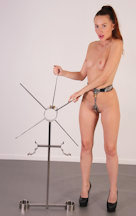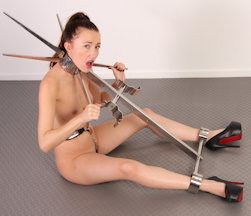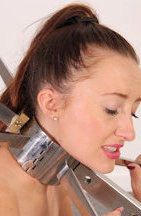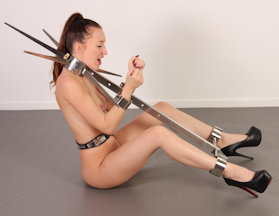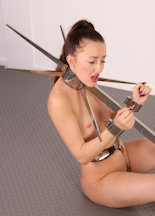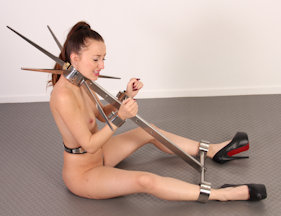 Sophia Smith is really giving all of her employees a very hard time. She is very bossy, shouting on the phone, shouting at her employees. Sophia just loves telling people what to do. Of course, when you behave like this in the office, there will be a day someone will no longer put up with it. Sophia wakes up, locked in a heavy collar chained to the wall. She has been locked in a tight chastity belt and her wrists are cuffed to the sides of the belt. Her skirt and top are gone! A little confused at first, she soon gets very angry. Sophia demands to know who put her there! Whoever did this to her will be punished, she shouts. Sophia Smith is furious!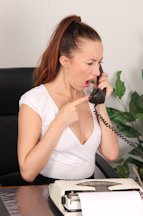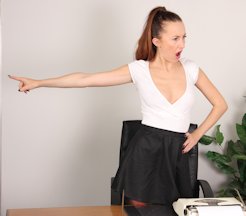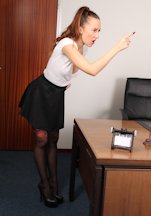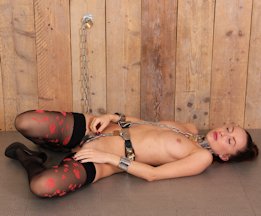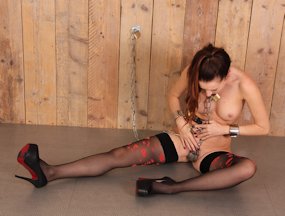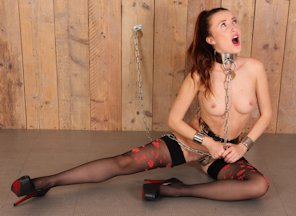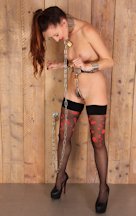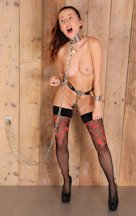 Please welcome the incredible Sophia Smith to MetalBondage.com!! We are so proud to have her (in metal)! Sophia likes a good bit of bondage, she told us. And by that she means rope. But we don't do rope. We do very heavy metal devices. And we make sure the models don't get too naughty by locking them into tight metal chastity belts. Sophia was in her FancySteel chastity belt within seconds. And the Ballet Stocks are an even better tool to stop her from touching herself. She was determined to escape from this seriously heavy device that made her keep her hands raised high above her head. Sophia is so awesome, we could watch her struggle all day long!