All updates featuring
Spring – high tension
Let's try something new today: we put Cindy Dollar on the One Bar Prison, but we didn't fix the dildo in place. Instead, we attached strong springs to it so it would move up automatically. Now this was extra frustrating for Cindy, she could push the dildo down by bending her knees, but every time she went on her toes to escape her impalement, the dildo moved up with her. Even without high heels (normally required for a One Bar Prison) it was impossible to escape, and a lot of fun to see her move up and down with the dildo staying firmly in place inside her. Of course, she would have been able to push it down with her hands and step off, so we had to lock her in the Iron Crown for extra security. Don't miss our latest invention video and picture set!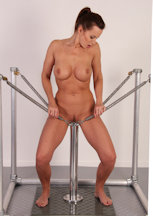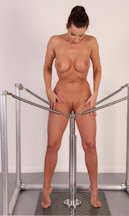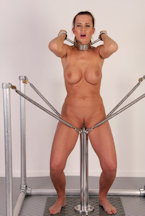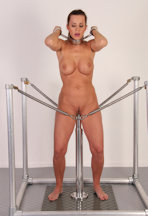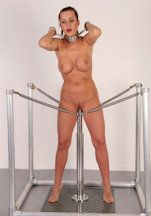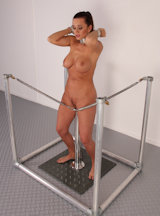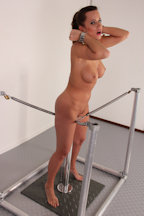 When we did the high tension spring hogtie with Melisa Mendini, it was so much fun to see her get more and more exhausted, fighting the resistance of the springs pulling her arms and legs back up. New girl Ariel is a bit puzzled when she sees the pole and the springs. This young busty girl looks so awesome in heavy steel! We found a big heavy collar that fits her so perfectly, it looks like it's made for her! Once she is attached to the Spring Loaded Hogtie, the fun begins. Ariel is quite strong so she can keep her arms down for a while, but eventually she will get tired!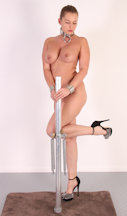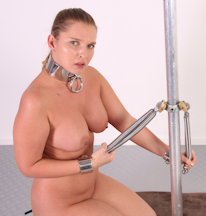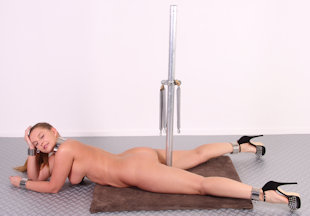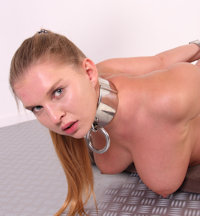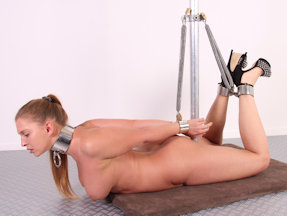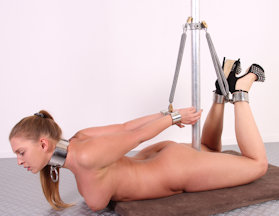 This is fun! We found some high tension springs and we immediately thought they would make a great predicament bondage. So we grabbed our tiny friend Melisa Mendini and we put her into a metal hogtie. Two springs were connected to her wrists and two springs to her ankles. Now, one spring is already a lot of tension, but two springs are definitely too much for cute Melisa to hold down. She tries to lower her wrists and ankles by pulling the springs down, but she can only hold them for a second, after which her arms and legs are raised automatically. Melisa doesn't really like the arched hogtie, so she tries to pull on her wrists and ankles again and again to get a little relief. But her strength is fading quickly and the springs are winning! It's beautiful to watch her get tired (and pulled back up)! Don't miss this!