All updates featuring
Cindy Dollar
Remember the Portable Fucking Machine prototype? Check out this update if you need to catch up. It is an automatic wearable fucking machine and it was a lot of fun to test. But it needed an extension cable to power the machine, which kind of limited the model's movement. Now it has been upgraded with a (blue) battery pack! It means that you can get automatically fucked everywhere you go! Hands free! It will be so useful for maids doing chores around the house, or even outside under a dress! The possibilities are endless now. Of course, the prototype is still not finished, there are a few things I need to tweak, but I had a lot of fun testing this version on Cindy Dollar!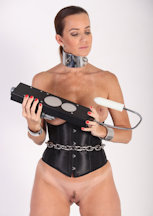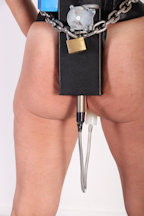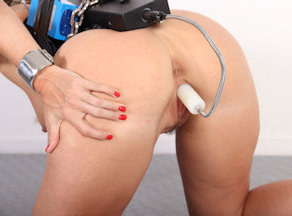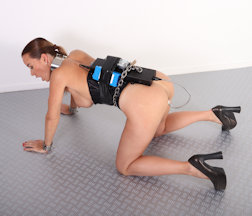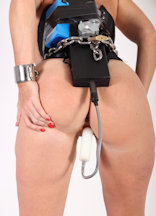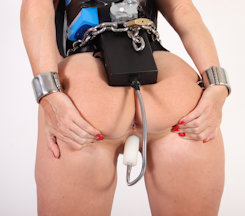 I showed nurse Cindy Dollar my latest creation: a low cross with heavy cuffs attached to it. She was not impressed. Especially because she spotted two pairs of clover clamps and Cindy has incredibly sensitive nipples. She wasn't going for it. In fact, she gave the whole contraption the finger as she walked away. Of course, moments later, Cindy found herself locked to the frame anyway. In a very hard squat position (in heels) with clamps on her nipples and labia. How terrible! I even gagged her and hung a padlock on her nipple clamps. Because it's Cindy Dollar, and she just looks so good in heavy steel!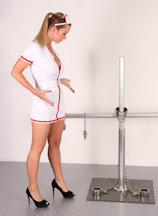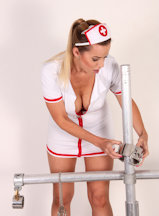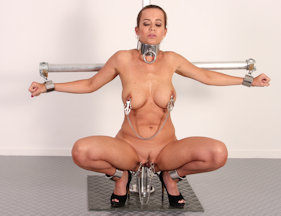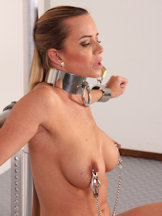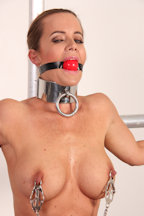 I showed Cindy Dollar my custom built Metal Stork device. It is extremely heavy, especially with the solid spikes added to the collar. She tried to lift it and immediately said 'no'. She said she was sorry but she had something else to do and wanted to get out of there as soon as possible. There was no way she was going to model this thing!
Of course, several minutes later, Cindy found herself locked in the stork, with a tight ballgag in her mouth to stop her from protesting. She was completely nude with painful clamps on her nipples. All she could do is sit there. She gave me the evil stare, but it wasn't helping her. Even the key right next to her on the floor was pointless. Is there such a thing as reluctant modelling?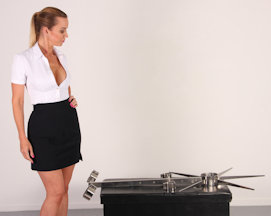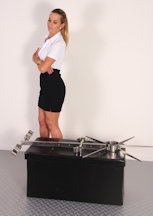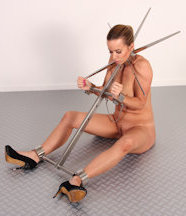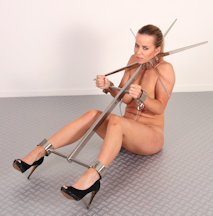 Through very fortunate circumstances, I got my hands on the original Pichard Cage from House of Gord! The famous models who have been in this cage!! Wow, it is a big honor and I will definitely try to shoot some updates with this famous cage. It is super heavy, and very well made. But the most important thing is: it is a very hard challenge to get locked into this cage. There are two dildos mounted in the back, which is pretty intimidating. However, the main challenge is the position: with your arms locked back over the bar, it takes a lot of strength to maintain the position. That's why it also requires a harness gag to secure the top of the head to the front of the cage. My awesome model Cindy Dollar is the first girl to try it! Don't miss this! And check out the picture set too!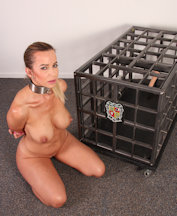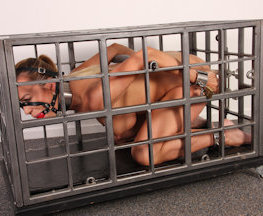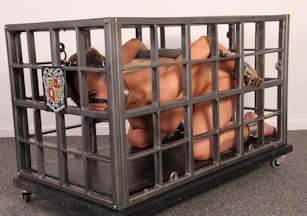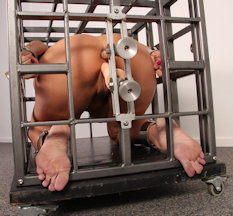 The Nipple Clamps Training Machine was a terrible ordeal for young Diamondly a while back. I decided to bring it back for our awesome reluctant volunteer Cindy Dollar. The problem? She has very sensitive nipples. So I had to make sure she was really secured very well, with no movement in her neck, arms, and legs. Cindy was completely stuck and unable to move, her labia clamped (she didn't like that either). The machine certainly did its job! Training her sensitive nipples, hurting with every stroke. Cindy made a sound through her harness gag every single time, at the rhythm of the machine. Very beautiful to watch. So relentless and mean, it is one of the most evil machines I have designed so far!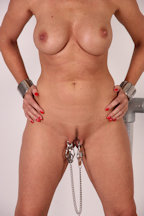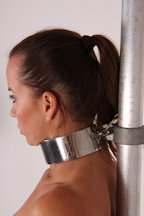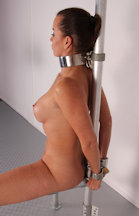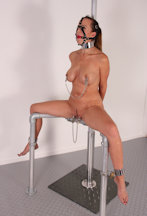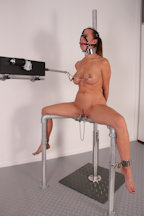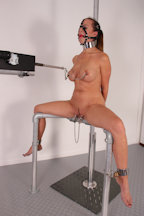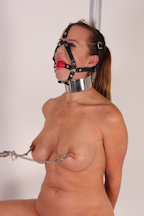 More Cindy Dollar! She is just an amazing trooper, we have put her through so many challenges. But today's challenge might be her biggest one yet! Cindy is going to lift weights with her nipples! We have a custom made weights set which consists of 250 grams, 500 grams, 1 kilogram, and 2 kilogram weights. Cindy will try to lift increasingly heavy weights with her clover clamps (which already hurt a lot on their own). She starts with 250. Then she goes up to 500. And she combines 250 plus 500 for a total of 750 grams. Then the 1 kilogram weight. And so on. What will be her nipple weight lifting record? Do you think we should make a competition out of this?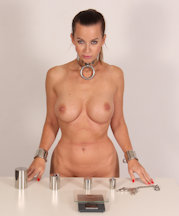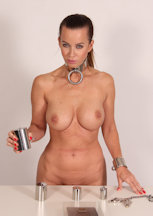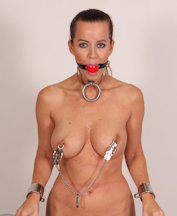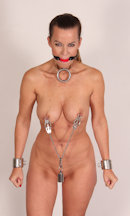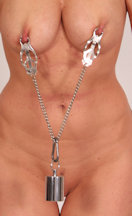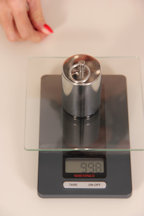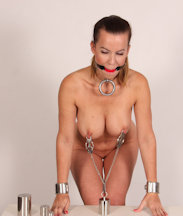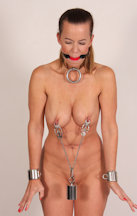 Cindy Dollar! We love shooting with her, she is so easy to work with. Anything we lock onto her spectacular body fits very well, and it looks amazing. She never complains about anything. Cindy is literally a perfect bondage doll you can do ANYTHING with. Today, we try the most rigid arm bondage ever, with the custom made Wonder Cuffs, again a perfect fit for Cindy! We restrain her arms behind her back and then lock the Wonder Cuffs to the back of her chastity belt. Her arms are bent a little, and we add a pair of heavy elbow cuffs! Cindy couldn't move her arms at all! From the front it looks like she has no arms! We threw the key on the floor, but of course Cindy knew she was completely helpless…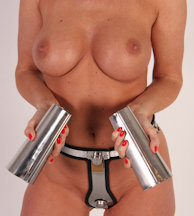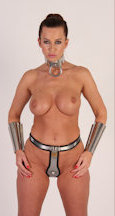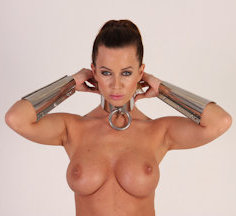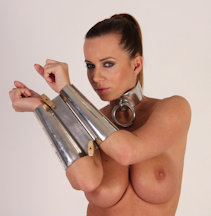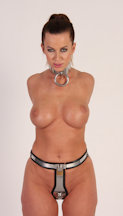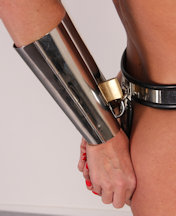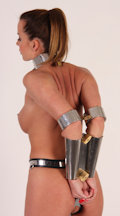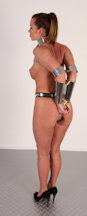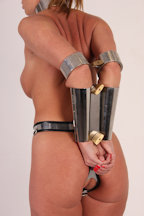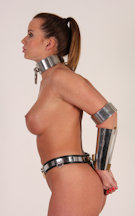 Cindy Dollar is back to test our latest invention: the Posture Collar Gag! It is a steel posture collar with an attachment spike at the front, where different gags can be mounted to slide into a model's mouth. We could mount a ballgag, a penis gag, but today we are going to test it first with the metal tongue plate! It worked beautifully, and we were able to slide the plate deep into Cindy's mouth. She couldn't move her head up, down, left, or right anymore. The tongue plate held her tongue down so she couldn't speak, and some drool started forming. We locked her wrists to the back of her chastity belt and nipple clamped poor Cindy. We love testing things on Cindy Dollar, she is a perfect bondage doll!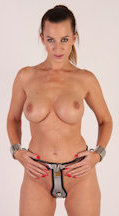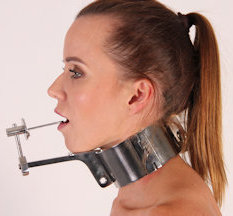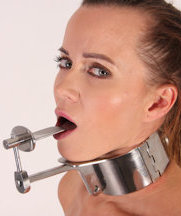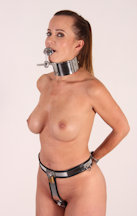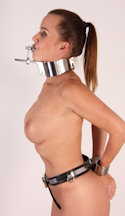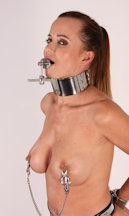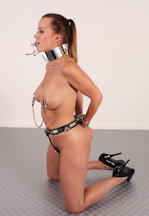 Let's try something new today: we put Cindy Dollar on the One Bar Prison, but we didn't fix the dildo in place. Instead, we attached strong springs to it so it would move up automatically. Now this was extra frustrating for Cindy, she could push the dildo down by bending her knees, but every time she went on her toes to escape her impalement, the dildo moved up with her. Even without high heels (normally required for a One Bar Prison) it was impossible to escape, and a lot of fun to see her move up and down with the dildo staying firmly in place inside her. Of course, she would have been able to push it down with her hands and step off, so we had to lock her in the Iron Crown for extra security. Don't miss our latest invention video and picture set!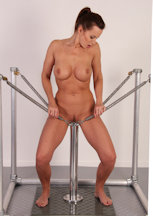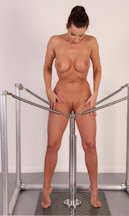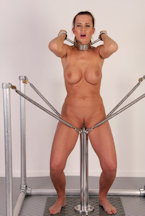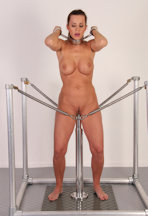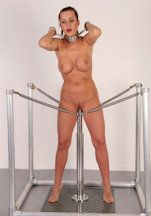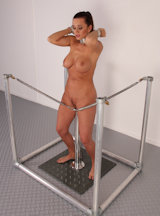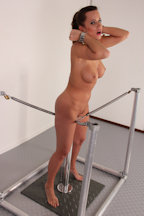 Wow, Cindy Dollar is back! We didn't see her for a few years, but she still looks exactly the same! And better yet, she brought a friend! Nicole Vice was a bit concerned about Cindy so she decided to tag along to see what goes on in a MetalBondage shoot. Well, we had planned to put Cindy on the One Bar Prison, but since Nicole was with her, we might as well impale her too! One Bar Prisons are better with friends! Nicole didn't blink, she even helped to impale Cindy before being put on her own One Bar Prison. No escape for those two! Well, we gave the allen key to Cindy for a moment, but she is very flexible so we quickly took it away and told the pair to turn around for us and get dressed. Perfect helpless mannequins! We just let them stand there for a while…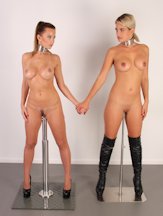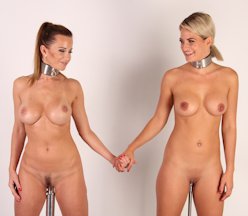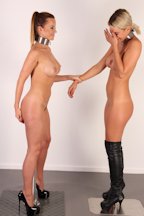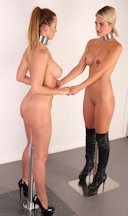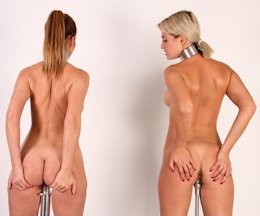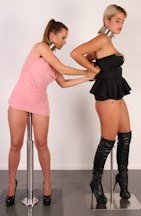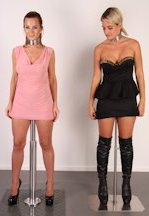 Cindy Dollar is back! She is so much fun, her reaction to being locked in a tight chastity belt again was very silly and relaxed! She also loved the tight collar! And her elbow cuffs… until we padlocked those together behind her back, that was a little extreme! But Cindy is so flexible and determined. We used spreaders to keep her wrists and ankles apart and threw all the tools and keys on the floor. Plenty to choose from if she wanted to attempt an escape! We all know that's impossible, but you have to admire Cindy for trying!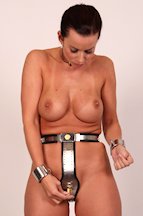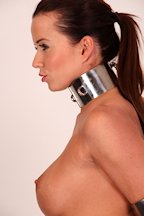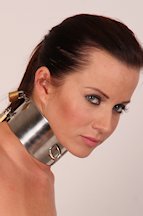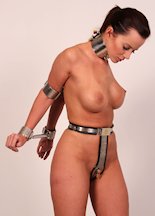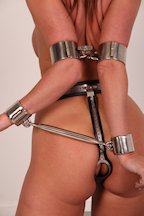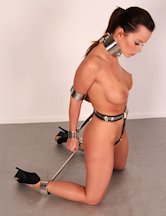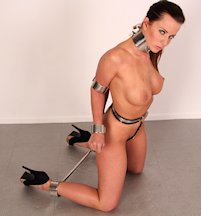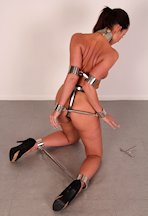 Basically, Cindy Dollar only had one question about this shoot: 'If I am going to be locked in this interesting looking heavy neck thing, why do I have to wear an ultra tight steel waist band?'. It was only much later in the shoot that she would understand, when we locked her ankles to her waist with chains that were just too short to stand up. It seems a little bit harsh to introduce a new model by locking her into one of the most rigid devices we have: the Posture Fiddle. The collar is extreme, and there is no movement in the arms at all (which you can only imagine after seeing the video). Don't worry, Cindy was alright, she is pretty though! And she even wants to come back for more, even though she knows she will definitely be locked in a chastity belt next time!