All updates featuring
Nipple Clamps Training Machine
Kerry is back!! The cute bondage girl from Scotland will take on the Nipple Clamps Training Machine today and it is a bit scary for her, because she has very sensitive nipples! She will be locked onto the frame by her neck, wrists, and ankles, so she can't move at all. She even gets clamps on her labia! She prefers a gag when doing bondage, so a 2 inch red ball is added as well. Now the machine can start to do its evil work. It goes faster and faster, pulling on Kerry's nipples as she moans and wriggles. It is a relentless training device, there's no escape! Kerry loved this shoot, she already wrote me she wants to come back soon!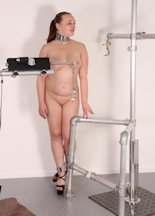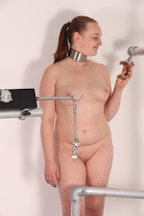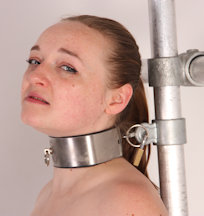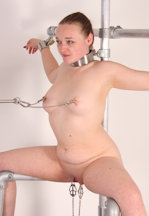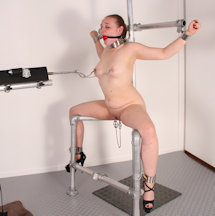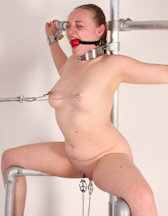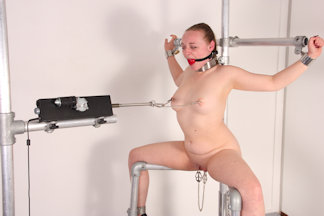 Who else thinks tiny Lina Roselina needs some more nipple clamps training? She is such a naughty girl! Time to teach her a lesson with the Nipple Clamps Training Machine. But this time, it is installed vertically. Lina is lying down, locked to a frame with heavy cuffs. She knows what is coming… and she knows she won't like it. Lina Roselina has very sensitive nipples! She moans and wriggles as the machine pulls relentlessly on her clover clamps. Faster and faster it goes! There's nothing she can do to stop this torture!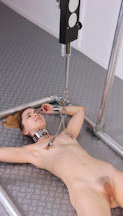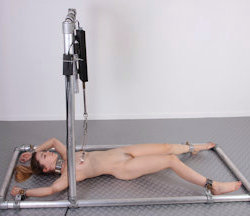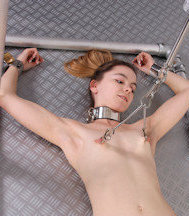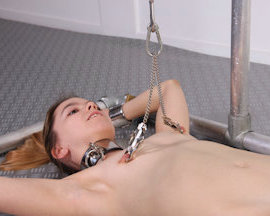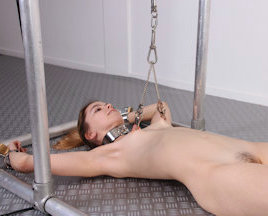 The Nipple Clamps Training Machine was a terrible ordeal for young Diamondly a while back. I decided to bring it back for our awesome reluctant volunteer Cindy Dollar. The problem? She has very sensitive nipples. So I had to make sure she was really secured very well, with no movement in her neck, arms, and legs. Cindy was completely stuck and unable to move, her labia clamped (she didn't like that either). The machine certainly did its job! Training her sensitive nipples, hurting with every stroke. Cindy made a sound through her harness gag every single time, at the rhythm of the machine. Very beautiful to watch. So relentless and mean, it is one of the most evil machines I have designed so far!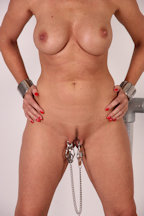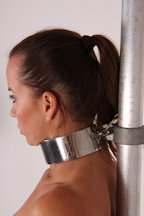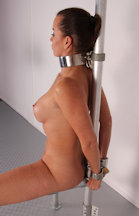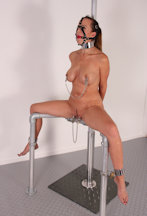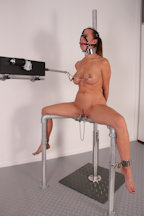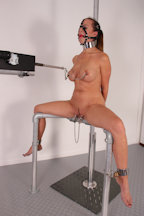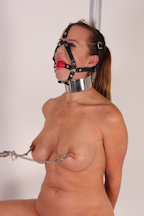 Young Diamondly is only 20 years old, but she already knows she wants to become a big bondage star! She will need a lot of training and experience for that, so we decided to help her a little. Diamondly can't really handle clover clamps very well (yet), and we thought it would be great to build a training machine for her. We secured Diamondly firmly into place on a metal frame, her legs, neck, and arms locked. She couldn't move at all, very essential for the Nipple Clamps Training Machine! A huge ballgag would hopefully stop her from making sound. It didn't. Diamondly drooled, screamed, and cried as the relentless machine did its job of pulling her clover clamps over and over again. And then we turned up the speed…