All updates featuring
Waist chain
In update 666, the tattooed friends are back! Remember Lolly Anne and Dandelion, the alternative girlfriends trying to work together in the Rigid Escape Challenge? They will have to cooperate again today, as I prepared a very special challenge for them. With their wrists cuffed behind their backs (to a waist chain), they will be clamped with connected nipple clamps! The chain runs through a pipe above them. Lolly Anne and Dandelion have to stay on their toes or they will pull on their own and each others nipple clamps! It's hard to balance and it's very painful on their nipples. Gagged with huge ballgags, they can only communicate in moans of pain. It's not easy when you realize you are hurting your best friend's sensitive nipples!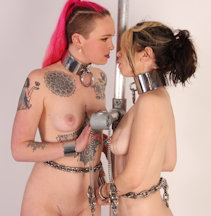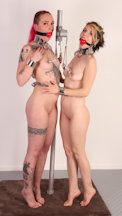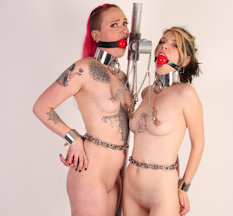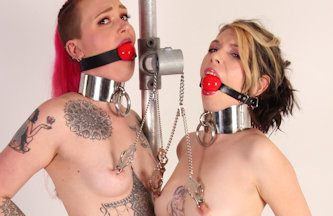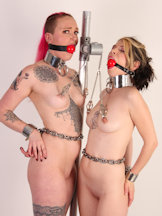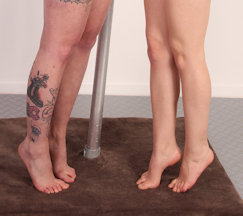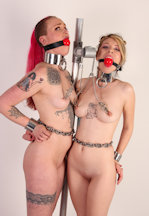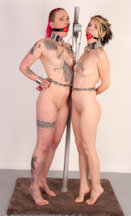 Meet Denise! She is 18 years old and she wants to be a bondage model! Her career is taking off fast, and it's about time she appeared on this website. Not an easy start for her, as I planned the FoToRo Padlock Challenge with her. Like last time, with Lina Roselina, Denise will have to move 4 padlocks to the other side of the room, using only her nipple clamps. This time, however, one goal is a very tall box and the other one is on the floor. And to make this even more challenging, I added the heaviest padlock I could find, it is a beast! Denise will have to move every padlock twice, once to the floor, and then back again. Can her nipples handle this?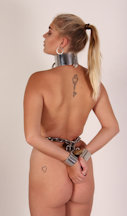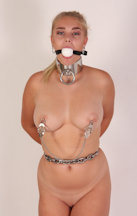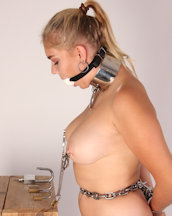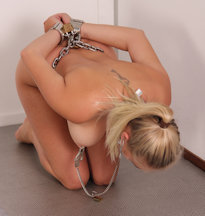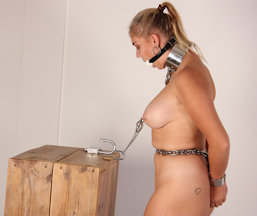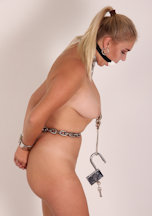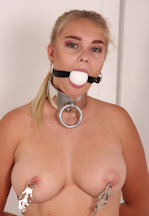 Another new machine this week!! After the Blowjob Machine, we just had to invent a Handjob Machine too! It's great for training girls, and they don't have to do anything at all! The awesome Lucy Lauren was the first to try it. She had no idea what was about to happen, as dildo was not mounted at the start of the shoot. She just guessed her wrist would be locked into the machine. After we restrained her other hand to her waist, we gagged her with a huge ballgag, and then we put the big dildo in place. It was too late for Lucy now, she would have to keep giving a handjob for a long time (a very long time, it turned out). We can modify the speed of the stroke, it is rather brilliant. Lucy got really tired, because we had so much fun with this we couldn't stop playing with the new machine. Machines are awesome!