All updates featuring
Denise
A new day, a new machine here at MetalBondage.com! The Spanking Machine is the latest addition to the automated torture arsenal, and it packs a punch! It can extend its swing from 1-10, the higher the setting, the further the spanking implement will be drawn back, landing harder and harder. Denise tries level 1-4 and it was already enough to make her scream and turn her butt red! I absolutely love this machine! Denise didn't like it at all. I will have to test it more on other girls, who would you like to see get spanked?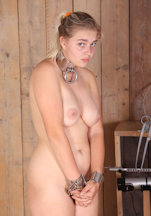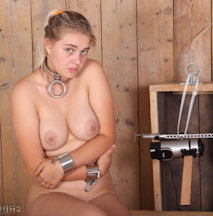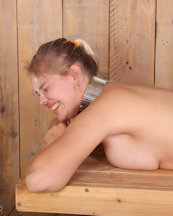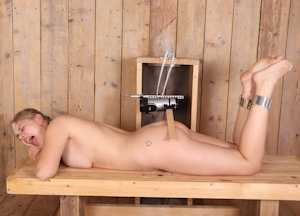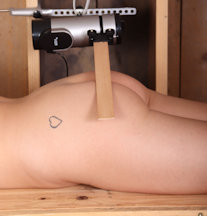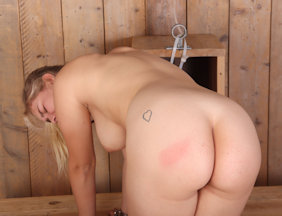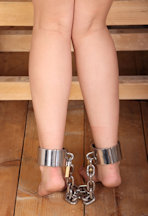 A fan sent me this script for a 'modified escape challenge video' as he called it. It would involve an extreme steel hogcuff with everything locked on, even a ballgag. The keys to the locks would be taped to the wall at various heights. At the start, the fully restrained and hogcuffed model would only be able to fetch the lowest key and bring it to me to get something unlocked. Then, as she gained progressively more mobility, she would be able to get the next key, and so on, each time bringing them over to me to get another item unlocked. Denise was the happy victim for this one, she is very tough, and she LOVES a challenge! If you have a challenge you would like to see on video, feel free to write me, I know a lot of competitive girls!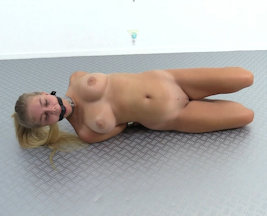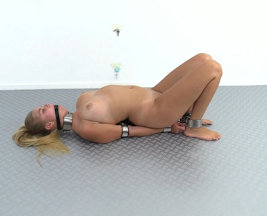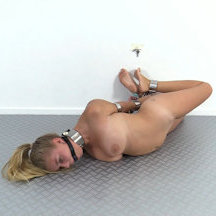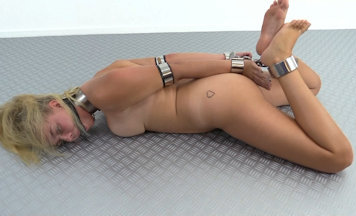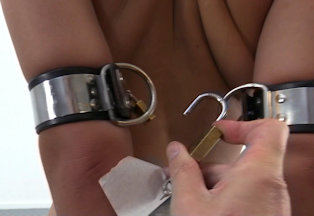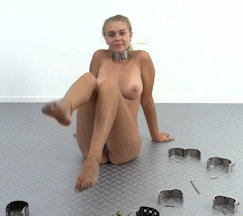 When I introduced these girls to each other, they quickly became best friends forever! Denise and Darina like each other very much! I decided to put their new friendship to the test, with the famous nipple clamps balancing act. Their wrists tightly locked behind their backs, I clamped their nipples to an overhead frame so they would have to stand on their toes. If one would go down, she would pull hard on the other girls nipple clamps! Communication was hard because of their ballgags. Would you stay on your toes to save your friend? Watch the video to see what happened!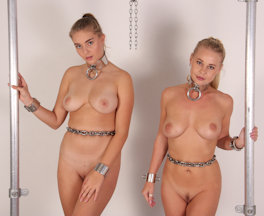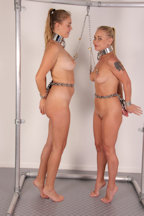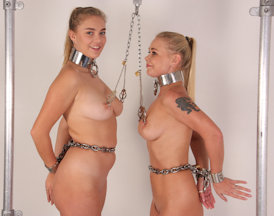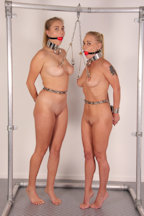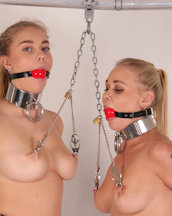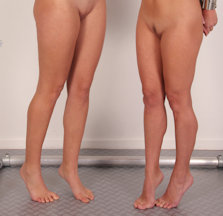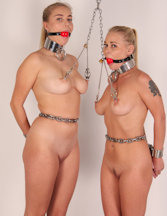 Young Denise doesn't like nipple clamps on her big boobs, she has very sensitive nipples! So I came up with an elaborate way to stop her from removing them. It involved a lot of metal! Denise is boob cuffed, and locked in a heavy waist belt and a collar. She also got locked in a scold's bridle which was attached to the doll stand frame. A spreader bar keeps her legs apart. Her arms are kept up by chicken wing cuffs and wrists cuffs attached to her head. Now I can finally enjoy playing with her nipple clamps, and tease her by tightening the boob cuffs. Denise can not stop me!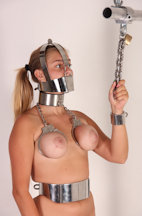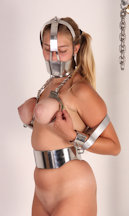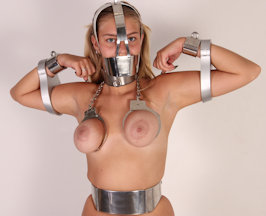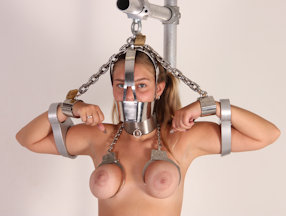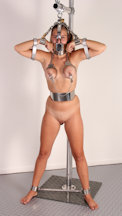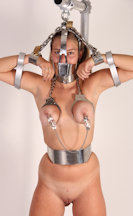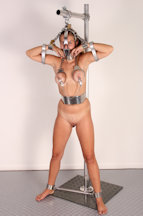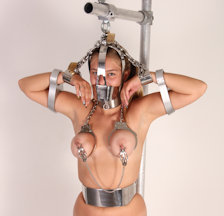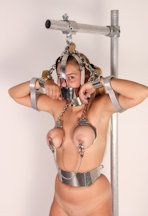 Denise! The young submissive wants to be owned 24/7, and she loves a good challenge! I think I might take her as my sub, she is just so perfect! Huge boobs that can be cuffed, very obedient, flexible, and so cute! Denise is boob cuffed, wearing a huge heavy collar, and her arms are pulled in a strappado. She is gagged with a 2″ ballgag, and I start tightening her boob cuffs. Click… click… so tight! Then I clamp her nipples, and hang two big padlocks on the nipple clamp chain. Denise starts drooling and moaning… what a challenge! She loved it!!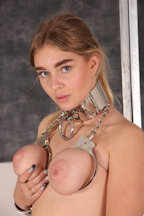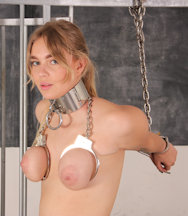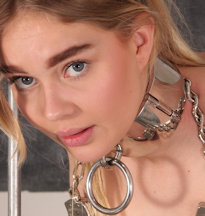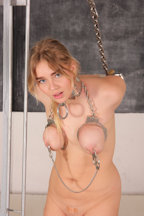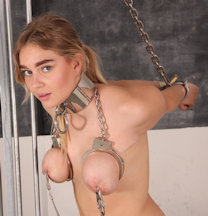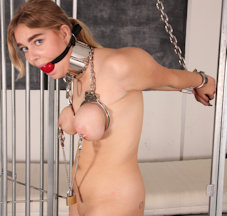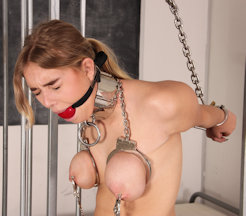 Denise is in the studio, she is a model agent who was supposed to book a model for me. But her model is very late and Denise is going crazy on the phone, trying to get her model here in time. No one showed up, so there was only one thing I could do: Denise would have to fill in. She was definitely not happy with that! The shoot I had planned involved the heavy stork device, nipple clamps, and a huge ballgag. Well, it's her own fault, she should have arranged it better. Now Denise will have to take the model's place.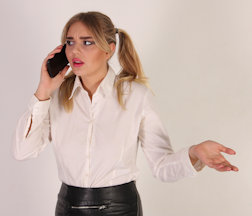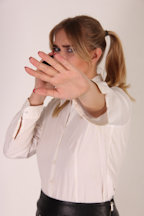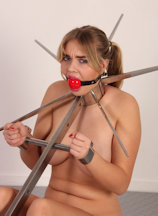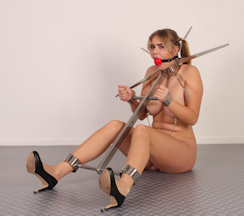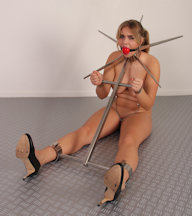 Meet Denise! She is 18 years old and she wants to be a bondage model! Her career is taking off fast, and it's about time she appeared on this website. Not an easy start for her, as I planned the FoToRo Padlock Challenge with her. Like last time, with Lina Roselina, Denise will have to move 4 padlocks to the other side of the room, using only her nipple clamps. This time, however, one goal is a very tall box and the other one is on the floor. And to make this even more challenging, I added the heaviest padlock I could find, it is a beast! Denise will have to move every padlock twice, once to the floor, and then back again. Can her nipples handle this?