All updates featuring
Latex Rapture
Latex Rapture desperately wanted to try the One Bar Prison. She couldn't believe it was possible to trap a girl with only one pole. Well, if you wear high heels, it is impossible to escape from a One Bar Prison (just think about it), but just to be sure I locked her wrists to a massively heavy steel waist belt. Of course, I gave her the key to lower the One Bar Prison, but she couldn't even bend down, so there was no hope. Latex Rapture gave it a good try though, she tried to lift herself off the dildo but she just couldn't do it. Be careful what you wish for, you might be stuck for a while!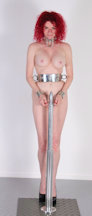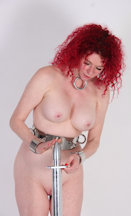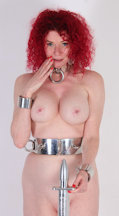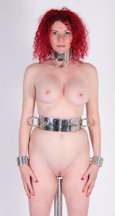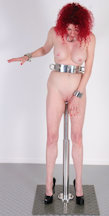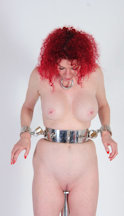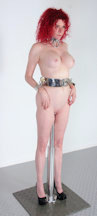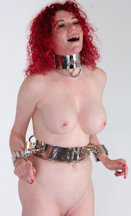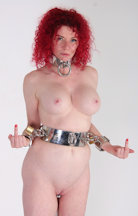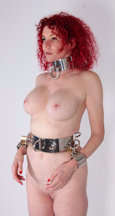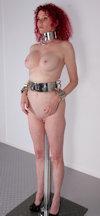 Latex Rapture wanted to try the Steel Hobble Dress! In fact, she want to try all of my gear, so we will be busy for a long time. The dress is perfect on her, with her large boob sticking out. It is very restrictive, you can only stand in this dress (it is impossible to kneel or lie down), and walking can only be done in small steps. With a heavy collar and cuffs, it is the perfect party outfit! I can even lock her wrists to the sides of the dress to make her completely vulnerable and helpless. She loved it!
Did you know I am organizing a Doll Day with Latex Rapture in my studio on July 22nd? It's a unique opportunity for a peek behind the scenes of MetalBondage.com. Check out https://fetlife.com/events/1331933 for more information!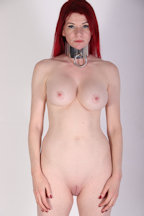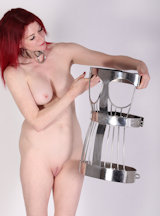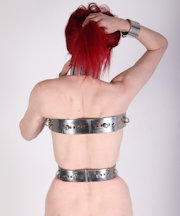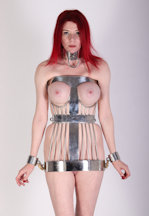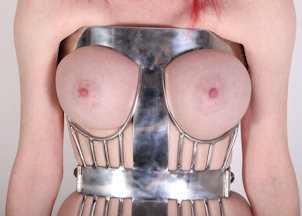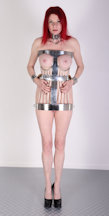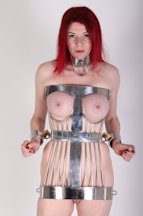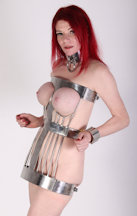 Latex Rapture wanted to try the Orgasm Frame: an inescapable rectangular steel floor frame with a magic wand. Who wouldn't want to try that! Endless orgasms sound like fun to most models. I invited her over, but she was surprised to find a little attachment to the frame I like to call the Vertical Nipple Puller. It wouldn't be just endless pleasure, but also some pain. Latex Rapture was more than willing to give that a try too! Gagged with a 2 inch ballgag, she was locked into the frame and the magic wand quickly brought her to her first orgasm. But when the Nipple Puller was activated, she seemed to be torn between pleasure and pain. It turned her on even more, and she came uncontrollably, time after time. She was a gibbering exhausted mess after this one!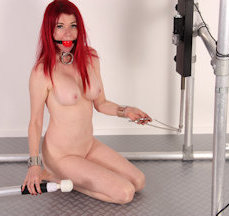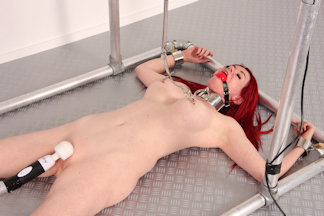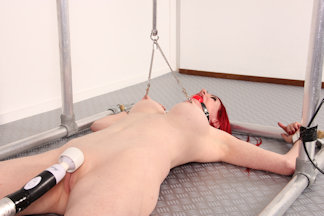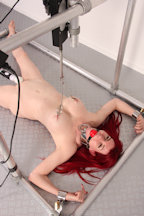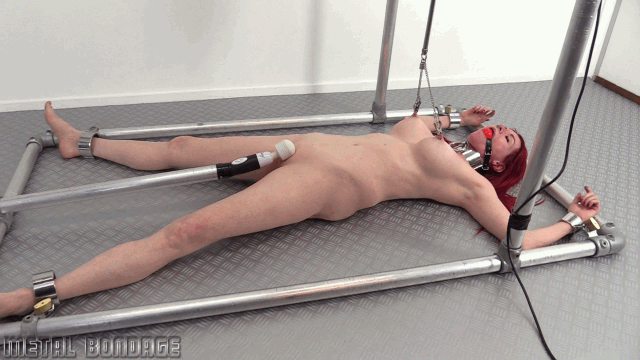 The frame is back! This heavy steel frame locks a girl on all fours, securing the wrists, ankles, and neck. The stomach bar makes sure she can't move at all. Latex Rapture really wanted to try this position, including a fucking machine! Lots of fun of course, controlled orgasms are the best! There was absolutely nothing she could do, locked in cold steel, as the machine kept going and going! Latex Rapture already wrote me she wants to come back for more. Much more!!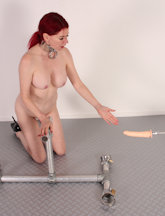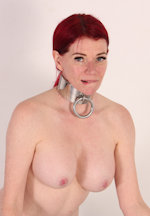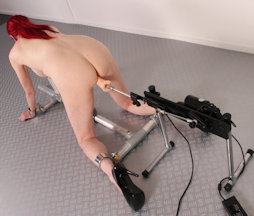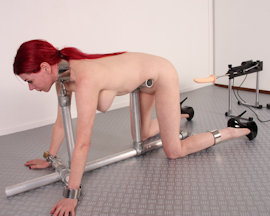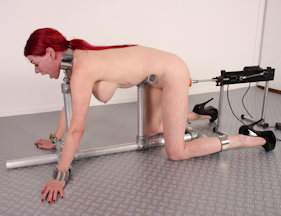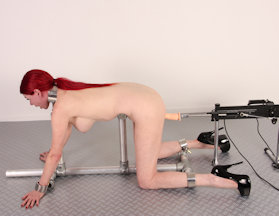 Please welcome the cute and tall Latex Rapture to MetalBondage.com! She is so kinky! I locked her into a Carrara chastity belt and a big collar, and she was already loving it! But there was more to come: a very tight fitting Scold's Bridle left her unable to speak, and heavy elbow and wrist cuffs were added to prepare her for the Doll Stand. Yes, she was going to be a full metal bondage doll for a while! Standing in high heels, her mask locked to the top of the frame, her elbows and wrists locked behind her. A pair of clover clamps were added, and Latex Rapture made some fun sounds in her mask. Even more so when I added a heavy padlock to the nipple clamps! You are a metal bondage doll now, Latex Rapture, a perfect display!