All updates featuring
Stainless Steel High Heels
I have several pairs of stainless steel high heels, as I have commissioned different manufacturers to make a pair. It was never perfect, but it is interesting to see the different designs. Stainless steel heels are awesome torture devices. They can be locked and they are very hard to walk in. Nelly and Nina didn't know that, they were happily coming in for a shoot, joking around, until they got locked in these devices. They tried to stand and walk, and pose in these brutal heels, but it wasn't easy. But Nelly and Nina are always cheerful, so I got some great shots of these two! It's a beautiful day when I get to shoot two naked collared girls in steel high heels!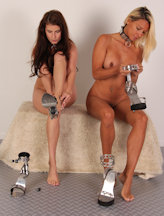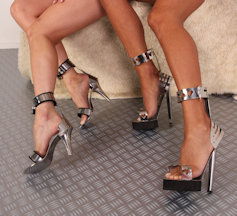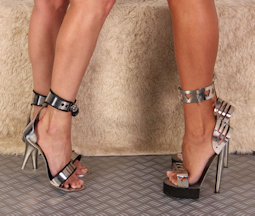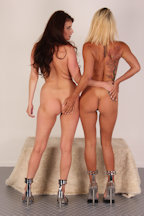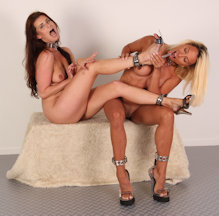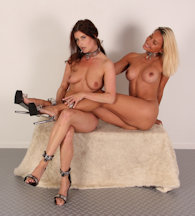 We continue our quest to develop our own steel heels (locking of course), as the previous attempt was only moderately successful. Today, we can present you with a brand new pair of heels! Different style, a platform, taller heels, and generally looking more awesome. We are also introducing a new girl to test these heels: the famous Liz Rainbow! She always has a different hair color, this time she had blue hair. We gave her a blue jewel butt plug to match her hair, before she attempted to wear the new Steel Heels! Check out the video and picture set to see how that went!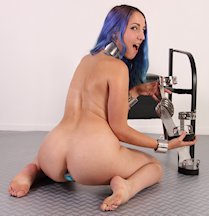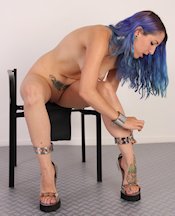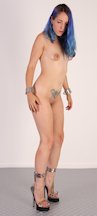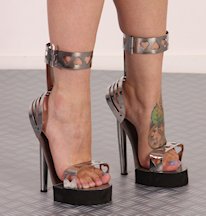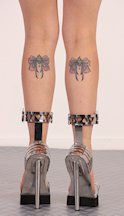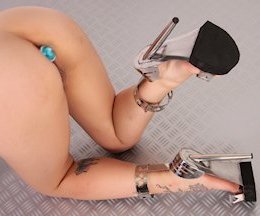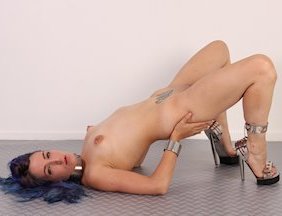 We finally have them! Stainless steel high heels! Often requested by our members, these torturous shoes are an amazing piece of engineering! We are still in the process of tweaking them though, as Tiffany finds out. She is the lucky girl who gets to test these heels for the first time ever! The heels lock very tight around her ankles (perhaps a bit too tight), so it is hard for her to stand up. It is all very rigid. Tiffany is an expert in walking in high heels, but she stumbles around in these metal high heels as they are very rigid and uncomfortable. Well, no one said it was going to be easy! We will continue working on some other designs, but we think this is a very good start!