All updates featuring
Jewel Buttplug
Lara Tinelli is back! This girl loves toys a LOT! We plugged her with a jewel buttplug and gave her a bullet vibrator to play with. Lara was super excited, this little bullet is extremely powerful. She wanted to play with the controls for a while, but we just locked her to the metal frame with her arms and legs in the air. Now Lara was powerless to stop us from playing around with the speed settings. We teased her for a while, but when we set the speed to the highest setting, Lara exploded! She came so hard, her buttplug flew out, and she squirted all over the studio! Wow, we have never witnessed such an intense metal bondage orgasm!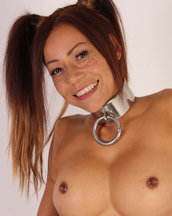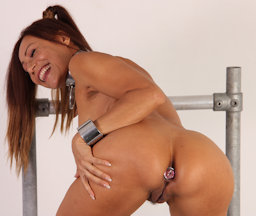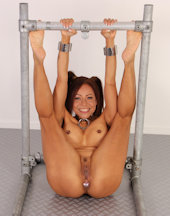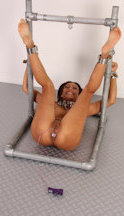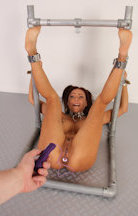 I did a very fun experiment with Liz Rainbow and Blondie Fesser! Liz was locked in full chastity (with plugs) for a day, and she could give her friend Blondie as many orgasms as she wanted. All day long. Blondie was nude and not locked in any chastity gear. At first, both girls thought this would be a very fun day. But as the day went on, Blondie got very tired and Liz got very very horny and jealous. We filmed this experiment mostly for ChastityBabes.com, but of course, we had to lock Blondie to a Sybian during the day. Her collar and wrists are attached to a pole, and Liz was free to play with the remote. It was fun for Liz, but her frustration was growing when she saw Blondie reach another orgasm!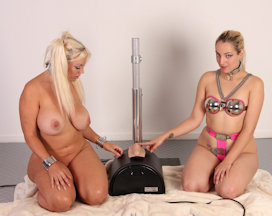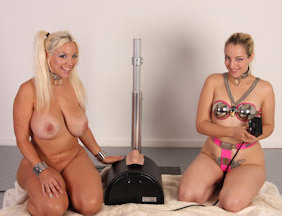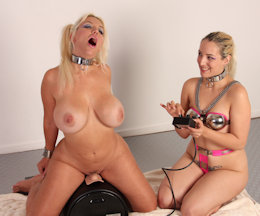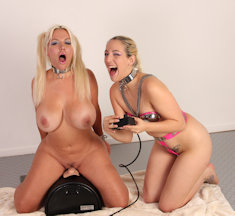 Remember our Connect-A-Model system? It is a model system of heavy steel cuffs that can be used to create anything from a fiddle to a blowjob machine collar. We used it as a 'stork' or 'scavenger's daughter' in this update with Ariel Piper Fawn, and this update with Sophie. Models always have a lot of fun rolling around in this inescapable device, but no one had as much fun as our newest model Lara Tinelli! Her awesome smile says it all: she had a blast being locked in this steel contraption! Enjoy watching her struggle and laugh in this fun update!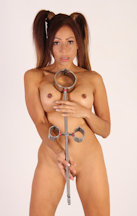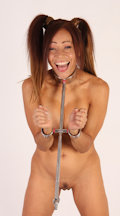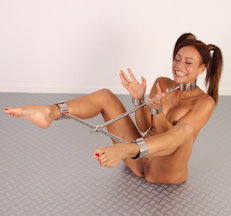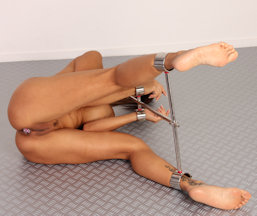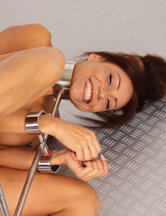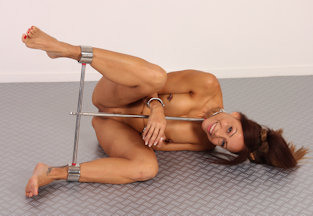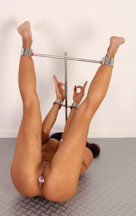 Diamondly is an upcoming 19-year old bondage model who loves extremely tight bondage. She is young, but has already has a lot of experience. Today however, she will try a few more things she never did before! First of all, we have locked her in a tight chastity belt. It is a perfect fit and she is 100% secure, unable to touch herself. She has been fitted with a jewel butt plug too, an interesting sensation. Then we added a lot of heavy steel bondage: a scold's bridle, a collar, elbow cuffs, and wrists cuffs. Her elbows are bolted together and her wrists locked to the sides of her belt. She will be unable to remove those stingy clover clamps, no matter how hard she struggles!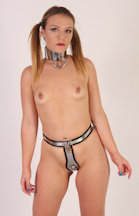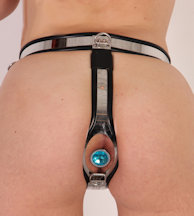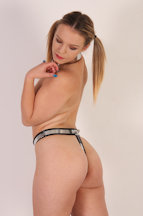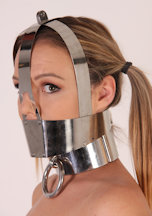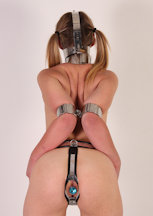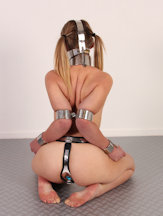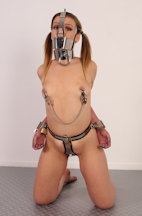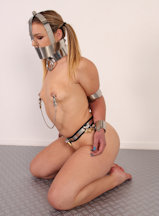 Little Lanta moves around way too much! She is full of energy, even with a collar, wrist cuffs, heavy steel waist belt, and a jewel butt plug, she keeps doing splits and silly things upside down. How do we stop her from moving? The Hogtie Frame seems like the best option. We cuff her wrists to her belt, then her elbows and ankles to the frame. To stop her head from moving, we add a harness muzzle gag and lock it to the frame as well. This is a hard position! Lanta couldn't move much anymore, and it was getting hard to even maintain after a few minutes. She is so tough!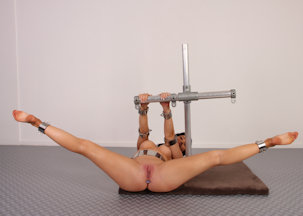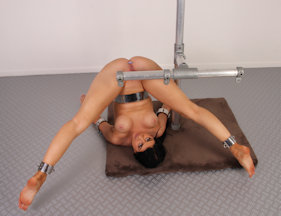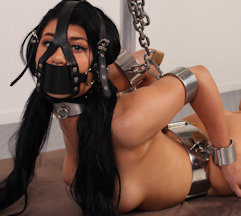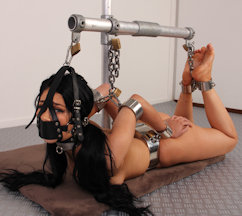 A new challenge for Liz Rainbow! Our brand new stainless steel pussy weight lifting set has arrived! It consists of a shiny smooth egg, a chain and 4 weights. The weights are 250 grams, 500 grams, 1 kilogram, and 2 kilograms!! The weights can also be combined for a total weight of 3.75 kilograms! We want to see how much weight Liz Rainbow can lift with her pussy! This is a lot harder than you might think. She can only use her inner muscles to grip the smooth egg, but as Liz is always horny it will slip out very easily, so she has to grip incredibly tight to even lift the smallest weight. Liz tries to lift 250 grams first, and she adds more weight as she goes. She goes all the way up to 2.5 kilograms this time! And she wants to come back to improve on that record!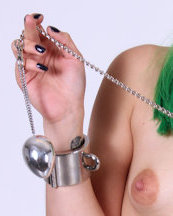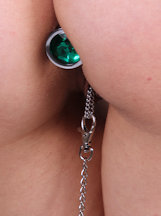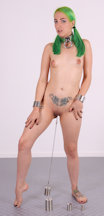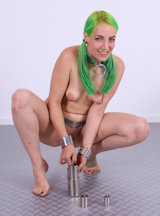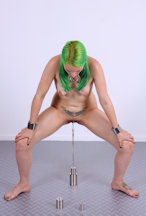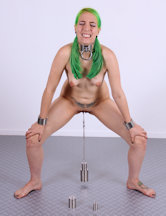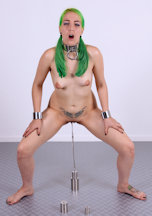 We continue our quest to develop our own steel heels (locking of course), as the previous attempt was only moderately successful. Today, we can present you with a brand new pair of heels! Different style, a platform, taller heels, and generally looking more awesome. We are also introducing a new girl to test these heels: the famous Liz Rainbow! She always has a different hair color, this time she had blue hair. We gave her a blue jewel butt plug to match her hair, before she attempted to wear the new Steel Heels! Check out the video and picture set to see how that went!