All updates featuring
Chain Body Harness
Poor Polina! She is the most flexible girl we have ever seen, and the only one who can do reverse elbow bondage! She also HATES nipple clamps. Which is quite unfortunate, because she can not reach the clamps when we keep locking her in tight elbow bondage devices. The Bagno arm screw makes her elbows touch, and a double hinged handcuff locks her wrists into place. Now it is time for the nipple clamps again, with an added padlock for weight. Polina soon starts crying. But don't worry, she asked for this training herself! She wants to improve!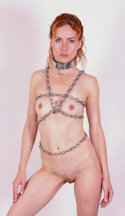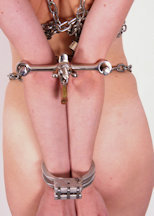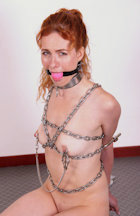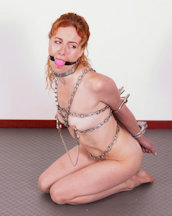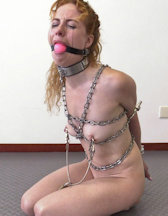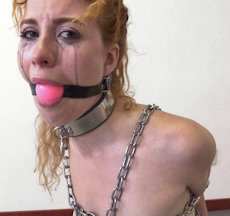 Lady Roswell Ivory can take huge ballgags! I had a brand new shiny 2 inch gag waiting for her, but I know she is a stubborn lady. She would take it out after a few seconds, because it would stretch her jaw too much. That's not proper gag training! So I turned her into a slave girl once again, big heavy collar, chastity belt and chain breast harness. The lady is hard to tame, she just isn't used to being treated like this! To prevent her from removing her gag, I enclosed her hands in steel mitts! The huge gag was stretching her jaw for over half an hour! Watch the helpless lady try to remove her gag, it's a beautiful sight!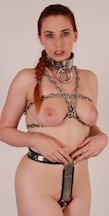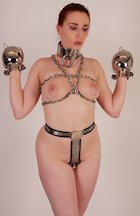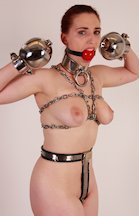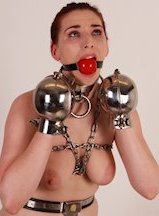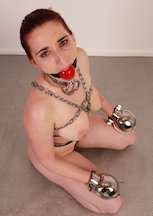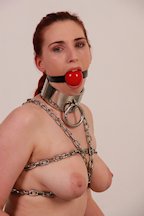 Adrienne is back, and we have some great plans for her! She is a tough one, which means we can test some new things on her before trying them on more delicate models! We don't know if Adrienne is happy to be used as a test subject, especially in this case, because she will be in a very hard position for quite some time! We lock her neck into a rigid steel posture collar, and we use chains to make a nice little bra harness. Then we tell her to lie down on her stomach for a very hard immobilizing hogtie! Why is this hard? Well, she can not move because of the ceiling chain, her chain-bound boobs are squashed, and it is hard to breathe in this rigid collar. Adrienne tried turning slightly to one side to relieve pressure on her boobs, but it was almost impossible for her to move! Great predicament!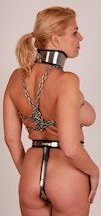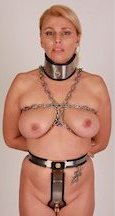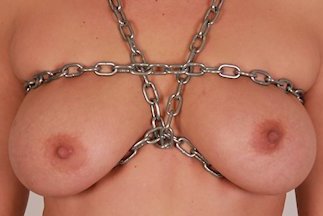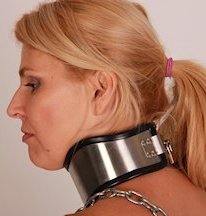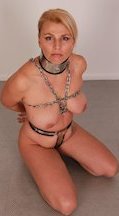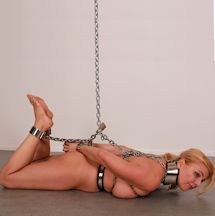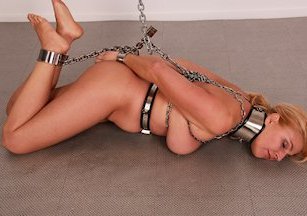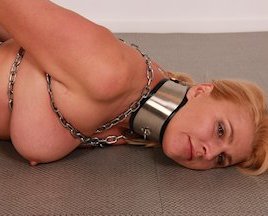 Indy is slowly getting into this metal bondage thing. She was a reluctant pet slave almost a year ago, but look at what she pulls off this time! We have chained her upper body and put her in some tight metal wrist and ankle cuffs. A red harness ball gag looks really good on her! We then hogchain her, locking her wrists to her back and her ankles too! A very nasty addition is the chain that goes to the top of her harness gag, so Indy has to keep her head up all the time, resting on her large breasts for support. How long will she be able to stay in this position?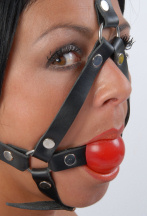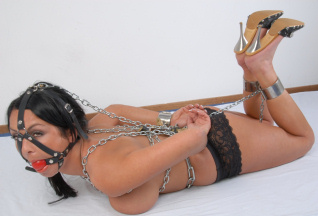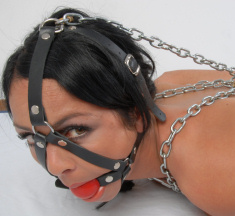 Her upper body wrapped in chains, Milena shows her submissive side. After 3 previous shoots, she is learning how to behave like a good pet slave. Her heavy iron restraints are attached to her waist chain and she is gagged with a harness ring gag. Milena starts drooling as she struggles gently, but she knows there is no escape for her. Milena´s training is complete.