All updates featuring
AnnaBelle Lee
And now… cute little AnnaBelle Lee will show you how it's done! Haha, this tiny girl really loves the feel of heavy metal, as we found out a few months ago. This time she is enjoying herself with a piece of equipment that is super heavy, especially for AnnaBelle. She squeals for joy as she is showing us how to lock on this huge diaper shaped piece of steel onto her waist and crotch. Pulling the chains tight, she locks all padlocks into place and then goes on to pose for us in a playful manner. She tries touching herself, but there is simply no way!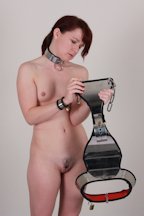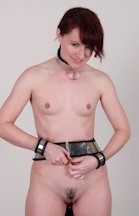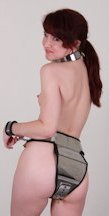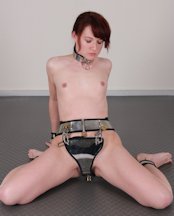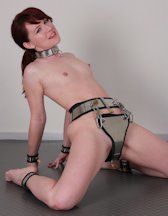 Judging from your comments on her first appearance, you seemed to think that AnnaBelle Lee was enjoying herself far too much. Many requests have been flooding in for this cute little redhead to be chastity belted. And today is the day: AnnaBelle Lee is facing the biggest frustration she could ever imagine: a chastity belt. For a girl who gets turned on by the feel of metal on her skin, it is the absolute worst that could happen. The belt is tight, but to be sure we keep her tiny fingers away from it using the infamous Iron Crown. Lots of struggling and complaining is what happened next…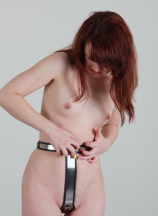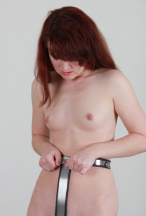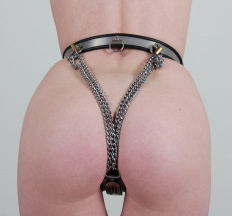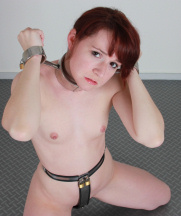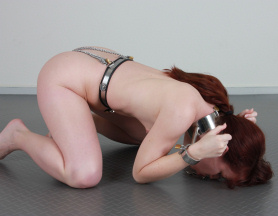 Little miss AnnaBelle Lee came to us because 'you guys have the best metal bondage stuff!'. Yes, she has appeared on big bondage sites, even in metal bondage, but apparently their gear wasn't shiny enough. This girl really gets off on the feel of cold smooth metal on her skin. She even asked if she could be fully nude for this shoot, so she could enjoy it more. So here she is, locked in our stuff at the waist, neck, ankles (with spreader bar), and wrists (with improved heavier chain). If you ever wanted to see a girl get really excited by heavy steel bondage items, this is the one to watch! Needless to say, AnnaBelle will be back soon!