All updates featuring
Sarah Jain
It's been a long time since we dug out our custom built Steel Hobble Dress! It is an insane creation, super heavy, and a torment in itself! All in all, a perfect piece of equipment for our lovely victim Sarah Jain! This US swimsuit model usually expects something easy when shooting with us, but ends up in the heaviest and most impossible bondage situations, just because her struggling and complaining is so great to watch! She was not happy at all when she was locked in this dress for much longer than she anticipated. It is impossible to sit or kneel, so all Sarah Jain could do was pose for us. And complain of course.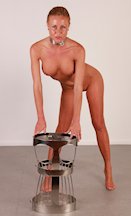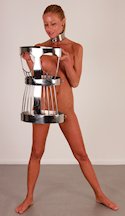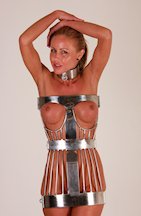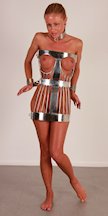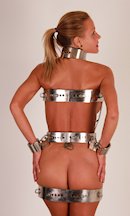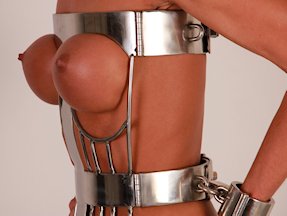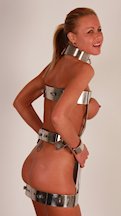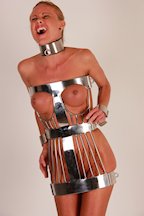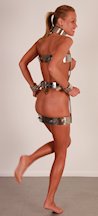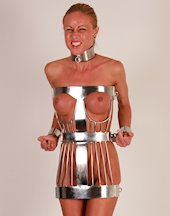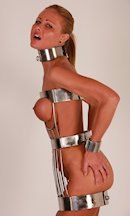 Containing the super fit Sarah Jain is not easy! This toned US model is one of the most powerful strugglers around! Funny though, how it is very easy to get Sarah Jain into a bondage contraption. Just lock some heavy restraints onto her, show her the frame, all in good fun… Then lock her neck and waist to the frame… still fun… Then padlock her arms in an awkward position and chain her legs to the frame… not funny anymore! Sarah can not hold the weight of the tilting frame with her neck and waist alone, so she is stuck bending over the middle bar. Struggling with all her might, she tries to lift the heavy contraption back upright, but she is fighting a losing battle! Nice :)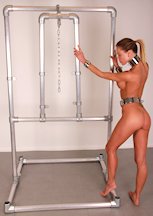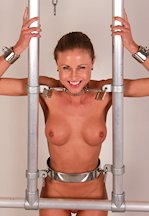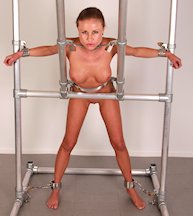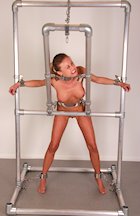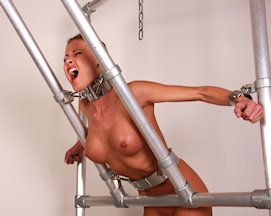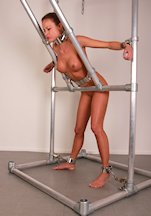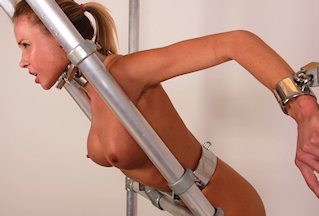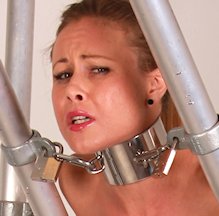 Sarah Jain is SO agressive! She keeps screaming and cursing and threatening, we are getting nowhere with her training… Let's just add some evil nipple clamps just to piss her off even more! Of course, she would rip those off in seconds, so we lock her into the Iron Crown to prevent her from saving her pinched nipples! Just like we thought, this infuriates Sarah Jain to the point she is literally going mad, struggling like crazy to get the nipple clamps off, but to no avail. She keeps complaining about the chastity belt too, so we guess we will just have to leave her like this for a while, maybe she will cool down… probably not…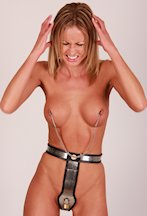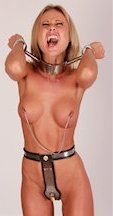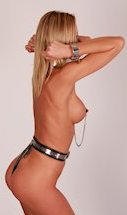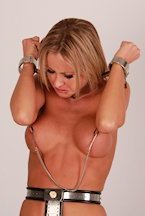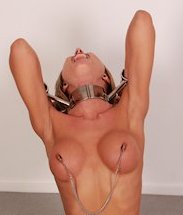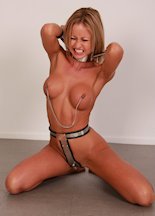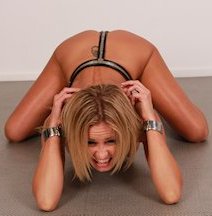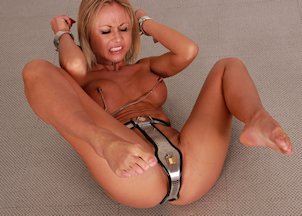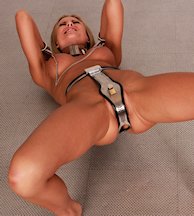 After her introduction in June, we knew this girl would be very hard to get into a chastity belt! The American swimsuit model Sarah Jain is best described as a very angry hardbodied Jennifer Aniston with perfect boobs. She just can not stand being locked in metal gear, and she will continue to fight, no matter what. In today's challenge, a completely naked Sarah Jain is fiddled (much to her dismay) with chains running up to her heavy ankle cuffs. The chains are too short for her to stand up straight, and she is given a set of 4 keys (all different) to try to unlock 3 different padlocks. Little does she know that the ankle cuffs don't come off by using the keys, plus it will be almost impossible to unlock the fiddle. Don't miss this furious naked struggle in metal, it is unique!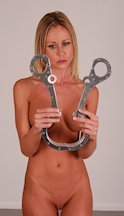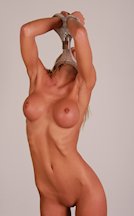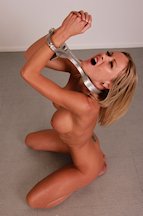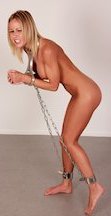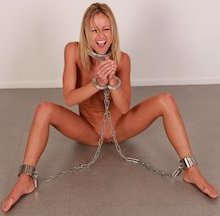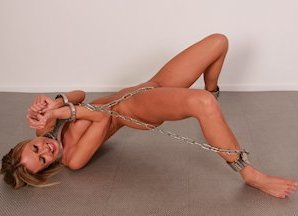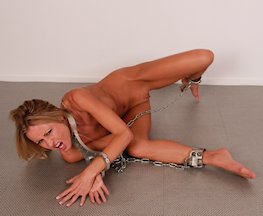 Lovely US swimsuit model Sarah Jain (reluctantly) agreed to model the super heavy metal stocks for us, but the whole shoot turned into quite a scene! We locked a naked Sarah into a custom steel waist belt and attached two heavy chains to it. Connected to her ankle cuffs, this made sure that she could not even stand up, because the chains were just a little too short for that. Frustrating! Sarah Jain is a fierce fighter, and she did not really like being locked in a metal device she could barely lift! It looked like she was trying to break the stocks! We took a lot of pictures to delay her release, and when it was time for the video, Sarah just lost it. We may have forgotten to tell her she had to do a video clip as well… and she had a really bad itch on her back…