All updates featuring
Vera
While other sites are always about '5 point restraints', we believe a complete restraint set covers six basic areas: wrists, ankles, neck AND waist. So to demonstrate this, we put cute girlfriends Tiffany and Vera in 6 metal bondage items each! These custom made heavy stainless steel restaints look really good on these hot girls! The tight fitting belts both have loops in the back, so the idea of a '12 point hug' position was born. See Tiffany and Vera completely helpless in heavy metal, all they can do is hug each other. It's a shame these girls are such close friends, it would have been even more interesting if they hated each other…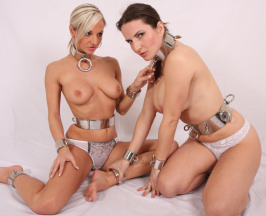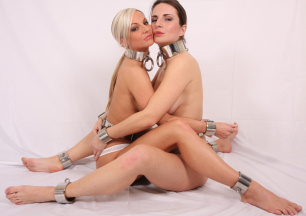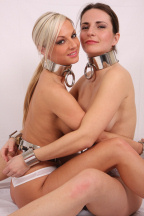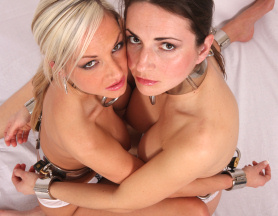 Tiffany and Vera are always very close, in fact these girlfriends are so close we can not even find separate pictures of them for our models page. So we tried a little experiment: what if we fiddle and gag both girls… will they help each other, will they stay close, comforting each other? How will they communicate through these tight ballgags? Since their first gagging (MB072), the girls are now adamant about having their own gag color, Tiffany only wants a pink gag, while Vera loves the classic red ball. Their fiddles are different models too, it's interesting to see which RigidFiddle model allows more movement, if any at all. We could watch these girls fiddling around for hours!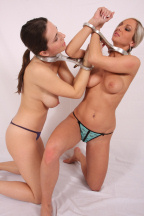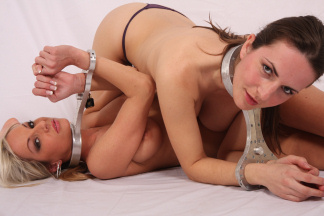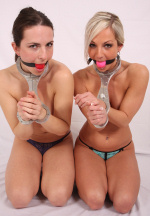 Close friends Tiffany and Vera will always try to help each other. They absolutely hate their chastity belts and they will do anything to be free again. We decide to allow them their escape attempt. But on one condition: they have to ballgag each other first! Vera (brunette) first gags Tiffany (blonde) with a good size pink ballgag. Then it's Tiffany's turn to gag Vera. They probably don't know what to dislike more, the gags or the chastity belts, but they stick to their plan and try to get each other out of their belts with their bare hands. Unable to talk, all we hear is some grunts and moans from these first-time gagged girls. Training these two is really on schedule!!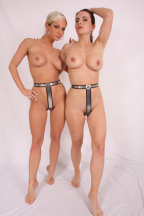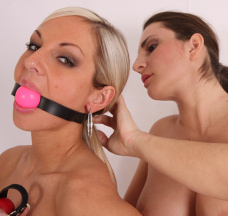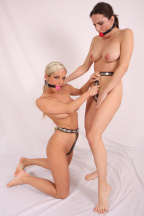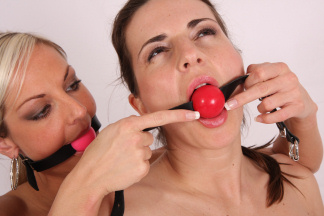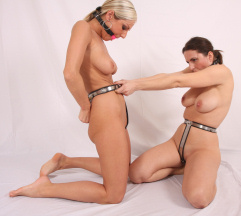 A member request: we tell our pet slaves Tiffany (blonde) and Vera (brunette) to go into the waiting room, undress and padlock their collars to the double obedience training pole. Tiffany and Vera are fairly new to MetalBondage.com, and this is actually their first time in their chastity belts and locking collars. Still, they do as they are told and they seem to be perfect slaves, kneeling and waiting for what will be next…. for about 3 seconds… It turns out they become bored very quickly and they start moving around, pulling on their collars, trying to stand up, and everything else that can hardly be described as obedient… So far for lesson 1….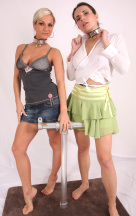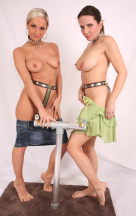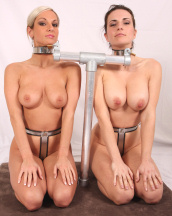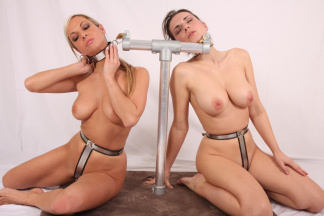 Tiffany and Vera are close friends, and both are very new to bondage. So let's do a fun set that won't scare these beautiful models! A box of neck cuffs should provide some nice entertainment. Just watch Tiffany (blonde) and Vera (brunette) gently neck cuffing each other, lifting their hair to expose their necks, stacking those neck cuffs higher and higher! At five each, the lead rings are locked together, creating some of the best MB imagery yet! And the good news is: next time they want to try something harder! We can't wait! Send in your member requests!