All updates featuring
Harness Ball Gag
This new girl reported for a shoot at MetalBondage.com, and she is quite awesome! Flexible and toned, she looks like she can handle a challenge. I locked her in a super heavy collar, which made life quite a bit harder for her. She tried to deal with it all through the shoot, but the collar was definitely the most difficult to wear. It looks like it reminded her of her submissive nature. I tried locking her into a tight spreader bar hogtie and wow, did she look awesome! I am definitely going to keep her around for a while, to see what else she can do!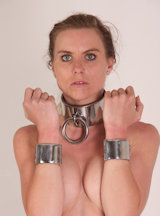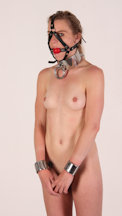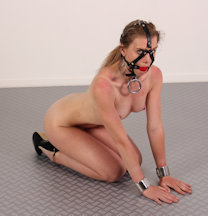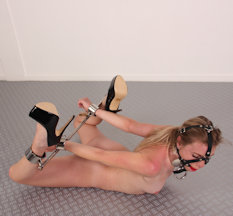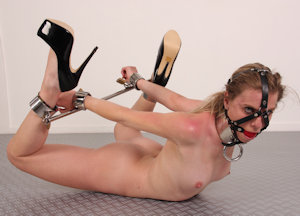 The Nipple Clamps Training Machine was a terrible ordeal for young Diamondly a while back. I decided to bring it back for our awesome reluctant volunteer Cindy Dollar. The problem? She has very sensitive nipples. So I had to make sure she was really secured very well, with no movement in her neck, arms, and legs. Cindy was completely stuck and unable to move, her labia clamped (she didn't like that either). The machine certainly did its job! Training her sensitive nipples, hurting with every stroke. Cindy made a sound through her harness gag every single time, at the rhythm of the machine. Very beautiful to watch. So relentless and mean, it is one of the most evil machines I have designed so far!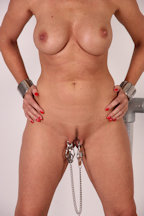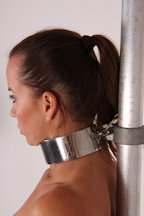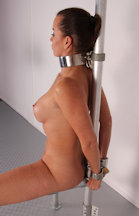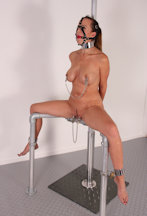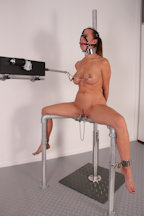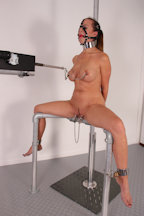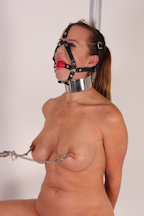 Tiny 19-year old Lina Roselina is very brave! This teen girl looks very innocent, but she does love some kinky things in her private life! We told her to clamp her nipples and labia, add a heavy ankle spreader bar, and then cuff herself with her hands overhead. We harness gagged her too! Lina was completely helpless, and she couldn't remove those evil pinching clover clamps anymore. She tried moving around, and even turning, but it only caused the clover clamps to swing violently, hurting her poor nipples and labia. Quite a predicament!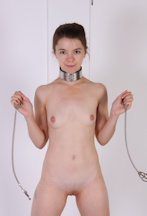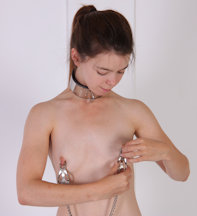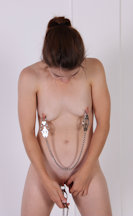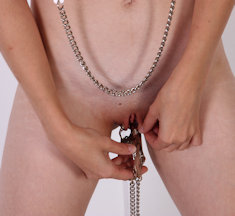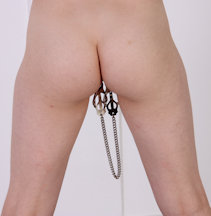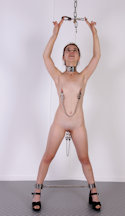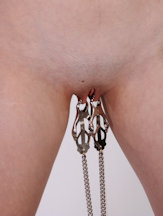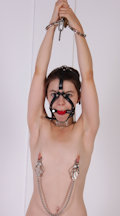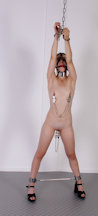 When we had Ariel Anderssen over for a Chastity Deal, we decided we might as well 'use' her for other things, like a bit of metal bondage! Ariel had previously commented how much she liked the update with Rachel Adams in a steel hogtie, so we went ahead and put Ariel in the same position. She literally could not move an inch. And as more time passed, she started drooling uncontrollably. Yes, this is an extreme position, and it starts to take its toll after a while, but we all know Ariel loves this kind of predicament more than anything in the world! The famous Ariel Anderssen, completely stuck, don't miss this update!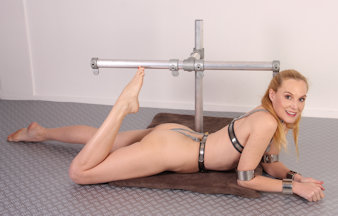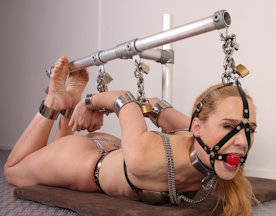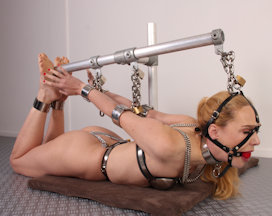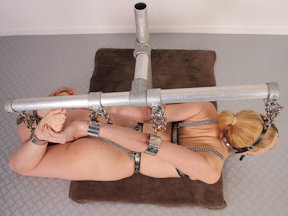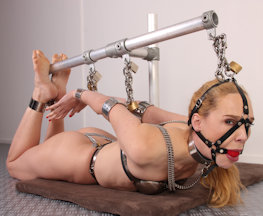 Bondage loving Rachel Adams came over all the way from the USA to be locked in metal bondage! She is a tough one, and she asked to be locked and chained in a completely inescapable way, so she couldn't move at all. The perfect opportunity to build our hogtie frame again! With tight heavy cuffs on her ankles, wrists, and elbows, pulling her arms together, we started to chain all these restraints to the hogtie frame with heavy chains. A heavy collar on her neck made it even harder for her. To keep her head up, we also chained her harness ballgag to the frame. Rachel couldn't move an inch! Well, she got what she asked for and she loved it!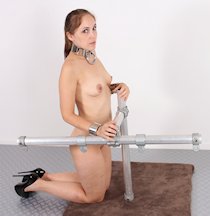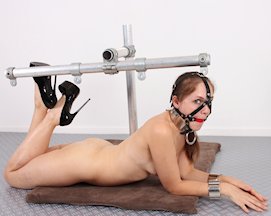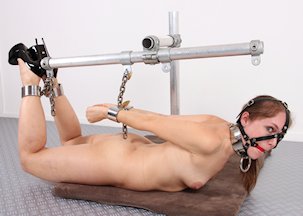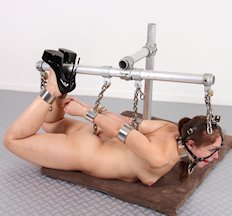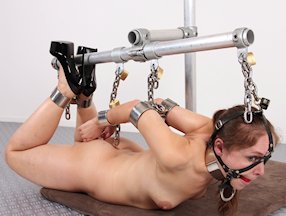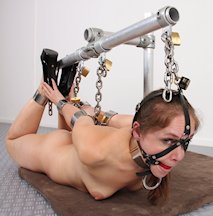 To keep girls like Nelly from touching themselves, you have to locked them in a chastity belt. Then, because they are very impatient and frustrated, they start tugging at the locks and prying at the secondary shield. So you have to lock them in the Iron Crown to keep their hands away from the belt. But then they start protesting and moaning all day, so you have to gag them. Don't they just realise they are making things harder and harder for themselves!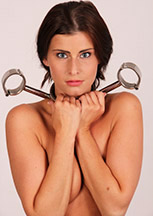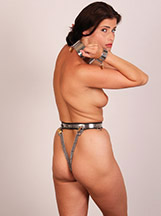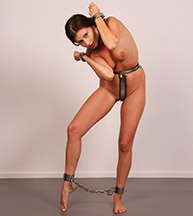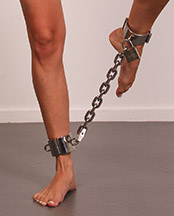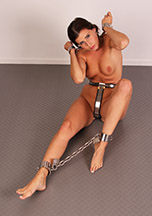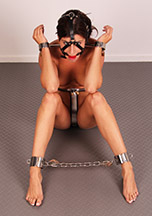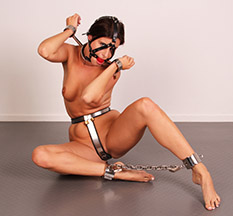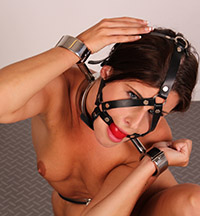 What if we put the Lady Roswell Ivory in some metal, chained to a frame by her ankles and harness gag? She needs her hands to support herself and her wrists are locked together. Still, Roswell is able to do some creative posing, even managing a planking position, which is quite a good workout! We are not sure if she is completely secure, this pose may need some changes! Members, please let us know how you would change this to make it even more interesting!! In the meantime, enjoy a naked Lady!!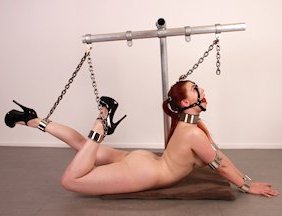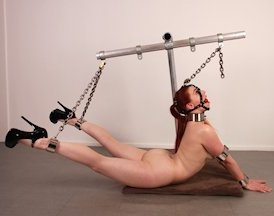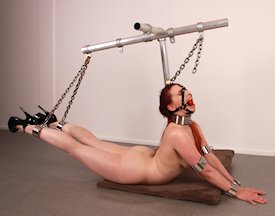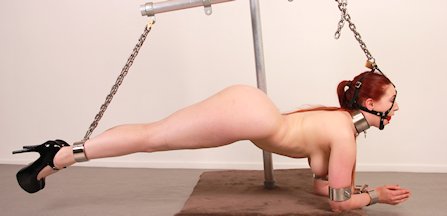 Yvette Costeau likes to call herself 'Yvette Extreme'. Well, let's test her a little to see if she can live up to this title! One of the toughest bondage girls in German, Yvette is used to being contorted in all kinds of rope bondage positions. But metal is different. It is unforgiving, and heavy. We built our favorite hogtie frame again and chained Yvette to it. Ankles, wrists, elbows, and her head. The heavy collar is a real challenge, because it is a bit too tall and heavy for her head to be tilted back by the suspended harness gag. This is the perfect storage device for 'extreme girls'. Let her struggle and drool (a lot!!) for a while. She will get tired eventually.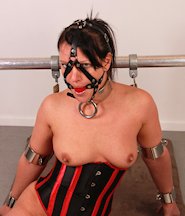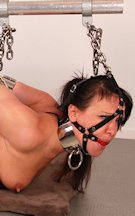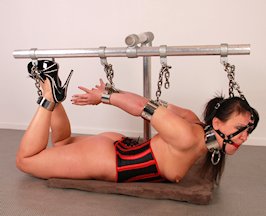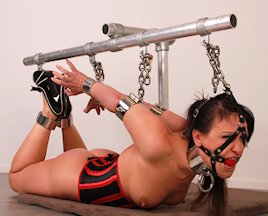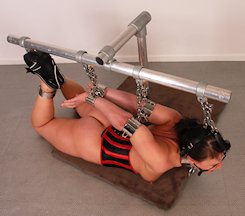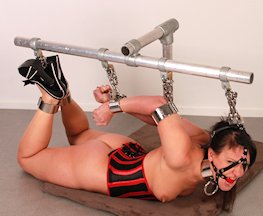 Young redhead bondage talent Alexia Valentine is tough! And it is hard to keep her still, she is always wriggling and struggling about, even in metal bondage. So let's see how she will do in our improved metal hogtie frame! Locked in a chastity belt and chastity bra, and gagged with a nice harness gag, Alexia patiently awaits what we have in store for her. Lying on her stomach, we attach her ankles, wrists, elbows, and head to the metal frame. But she is still wriggling too much, so we raise her wrists and elbows to a hard strappado position in an effort to keep her still. It seems to work, Alexia is almost completely immobile! Almost…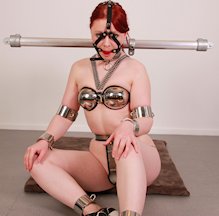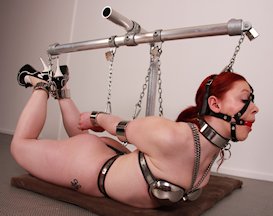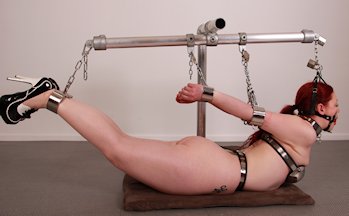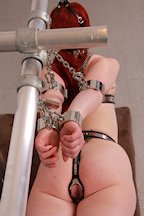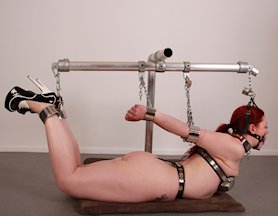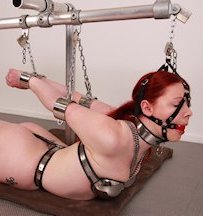 Ariel Anderssen returns for our 200th update! 200 sets of hot girls in cold steel! Time to do something special with this bondage goddess: make her kneel like she never did before! Locked in a tight chastity belt and chastity bra, Ariel has to kneel because her wrist and elbows are clamped to a metal cross. The finishing touch is to padlock her harness ballgag to a pipe above her head, forcing her to keep her head up. She can pull on the harness gag, but it only makes the ball go deeper into her mouth. Desperately, Ariel tries to find a more comfortable position than being on her knees, but she has to return to the kneeling pose every time. This is steel bondage at its best, let's go for the next 200 updates!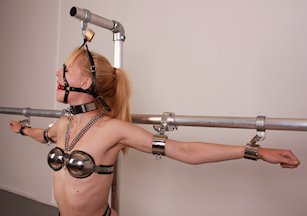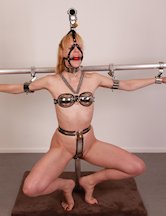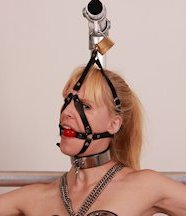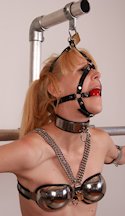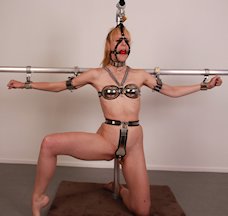 Indy is slowly getting into this metal bondage thing. She was a reluctant pet slave almost a year ago, but look at what she pulls off this time! We have chained her upper body and put her in some tight metal wrist and ankle cuffs. A red harness ball gag looks really good on her! We then hogchain her, locking her wrists to her back and her ankles too! A very nasty addition is the chain that goes to the top of her harness gag, so Indy has to keep her head up all the time, resting on her large breasts for support. How long will she be able to stay in this position?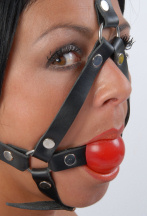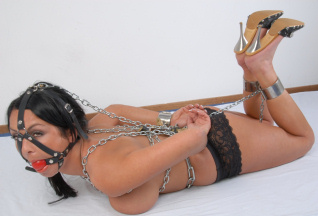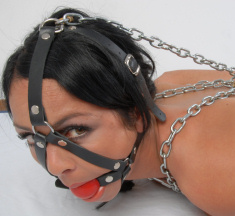 We have another new toy AND we convinced shy girl Deborah to come back and test it for us! Now, there are 3 positions you can do in this RigidSpreader. Sitting down, lying on your back, and on your stomach (a RigidHogtie!!). Not everyone can do the last one, you need to be very flexible and even then the pressure on the wrists and ankles is very painful. To her credit, Deborah managed all three, as you can see in the pictures. For the video, we just wanted to find out if our new spreader is escape proof… did we mention Deborah looks hot in a harness gag?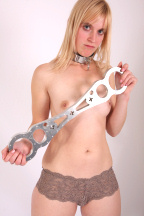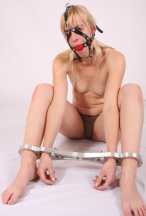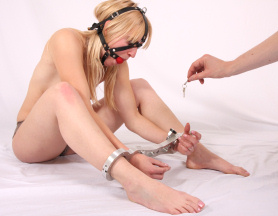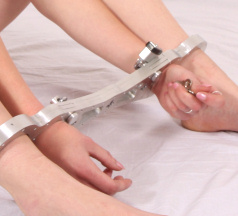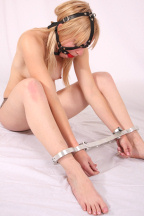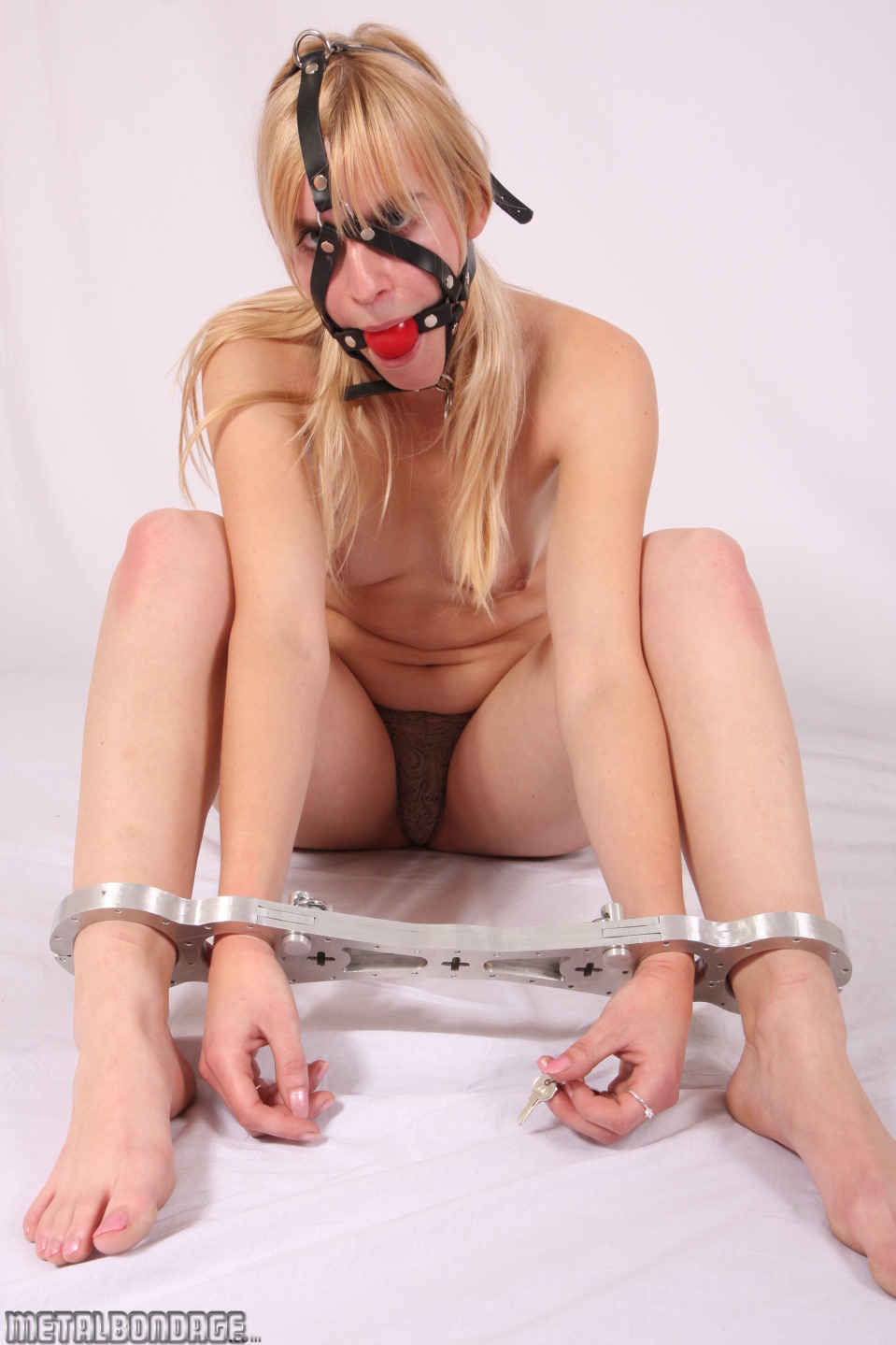 Our beautiful blond pet slave Shenenne has agreed to take her metal bondage training one step further… again. This time we will make sure she can not move at all. Her harness ball gag is attached to her solid steel waist band. Her collar, wrist cuffs and ankle cuffs are attached to a wicked metal frame which also supports her stomach for a perfect slave posture. No way out! She didn't like it, but we sure did!!