All updates featuring
Wheel of Steel
Lily is a bondage loving girl, sweet and innocent, but with some amazing skills. She will hopefully show off these skills in upcoming updates, but for now we have something very evil in mind. We dusted off our Wheel of Steel and locked a spreader bar to it. This metal ring is then fitted onto poor Lily who did not really understand what it was for. But she found out soon enough. This contraption prevents her from straightening her body, making it very hard to stand up (but she managed, with her ass sticking out). And lying down flat is impossible. To finish this update, we locked her wrists to the Wheel as well. Simple yet so evil!!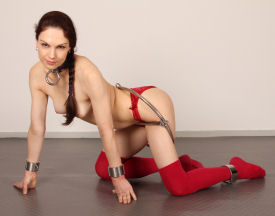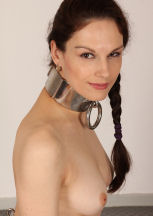 When Angela returned to us for another shoot, we showed her some of the work her fellow pet slaves had done. Angela got very curious about the all chastity belts she was seeing on our website. With a slight hesitation, she tried one on. It fit like it was made for her! We told her she had to pose in the belt now, since it was locked on and there was nothing she could do about it. She just smiled and seemed to enjoy the whole afternoon she was locked into the belt. We did some great subdued posing, her ankles and wrists locked to the Wheel of Steel, a kind of round spreader bar. The dark eyes under those incredible eye lashes tell you all you need to know..
New slave girl Giovanna is initiated by our heavy shackle set: collar, wrist cuffs and ankle cuffs. She looks gorgeous! We padlock her wrists and ankles to our new 'wheel of steel', a heavy metal circle with four attachment points. It proves to be very effective, as we had hoped. Giovanna gets to try to escape our new contraption, we even give her the keys. Will she manage to do it?