All updates featuring
Steel Mitts
This new girl is so cute! 19 year old Aria already experienced a chastity belt last December (don't miss that!). Now she is back in the belt and things are going to get more complicated! I don't want her to be able to touch herself at all, and I also don't want her to run off. Well, there are 2 simple solutions for that: Steel Mitts and Stainless Steel Ballet Heels. Aria couldn't do anything at all, it was very frustrating! Her hands and feet were useless! She is so pretty and cute, don't miss this update, Aria is amazing!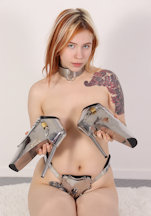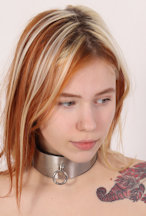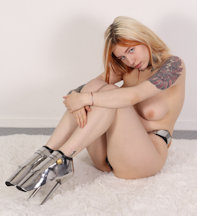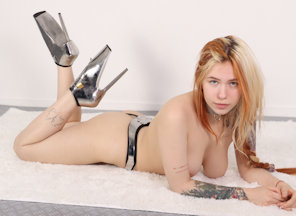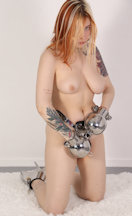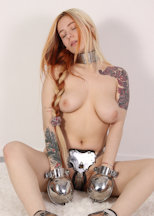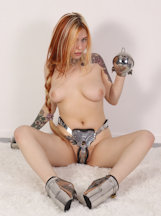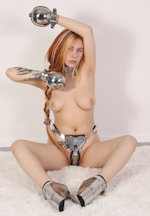 Julia Green! Such a cheerful and happy creature. She is just amazing. Locked in her My-Steel belt and her big collar, she was eagerly awaiting what was in store for her. But unfortunately, it was not something to smile about: dreaded clover clamps! Julia hates these, they hurt her so much. She put them on herself, and before she could take them off, her hands were locked in steel mitts already. She was gagged – another thing she doesn't like because she is a massive drooler – and soon she was on her knees with her nipples locked to a 2 kilogram weight on the floor. She tried everything, but there was no escape!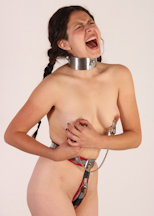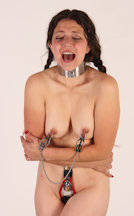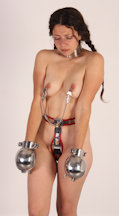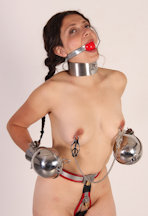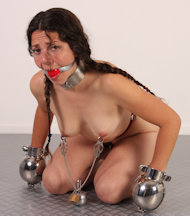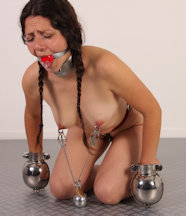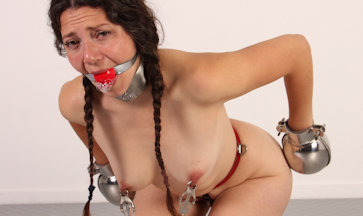 New girl Kitty was a bit shy. No worries, I have the perfect solution for that: the locking head ball! I also locked her hands in steel mitts, to match her head gear. It is really extreme for a first shoot, and Kitty was very nervous. Soon, she felt clover clamps being applied to her nipples. There was nothing she could do about it, with her hands in steel mitts. Even worse, the clamps were attached to a chain, and padlocks were slowly added to increase the pull on her nipples. Kitty didn't want to give in, but when the third lock was added, she had to go on her toes, and she knew she couldn't get down again. It was very hard to balance on her toes, nipples being pulled, breathing hard and sweating inside the head ball! Awesome predicament!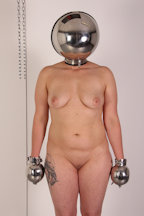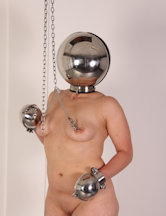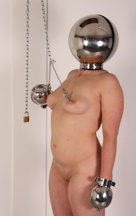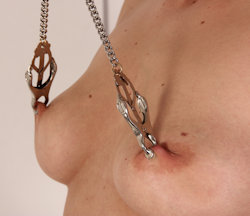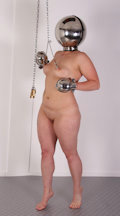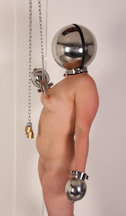 Lolly Anne has never seen any steel bondage items, so she was very intrigued to find a locking mask chained to the wall. There was also a pair of steel mitts which interested her, even if she had no clue how all of this worked. Of course, moments later, she found herself waking up locked in the super tight mask, with her hands secured in the steel mitts. Her clothes were gone, and her nipples hurt a LOT from a pair of nipple clamps. Poor Lolly! She did not tell us about her extremely sensitive nipples, and her mask was so tight she couldn't even speak. Lolly tried everything she could to remove these evil clamps with her fists secured in metal, a painful ordeal!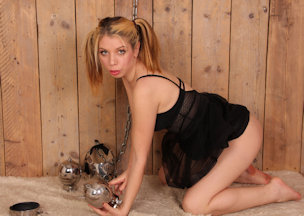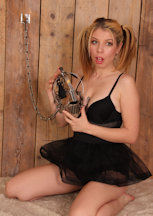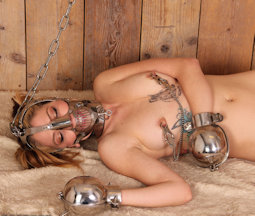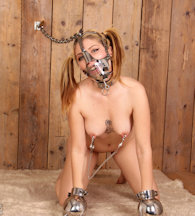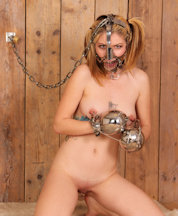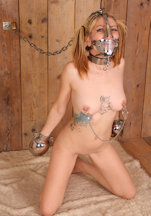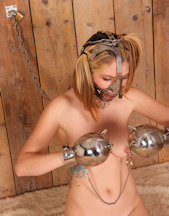 Tiny Polina is back! Remember this exceptional bondage talent? She needs more training though, today will be her first time trying clover clamps. And they suck, we all know that. Polina tried them and wanted to take them off straight away, the sting was a lot for her! We had to put some steel mitts on her to prevent her from removing the clamps. Polina tried, but without her finger she couldn't do anything about these evil clamps. Which gave us a great idea: what if we attached the clamps to a 2kg (4.4 pounds) weight? Polina would be stuck, without any bondage! Check out the amazing video, she really couldn't do anything about her predicament!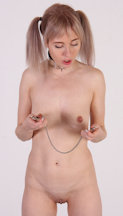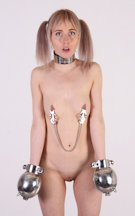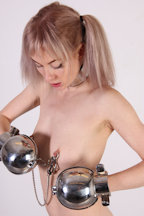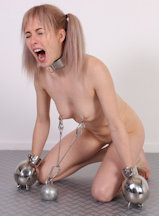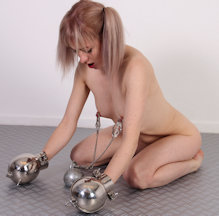 So Keira Lavelle is not very submissive at all. Last time, we tried to make her into a serving wench, but she did not like the cold tight metal very much. She seemed more interesting in doing her own thing, and her favorite thing is touching herself! So we fitted her with a Carrara chastity belt. Obviously she hated that too, so she tried to pry her way into the belt, testing the lock, pushing her fingers under the belt… We had to take some extreme measures to stop her from touching herself, but we did it! If you want to see pure frustration, watch this update!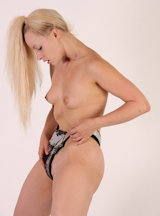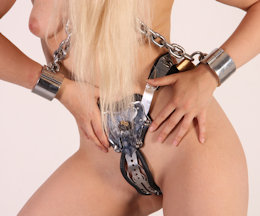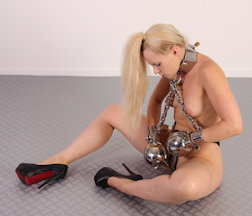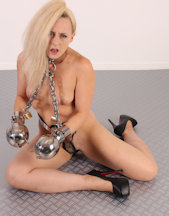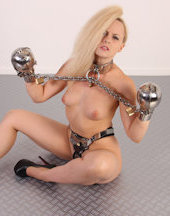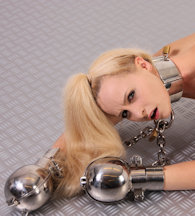 You have probably seen the ongoing Chastity Deal with Stella Cox over at www.chastitybabes.com. She is locked in custom made boob cuffs! And a chastity belt of course. Perfect opportunity to show you how submissive Stella actually is. Here she is displayed as a metal bondage pet, collared, boob cuffed, belted, and caged. She is also wearing a fox tail butt plug! Steel mitts are added so she can't pry at her belt, take out her buttplug or play with her boobs. Yes, this is all very necessary, because Stella looks cute, but she really can't stop masturbating. It's true, google it :) She's been told that if she behaves like a good pet slave, those clunky mitts might come off. Maybe…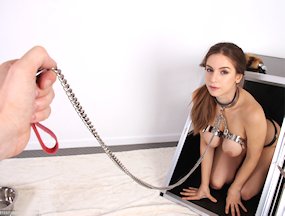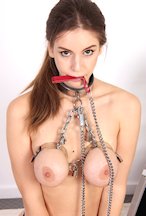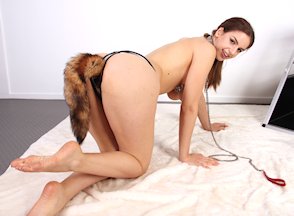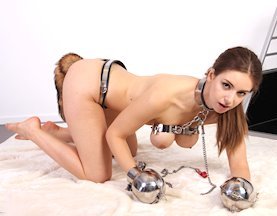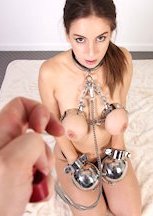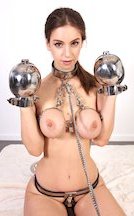 This famous cute babe is always horny. If you don't believe that, just google her! She is literally touching herself all the time. But not today! Caprice is locked in a super heavy and tight custom made chastity belt. She can't even get a finger between the belt and her skin. Still, we think this is not secure enough for her, so we locked her hands in steel mitts. Very frustrated, Caprice still tries to touch herself, but all she can do is bang her mitts against her belt. There will be absolutely no sensation for her, she can't even feel anything. This might seem a little extreme, but trust us, it is the only way to stop Caprice from being a naughty girl all the time.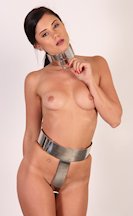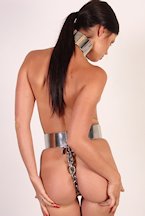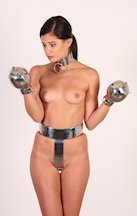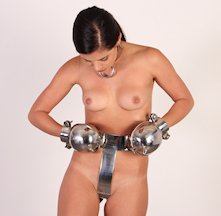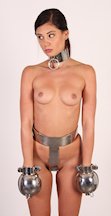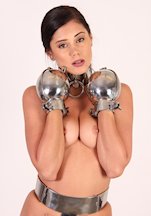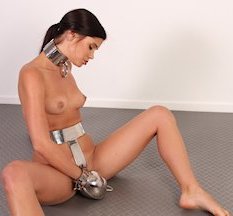 Katie Thornton! Locking her into a big steel posture collar would probably be enough already, because there is plenty to look at if Katie is our slave girl for the afternoon! But we wanted to gag her again, because she does not like that, and that makes us want to ballgag her even more. How to prevent Katie from removing her ballgag? Well, we have enough gear to stop her from doing so! Steel mitts would do it, because she can't use her fingers, but some girls can even remove their gag with the little loops on the mitts. So we had to build a small spreader from our modular Connect-A-Model system to make this bondage extra secure! As expected, Katie wasn't very happy…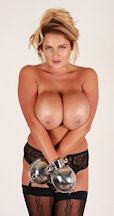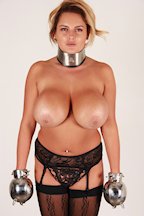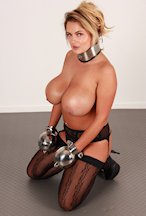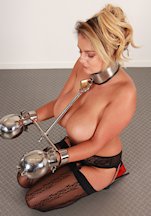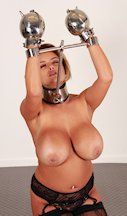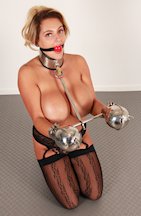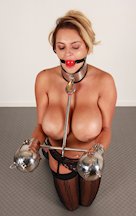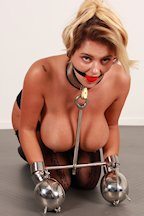 The legendary Katie Thornton is back! We just can't resist to lock her boobs in metal, but Katie does not really like the tight Boob Bands. So she starts tugging at the padlocks, trying to free her boobs. We can't have that! But wait… Steel Mitts are just the thing we need to stop her from tampering with the Boob Bands! And some chains to frogtie her so she looks like a cute pet on all fours with her locked boobs. Obviously Katie liked this even less, so we also had to gag her to stop her complaining. Perfect!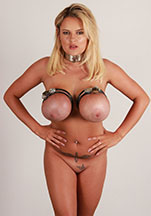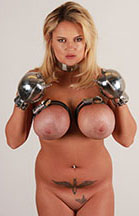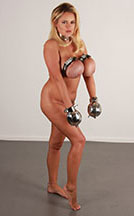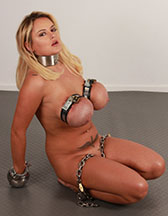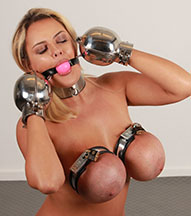 The super gorgeous fashion model Sylvie is back! She is so delicate and tiny, a tight chastity belt looks big on her! But she definitely needs a chastity belt, she is so naughty! She also needs nipple clamps. But Sylvie would take them off after a few minutes, because they hurt her poor nipples too much. So we need to get her hands away from her boobs. The usual RigidStock was locked onto her neck and wrists (a bit heavy for tiny Sylvie but hey), but much to our surprise she could still reach the clamps! So we had to take more extreme measures: we locked her hands into steel mitts! Geez, it's hard to make this tiny fashion model suffer a little!!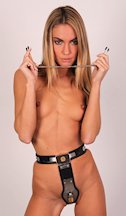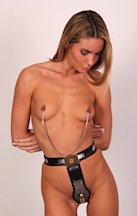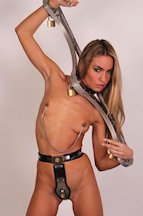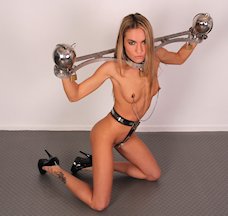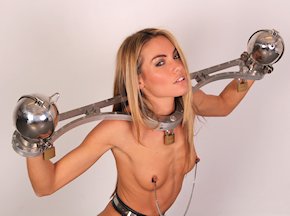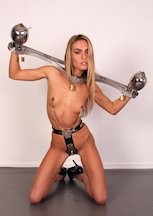 Lady Roswell Ivory can take huge ballgags! I had a brand new shiny 2 inch gag waiting for her, but I know she is a stubborn lady. She would take it out after a few seconds, because it would stretch her jaw too much. That's not proper gag training! So I turned her into a slave girl once again, big heavy collar, chastity belt and chain breast harness. The lady is hard to tame, she just isn't used to being treated like this! To prevent her from removing her gag, I enclosed her hands in steel mitts! The huge gag was stretching her jaw for over half an hour! Watch the helpless lady try to remove her gag, it's a beautiful sight!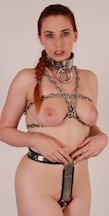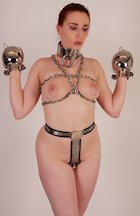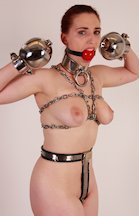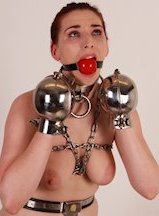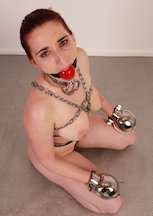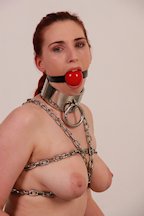 Aah, it is Tiffany, the wonderful blonde we have been submitting to bondage for a few years now! She is getting used to our harsh gear, and not afraid to try anything new. So we created a little challenge for her: we lock her fists in our new Steel Mitts, and attach them to a spreader bar that is hooked to her tight metal waist band. We used snap hooks on purpose, this makes Tiffany's challenge more frustrating (as she can not use her fingers) and it is rewarding her for extreme struggling, because… she might unsnap a hook. We love new gear… and Tiffany in cold metal!