All updates featuring
Nicole
Raven-haired Nicole is coming along fine in her metal bondage training. She kneels without being told and she can be locked in a super tight chastity belt for days without complaining. But there is a little problem: she still hates heavy restraints. It's true, we have some of the heaviest restraints in the industry, but also some of the prettiest! Nicole doesn't really appreciate the huge collar we locked onto her neck, so we have to keep her hands out of the way by cuffing her to a very low contraption. But then she kept trying to stand up, so we ended up attaching the collar ring to the device as well. Nice and low bondage for Nicole today! Very aggressive struggling!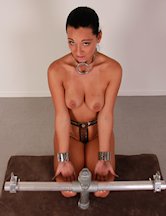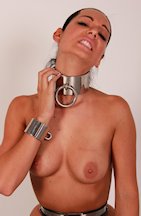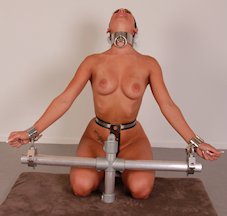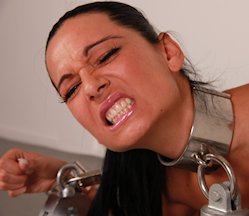 Chastity belts are so great for training! It isn't really bondage, but since we hold the keys, we can still make the girls do anything we want. Tracy and Nicole were in the belts for a few hours already (we did this first), and they REALLY didn't want to go to the toilet in their belts. So we told them they would stay locked in the chastity belts until they tried nipple clamps to our satisfaction. Now remember, these girls had never seen nipple clamps before, let alone tried them, and these Japanese clover clamps have the nastiest pinch of them all! It was just a matter of how badly they wanted out of their belts… Even though they both have very sensitive nipples, they were real troopers! Anything to get out of chastity! Tracy and Nicole did great, and once they were over the initial pain, they really got into it. They were even tugging each other's clamp chains for fun! Ouch!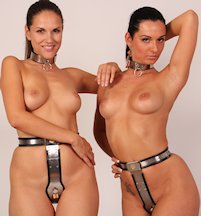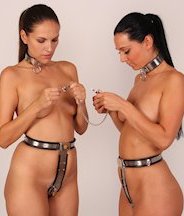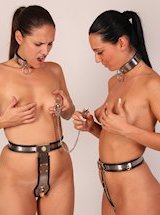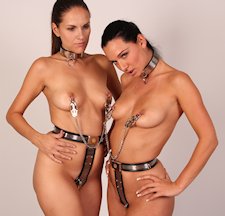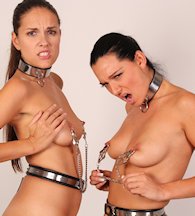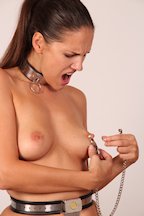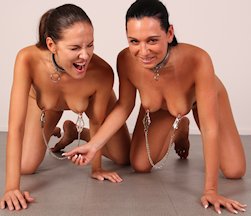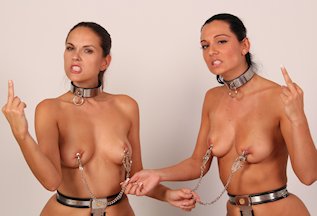 Nicole explained to us there is no way she can be locked in a tight chastity belt, because she is claustrofobic and does not like tight things on her body. She didn't say anything about her collar though, which is also tight and weighed very heavily on her neck. So we belted her anyway (again), it was all just one big excuse from this clever girl, hoping she would not have to wear a chastity belt this time. Of course, she could not stop tugging and pulling on it, so we had to completely immobilize her to stop her from doing that. Now she is lying on her back, locked spread eagled to a heavy frame, and the collar is making it hard to breathe. Well, serves her for trying to be smart!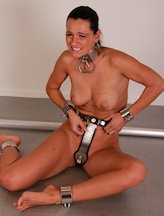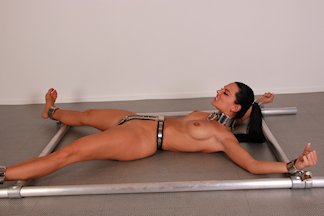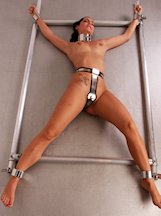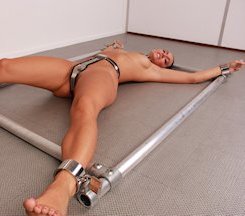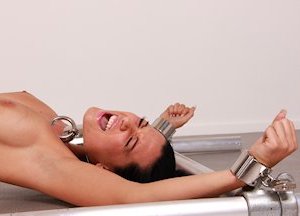 We love using our Connect-A-Model restraints system! It consists of little metal bars, collars, wrist cuffs, and ankle cuffs, so anything is possible! When we connected two models by a collar spreader bar last time (the wonderful Claudia and Nelly), some of you felt the bar was a little too long. They could not kiss each other, but if the bar was just a little bit shorter, they still could not kiss and it would be even more frustrating! So we try that today. Best friends Tracy and Nicole are soooo close, yet so far. They will have to escape their collars before they can kiss. And they will have to escape their wrist cuffs before that. And their chastity belts? No way, they stay firmly locked on, we never give keys to chastity belts in an escape challenge. Ever.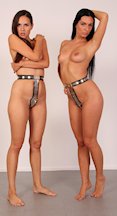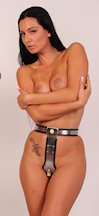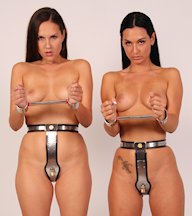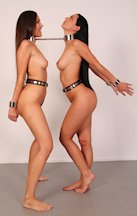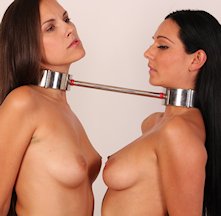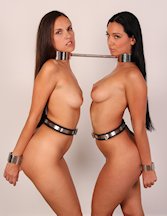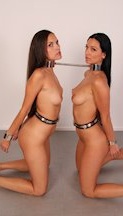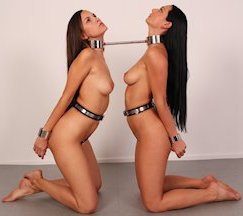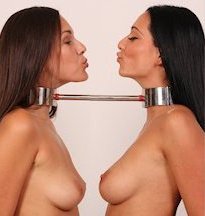 Wow, this girl could be the new bondage discovery of the year! Nicole is the kind of girl who says: 'Just belt me from the first shoot, that looks like fun!'. Amazing! And what's more: she is fun, very flexible, and she wants to try everything we have! We actually had to slow her down a little, and make her try our classic fiddle escape first. Not that anyone ever escapes (except for Cory, of course), but it is just so much fun to watch new girls struggle around in a RigidFiddle. And a chastity belt of course, which incidentally looks AMAZING on Nicole… Geez, some girls have it all! Needless to say, Nicole will be back for more… much more!