All updates featuring
Metal Wall
The One Bar Prison has been so inspiring, and it is very popular! But what if we could make a moving One Bar Prison? Wouldn't that be much more fun for the girls? It turned out it was a bit harder than expected. We used an upright fucking machine, but to make sure our beautiful victim Stella Cox would stay in place, we had to mount her to the wall by her wrists and ankles. Then we had to make sure her body wouldn't move so we added a steel bar behind her back and chained her waist to it. Completely stuck, Stella was a bit worried about what would happen next. What happened next? Well, we turned on the fucking machine of course! See how that went in this week's video!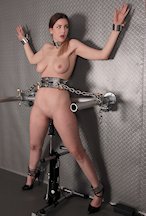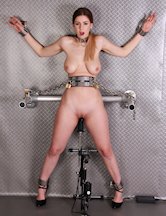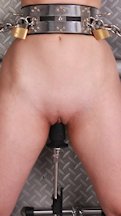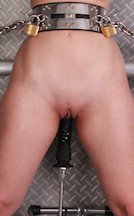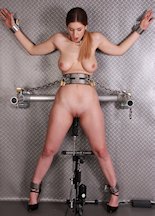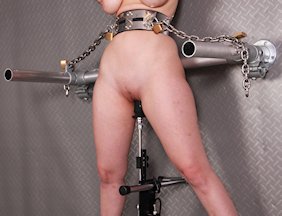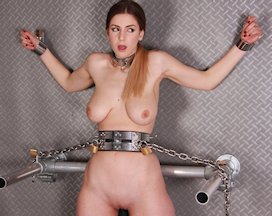 Tiffany is back! Of course, she was locked in her chastity belt straight away, that was no surprise for her. We added a heavy waist belt and a collar too. Tiffany entered the room, curious about her bondage shoot, only to find a wall with some mysterious anchor points. She knew this was not going to be as easy as it looked. And she was right. Being locked to a wall by your waist, neck, ankles, and wrists, without much room to struggle is fun for about 10 seconds. Then it starts to be really annoying. Tiffany couldn't move much, and she was very vulnerable, her nice boobs completely exposed. She actually felt good about wearing her chastity belt! Don't miss this update, Tiffany looks great locked to a wall!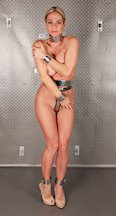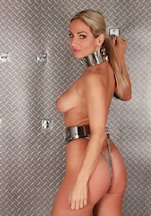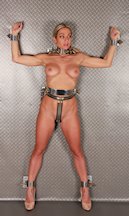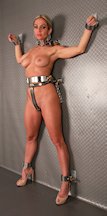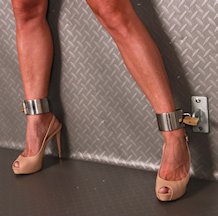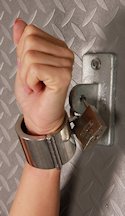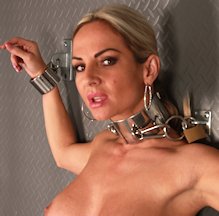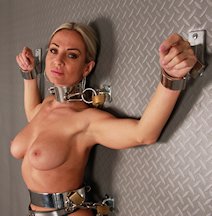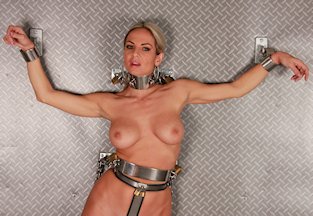 Wow, a lot of new things going on here! We now have a new wall, so we can attach various pipes, cuffs, and implements to it! We are also introducing a magic wand to make things a bit more interesting. It is adjustable in height with our own steel pipe system. And last but not least, we are introducing the cheerful and gorgeous Izzy Delphine as the first victim of this contraption! Izzy is locked to the wall by her wrists and ankles. Her waist is pushed forward by a back bar, and her heavy steel belt is attached to that bar. In this bent position, she can barely move, so she can't get away from the magic wand. Don't worry though, we let her go after a few nice orgasms in steel!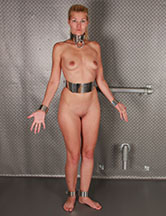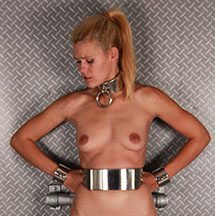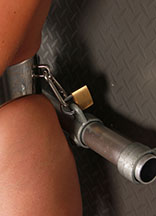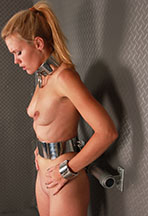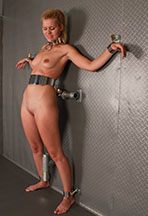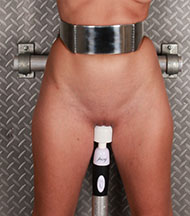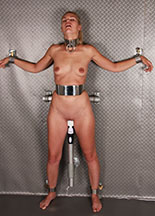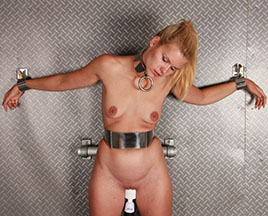 Natalia Forrest is back in our studio! Completely nude, she discovers a curious metal wall with 5 restraints bolted to it. We never know what Natalia is going to do: she loves to complain about bondage, but she is so curious that she will try anything! She even starts closing the restraints on her ankles to see if they fit! We decided to help her a little and lock her wrists, neck, and ankles to the wall. The ankle cuffs are tight, so she can't stand on her toes, which is too bad for her because the collar is pretty high up. She is stretched out, with her hands cuffed in a very helpless position. She can not move at all! Natalia makes for a great home decoration! Let's keep her for a while!