All updates featuring
Katerina Hartlova
Katerina Hartlova is back! With her enormous natural boobs, she is a perfect MetalBondage pet slave! I locked her in a huge heavy steel collar, so I could chain her to the slave post. Then I told Katerina to lock her giant breasts into a pair of boob cuffs, with very unexpected results! She got so horny by the tight feeling of these cuffs, she needed a magic wand immediately! I could have known, of course, Katerina is always horny! I'm so glad to have her back!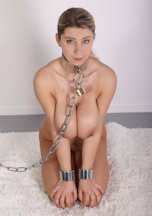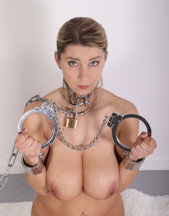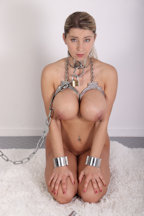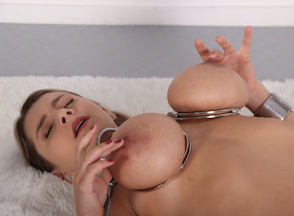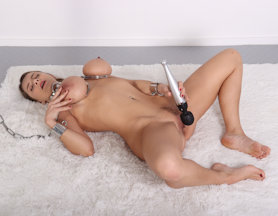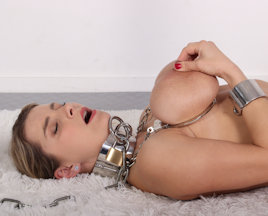 A lot of members wanted to see more Katerina Hartlova! It is pretty amazing to see this famous girl struggle in metal bondage. She is very… expressive. Our very heavy custom steel stocks are designed to keep a girl's arms up, so she can not defend herself against groping hands. And we can imagine that is what Katarina is most afraid of. Her massive natural boobs are completely exposed and up for grabs when she is locked in these stocks. We are not all mean though, we tossed the keys on the floor, so she could try and escape.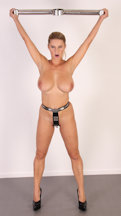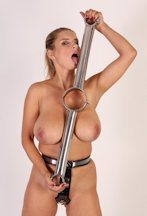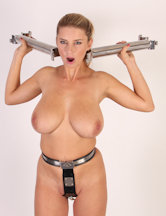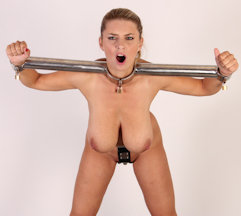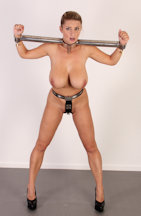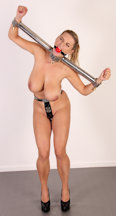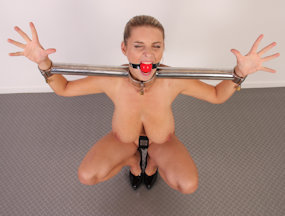 Surely 2 boobs cuffs will fit on each of Katarina's huge natural boobs? We cuffed her boobs with 1 cuff each before, but two makes it more secure. Katerina in a chastity belt, boob cuffed, wearing a heavy collar, that's something you don't want to miss. To make this a bit harder for her, we cuffed her left wrist to her right boob and her right wrist to her left boob! Behind her back! With double handcuffs of course. Then we gave her the key and watched her struggle, those giant natural breasts swinging as she tried to reach the keyholes. We love Katerina. She should be in bondage permanently. Especially her boobs. Did we mention boobs?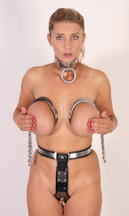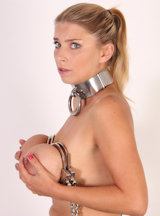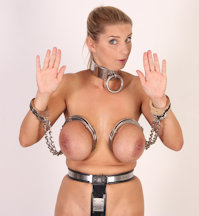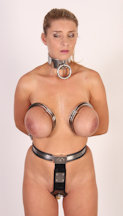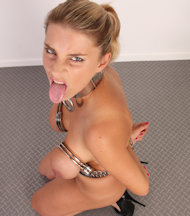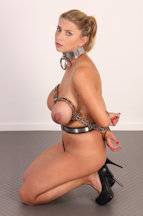 Giant boobs and a One Bar Prison. Katerina is back and she will be impaled today! At first, she was very playful and she thought it was funny. But once she was stuck on the One Bar Prison, she found out she couldn't escape because she was wearing high heels. She couldn't take off the heels either, that would be very unwise and painful. She had to admit she was completely stuck. We wanted to keep her impaled for a while, so we kindly pointed out that the dildo was actually a vibrator. We gave her the remote to play with, so she wouldn't get bored standing there. It's a beautiful sight, Katerina knew we were not going to let her go for a while… dont miss this!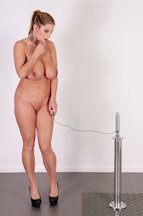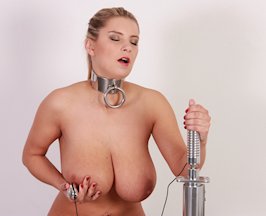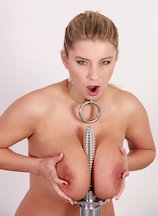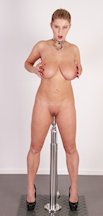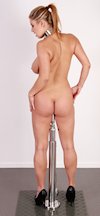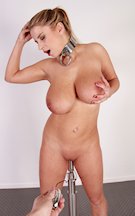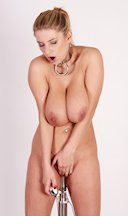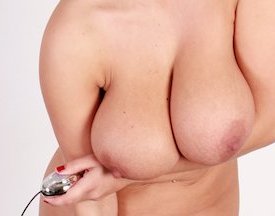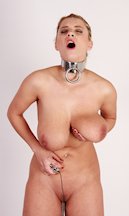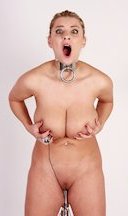 We got her! The famous funny sexy girl with the huge natural boobs: Katerina Hartlova! Of course, we had to cuff her famous boobs right away! Two big neck cuffs fit her perfectly, and there was no chance she could get those off without the key. We used the frame setup that was so much fun before with Hannah Claydon, but even better this time. Katerina was stuck, her wrist cuffed low so she couldn't stand up, held up by her boob chains. She is a wild one though, so it takes a lot of metal to keep her in place. Watch the video to see what happened, it's pretty funny!