All updates featuring
Rounded Slave Collar
Remember Muriel's visit to the dungeon? Her friend Nova wanted to get chained up too! So they both went back to the dungeon to get chained together. It was a great experience for both, two nude friends, together in metal bondage. Muriel was locked in chalet cuffs and Nova was restained with long spreader cuffs. Nova's wrists were behind Muriel, so they were stuck together. They got ankle cuffed, and then a heavy crotch chain was added and locked to the ceiling. One girl's movement would definitely be felt by the other girl. Trying to keep still wasn't as easy as they thought!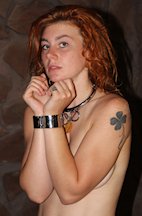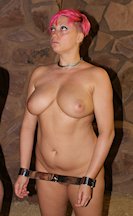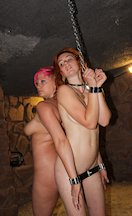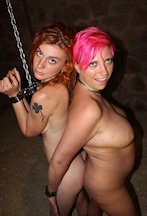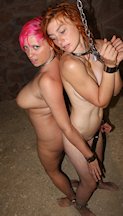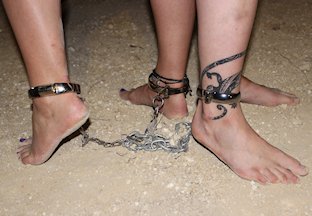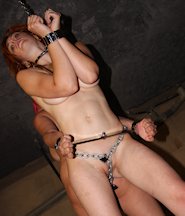 What's the matter, Tracy? I mean, your legs are free, your arms are free, why aren't you moving? Oh wait, you're impaled on the One Bar Prison in high heels :) There truly is no escape from the One Bar Prison (hence the name). High heels mean a girl can't lift herself off the metal dildo and even if we give her the hex tool to adjust this device, she can't bend over enough to reach the adjuster screw. Beautiful Tracy Lindsay is on display, her stunning muscular body impaled on the pole and she can't run off. She will be stuck until we decide to let her go. She sure gives escaping a good try though, rotating around, trying to lift her butt with her hands. But there is no chance. So she is told to put her dress back on and just wait.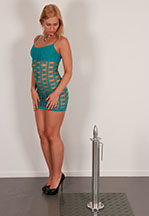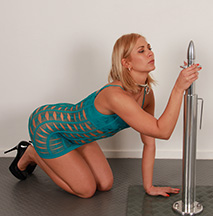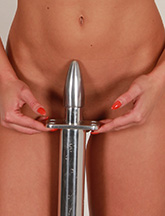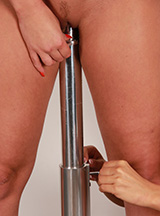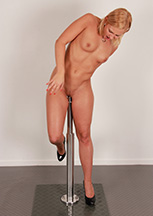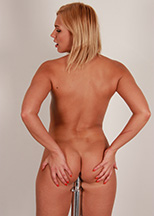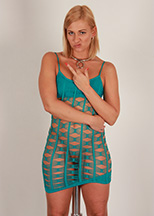 There's only 1 requirement for the One Bar Prison: the model has to wear high heels, otherwise it does not work (the model could simply stand on her toes to get enough height to escape). With high heels, you are already on your toes, and the One Bar Prison becomes inescapable, a fact that no one seems to believe. No bondage, no restraints, but inescapable. Lola heard of this challenge, and she wanted to try it! But when she showed us her ballet boots, we were a bit worried for her safety! It is hard enough balancing in ballet boots, imagine the muscle strength required to be impaled on a One Bar Prison! Still, this was highly requested by several members, so here we go… Lola takes on the One Bar Prison in ballet boots!! Madness! Do not try this at home!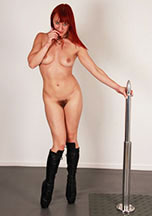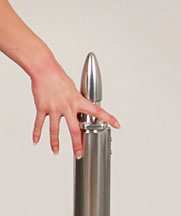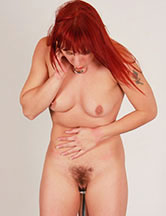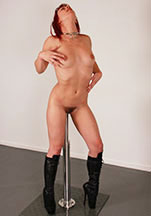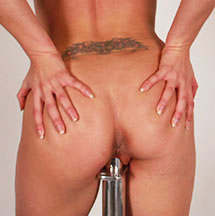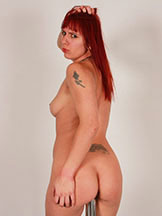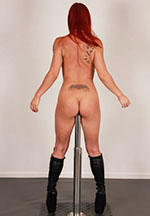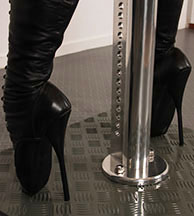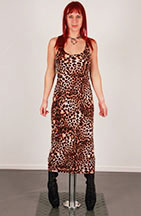 Our One-Bar-Prison is generating a lot of buzz in the female bdsm community!! Is it really true? Can one bar hold a girl in place without any additional restraints? Is it really inescapable? Body builder submissive girl Angelica drove all the way from Germany to find out. This German girl is tough! She wanted to take on the challenge, and see for herself, as she was convinced she could escape from this device!! We just told her to bring her tallest heels (required for this challenge) and go for it! Angelica failed, and she really truly could not escape. She was stuck, and we told her to put her dress back on, so she could stand there for a while, like a life size mannequin.