All updates featuring
Steel Armbinder
Britney is a tall exotic dancer, she never stops moving! Her incredible body consists mainly of endless arms and legs, with amazing flexibility. Time to challenge Britney! We lock her into our Custom Muzzle Posture Collar, and a tight metal waist belt. Her hair is up in a bun, and we lock a cuff around it. It's a new experience for us and for Britney, who is suddenly quite limited in her dancing. We add another hair cuff, and lock her arms in the very small steel armbinder. Britney's hair is now chained to the ceiling! She struggles and tries to pull, but she can't quite free herself. Hair cuffing is fun, we are going to develop something special for this soon!!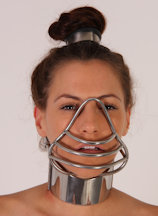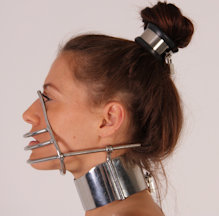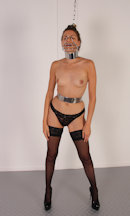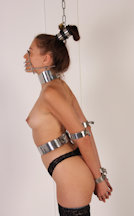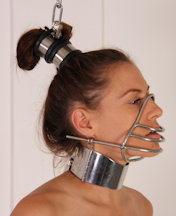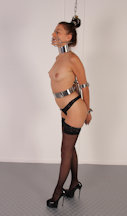 Only two girls have been locked in our Steel Armbinder before! It is very tiny, and you need a girl with slender upper arms and wrists! We found this new model Becky, and she just is amazingly flexible, with endless legs and long elegant arms! She was very eager to try all of our devices, so let's just start with the Custom Muzzle Posture Collar and Steel Armbinder. A chastity belt of course, because she would be a bit naked without one. Will she be able to get anywhere if we throw her the keys? Probably not, but we love to see her try!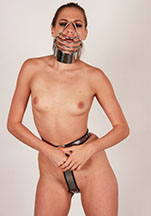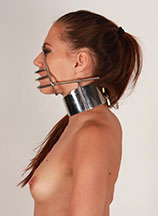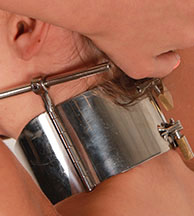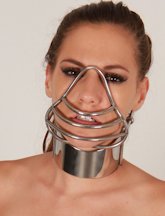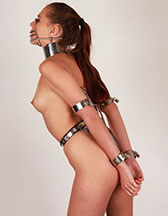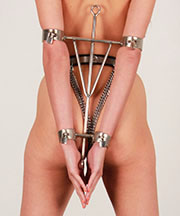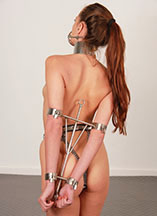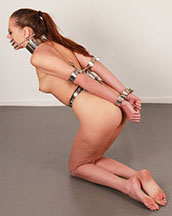 Poor Melissa!! We custom built this new metal torture bondage device quite some time ago, but until now none of our models fit into the Steel Armbinder. We need a small girl with the perfect flexibility, very thin upper arms, very small wrists, the right distance between wrists and upper arms, and the list goes on. We thought we were never going to use this device, but brave Melissa gave it a try and it worked! One of the most cruel devices we have, the position is really hard, and even painful. There is absolutely no hope for escape. Sorry Melissa, you always seem to get the extreme stuff that no one else can do!