All updates featuring
Elise Graves
Elise Graves is back for another challenge!! She hates clover clamps, so that is a great starting point for today! We have The perfect device to prevent her from removing these harsh clamps. The Ballet Stocks are a variation on our heavy stocks that lock the wrists high above a girl's head. It is seriously heavy, but Elise still manages to struggle, get upside down, lie down, and she even gets back up again. But there is simply no way she can reach the nipple clamps, the swinging chain hurting with every move! Awesome struggle by one of the net's toughest bondage girls!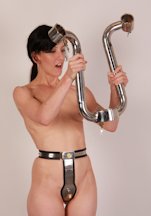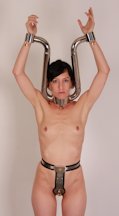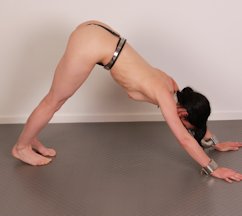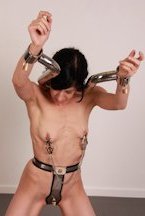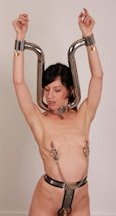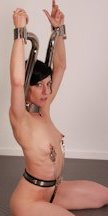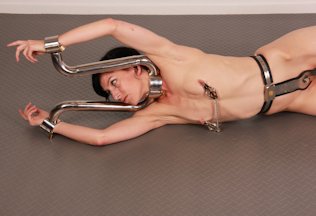 When we introduced our new Rigid Box Tie Device, Yu was not locked in a chastity belt. So a lot of people started wondering if a chastity belt could be worn in combination with this device. The answer is: yes! Of course! Especially when we have a model like the bondage loving Elise Graves, who wanted as much metal locked onto her body as possible! She wants to struggle, feel the unforgiving metal, she wants to be made completely helpless! So we gagged her, and chained her legs to her waist so she couldn't stand up. A lot of locks were needed for this gear, and we just threw all of the keys on the floor so Elise could struggle and try to escape! This is one of the best struggles you have ever seen in metal bondage, for sure!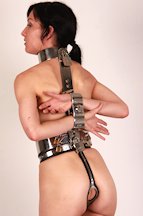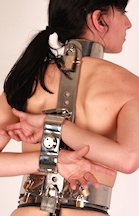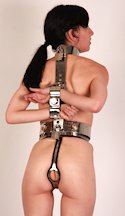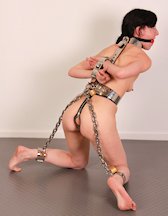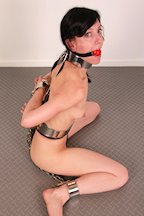 Elise Graves returns! She is such a tough girl, perhaps the toughest of all!! She can do anything, any extreme pose, and she really WANTS TO stretch her limits! There was only one position I could think of that is a challenge for Elise! She has done reverse prayers before, but never in unforgiving metal! I started warming up her shoulder muscles by cuffing her elbows together in heavy steel. The extreme Giraffe Collar made sure I got her attention. Then I proceeded to lock her into the reverse prayer position, with a heavy chain and padlocks to make sure she couldn't move an inch! A bit gag completed this awesome challenge, now let's see her struggle!!