All updates featuring
One Bar Prison – Standard Design
Liz and Blondie are two hot Spanish girls who love to touch each other! They like kissing, and fondling each other's boobs. So I tried to keep them apart by impaling both of them on One Bar Prisons. Did it work? They only got more horny, and they still tried to touch each other, but leaning over on a One Bar Prison is not without risk! Balancing precariously in their high heels, Liz and Blondie try to grab each other's boobs, and even kiss! Wow, they must be really getting aroused from the 3-ball metal dildos inside of them!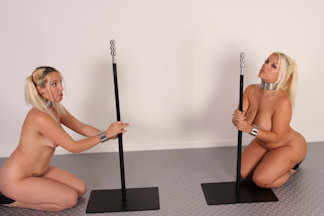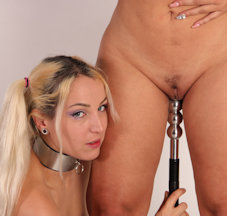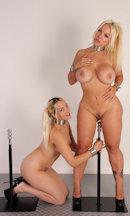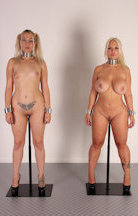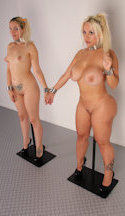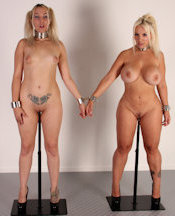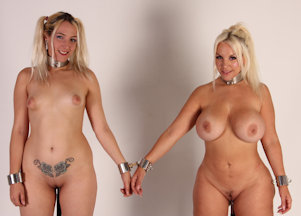 Liz Rainbow brought her friend Venom Evil this time! That was great, now I have two girls to go on my matching One Bar Prisons! These impalers are fitting with large 3-ball dildos, so there is no escape (if inserted deep enough and the models are wearing high heels). No further bondage needed! They tried, but the couldn't escape the big dildos, so I told them to put their dresses back on, so they could be my window mannequins. Reluctantly, they turned around and opened the window blinds. Now everyone outside could see them in the bright light. Unable to move, Liz and Venom were the perfect window displays! What a fun duo to impale!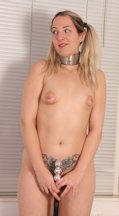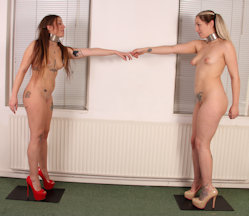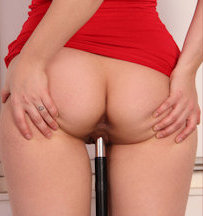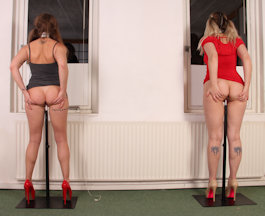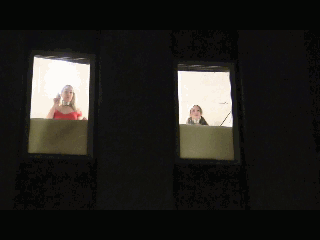 Remember when Nicole Vice and Cindy Dollar tried the One Bar Prison together? Well, Nicole Vice is back, and she brought a new One Bar Prison friend for support! Young Daphne is very inexperienced but curious, and she would never have tried this if Nicole wouldn't be with her. Locked in big collars, and wearing nothing but high heels, the duo is impaled on two One Bar Prisons. The challenge is to stand around until we come back to lower the dildos. But they don't know how long we will leave them there, with a cold metal dildo inside them and no way to escape! At least they have each other!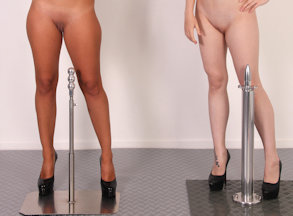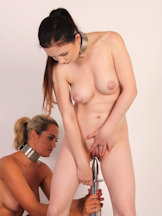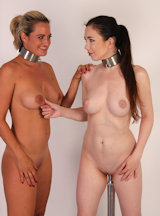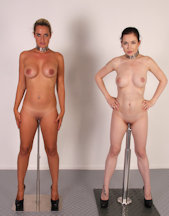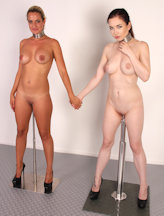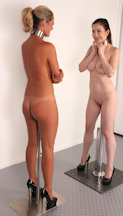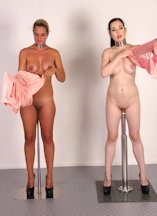 Wow, Cindy Dollar is back! We didn't see her for a few years, but she still looks exactly the same! And better yet, she brought a friend! Nicole Vice was a bit concerned about Cindy so she decided to tag along to see what goes on in a MetalBondage shoot. Well, we had planned to put Cindy on the One Bar Prison, but since Nicole was with her, we might as well impale her too! One Bar Prisons are better with friends! Nicole didn't blink, she even helped to impale Cindy before being put on her own One Bar Prison. No escape for those two! Well, we gave the allen key to Cindy for a moment, but she is very flexible so we quickly took it away and told the pair to turn around for us and get dressed. Perfect helpless mannequins! We just let them stand there for a while…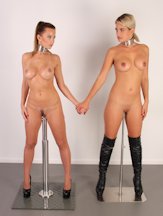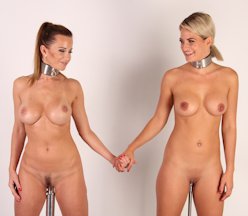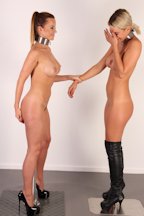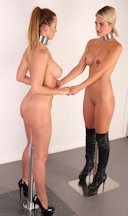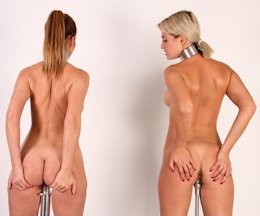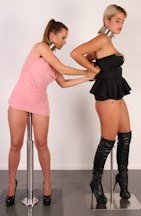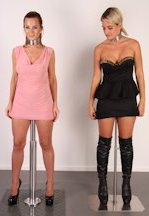 We proudly present (after many requests): the One Bar Prison with vibrator attachment! Now… a little warning here: don't try this at home! Using a strong vibrator on an impaled girl in high heels is not very safe! But that said, we are still going to show it to you, as so many people requested this and our model Darina is a real pro who can handle some stimulation without falling over. It is the ultimate simple bondage: a One Bar Prison and high heels. Girls can not escape from that. They just have to stand there until someone helps them, it can get a bit boring and frustrating. But at least now Darina has something to play with! She can just about grab the wire of the control unit and try all the different vibrator settings and modes. Darina had lots of fun!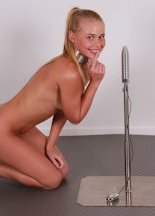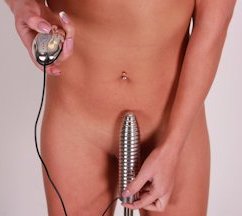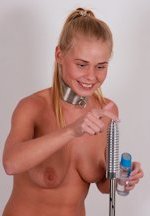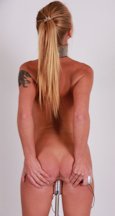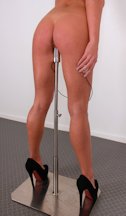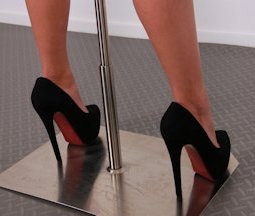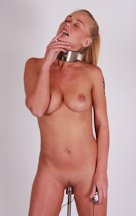 A member requested a girl on the One Bar Prison, in a RigidFiddle, and leg irons. Well, we did not just get any girl: we got Little Caprice! There should be a very very small chance of escape to make her try. But to escape, Caprice would have to get out of the RigidFiddle (something that has only been done by about 2 in every 100 models), and even then she would be stuck on the One Bar Prison. So we used the old version of the dildo pole. Should she somehow escape her fiddle, she would have to bend over and reach the adjuster knob. This all sounds very impossible, but Little Caprice… well she is as amazing as she is famous! Don't miss this!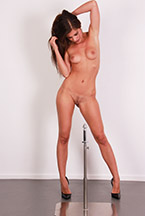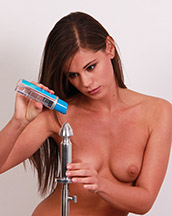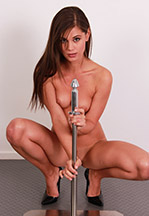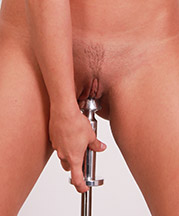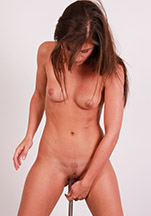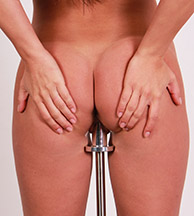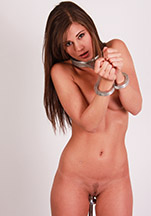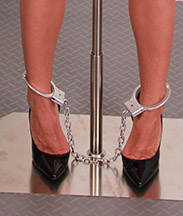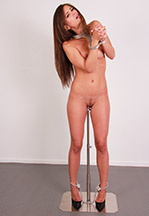 Tall Dutch blonde Mandy Slim found out about our One Bar Prison challenge on Twitter. Like many girls, she did not believe that one bar can be enough bondage to hold a girl in place. So she came over to take the challenge! I told her to bring her tallest heels, and she looked awesomely fierce! She was so curious about the One Bar Prison, touching it and lubing it up, so we got right down to business. The special metal plug was inserted very carefully, with Mandy halting the progress a few times to find her position. All she could do was stand up very straight. She tried and tried, but she could not escape this evil device! Another victim of the One Bar Prison!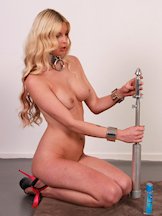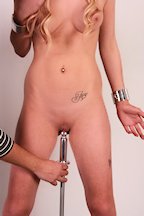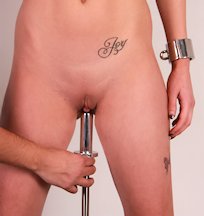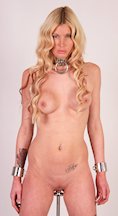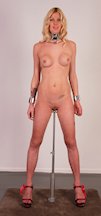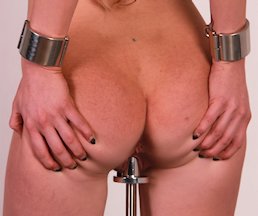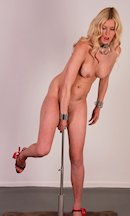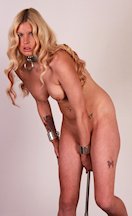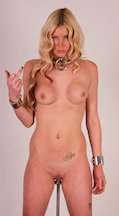 Our One-Bar-Prison is generating a lot of buzz in the female bdsm community!! Is it really true? Can one bar hold a girl in place without any additional restraints? Is it really inescapable? Body builder submissive girl Angelica drove all the way from Germany to find out. This German girl is tough! She wanted to take on the challenge, and see for herself, as she was convinced she could escape from this device!! We just told her to bring her tallest heels (required for this challenge) and go for it! Angelica failed, and she really truly could not escape. She was stuck, and we told her to put her dress back on, so she could stand there for a while, like a life size mannequin.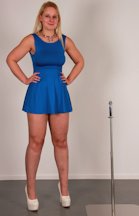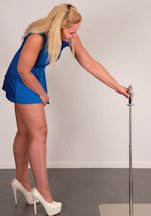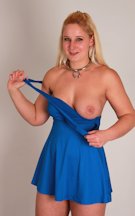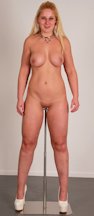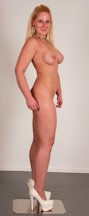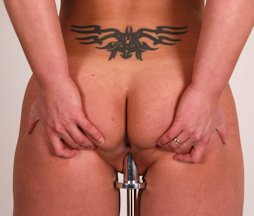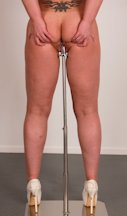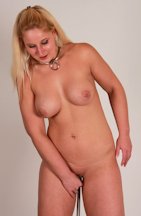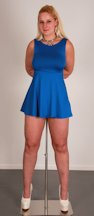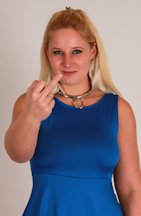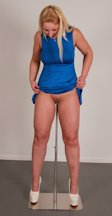 For years, we have been hearing rumours about a way to restrain a girl using only 1 steel bar!! So we finally decided to build this device, to see if it is true that a girl can not escape this diabolical contraption. We needed a large metal dildo on an adjustable pole, and a girl in high heels. Natalia Forrest happened to be hanging around our studio, so we grabbed her to test this new device. She didn't believe that it would hold her in place, and neither did we. But amazingly, Natalia was unable to escape from the One Bar Prison! She couldn't get off it. Wearing high heels meant that she was already on her toes, and the dildo was in too deep. Her hands were cuffed behind her back to prevent her from reaching the pole's adjuster. We left a camera running and sneaked into the other room. Her reaction was priceless! It is true! One bar can hold a girl!