All updates featuring
Treadmill
Not many girls are so well trained as my dearest Ballet Sub Ella! She is a professional ballerina AND submissive! What better combination could you wish for! She was doing a Chastity Deal at ChastityBabes.com, spending quite a while in her NeoSteel belt, heavy collar, and wrist cuffs, including sleeping, showering, etc. Check it out if you haven't followed the story! On of the final Challenges was a pair of heavy ankle cuffs. Ella did not mind, but she did request to wear her leg warmers for protection. She went up the stairs, and all around the house, walking on her toes as always. I decided to put her on the treadmill for a good look at her incredible skills! Enjoy! And don't try this at home!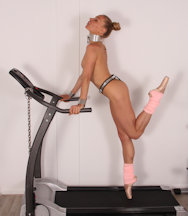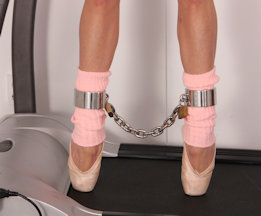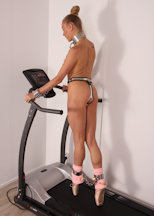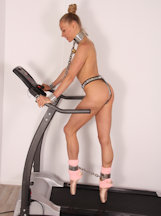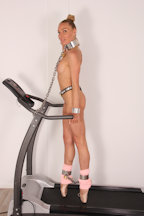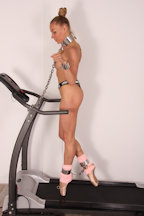 Cory is a tiny girl, but she is very tough! You can add kilos of metal to her and she will just keep struggling and moving! So she would be the perfect candidate to test if it's possible to walk in heavy thigh bands on the treadmill! Well, she will have to! There is no way she can stop the treadmill since her wrists are cuffed behind her! The thigh bands are so heavy they pull her waist belt down at the back, but the waist belt is also held in place by chains to the metal frame. Cory is in high heels on this unstoppable machine! Can she manage this with her eternal smile? Or will it be too much?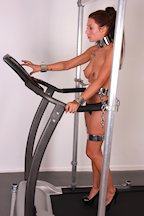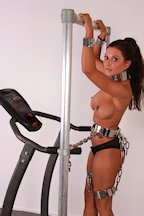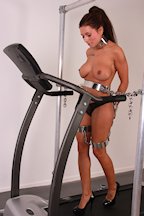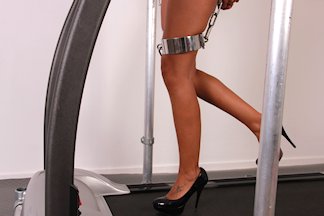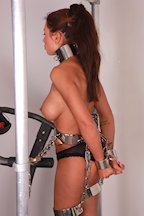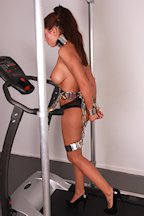 Gorgeous blonde Jenni C is enjoying a good workout on the treadmill in her sporty outfit. She is exercising for quite some time, when all of a sudden she finds herself chained to the treadmill by a huge heavy waist belt! She is locked in a heavy collar and her shirt is gone!! 'What the hell!', Jenni exclaims, as her captor approaches to restart the treadmill. 'Really?' But Jenni doesn't have a choice, after her hands have been padlocked behind her back, she can never reach the controls, so she will have to keep up the pace as her captor plays with the treadmill's speed. This is not what Jenni had in mind! But at least it will be a good workout with all the extra added kilos of metal!