All updates featuring
Jasmine James
Jasmine James and Chessie Kay are in a bit of trouble! Their wrists are locked behind them, attached to a tight heavy waist chain around their corsets. The keys to the waist chain padlock are on the floor. But that's not all: their nipple clamps are looped around the pole, so they will have to go down very slowly and carefully to avoid pulling on their nipples too much, and even then… they need to help each other if they want to free their hands to finally get rid of those nasty clamps. How will they do this? This is evil!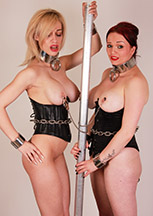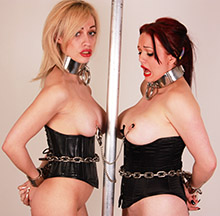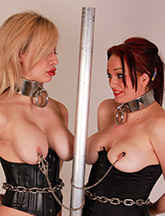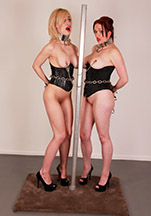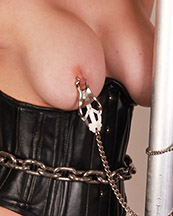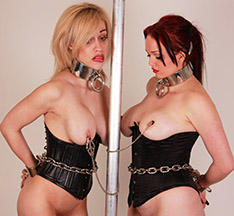 Jasmine James is back and she is more fiery than ever!! Her bright red hair, lips, and corset are awesome! We wasted no time locking her into a RigidStock, and then we had this great idea of cuffing her boobs to the stocks with very heavy chains! Lots of fun, although we had to gag Jasmine for this, because she did not like this situation at all! The evil part was throwing her the key, because if she wanted to try escaping the stocks, she had to move one arm up or down, making the other arm pull her boob cuff. Lots of moaning, drooling, and sweating, Jasmine was furious! She almost got the key in the lock, so we took it from her. Sorry Jasmine!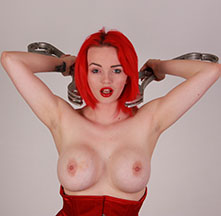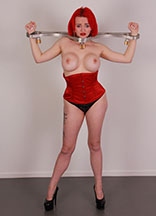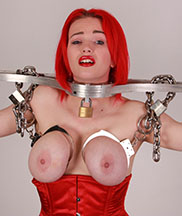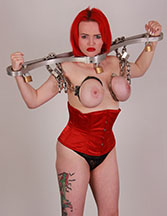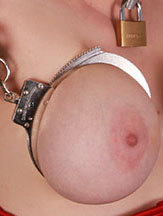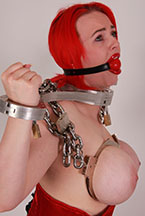 Chessie Kay and Jasmine James are back!! After trying to stop them from kissing last time, we just had to find something more challenging for these girls! We needed to lock them in metal devices, but leave their boobs exposed and vulnerable! There's only one solution: RigidStocks!! Jasmine got to lock Chessie in first, and she was loving it, until she found out that she would be locked in the triple weight RigidStock TL XXL!! It is literally three times as thick as Chessie's regular RigidStock. Boobs and RigidStocks, it's just awesome! Don't miss this!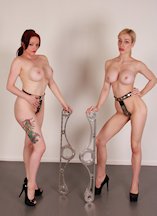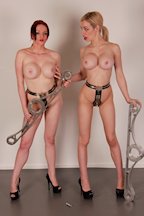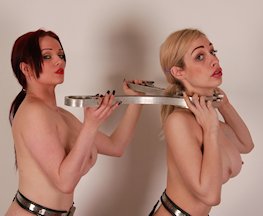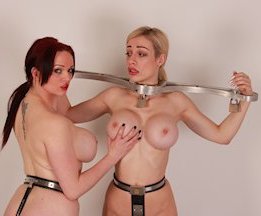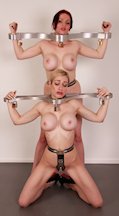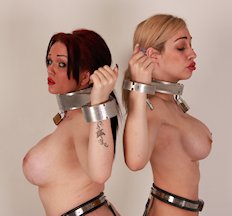 Big boob, big mouth UK hottie Chessie Kay brought her friend to the shoot! And if possible, Jasmine James has got even bigger boobs!! These two are so horny, they can't stop kissing and touching, even though they have been locked in tight chastity belts (for their own protection of course). Time to separate them! We locked their heavy collars to a dual slave girl kneeling post, just far enough apart to stop them from kissing eachother. Unfortunately, they soon found out that they could still rub their boobs together (and squeeze them)…. sigh… Big boobed slave girls these days…