All updates featuring
Weight – 2kg
Rachel Adams always suffers so beautifully! She is a tough one, living the life of a true bondage model. Rachel gets tied up and gagged every day, and she never stops! Such dedication and toughness is rare. I decided to test her with the heavy posture trainer, locking her wrists behind her. A large ballgag is a must for Rachel Adams of course! Then I clamped her nipples to a 2 kilogram weight (even more than that, because I used a metal cuff as well), and she was left there. Suffering, moaning, drooling. It's Rachel Adams! She is incredible!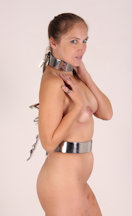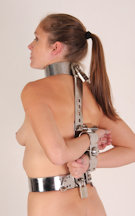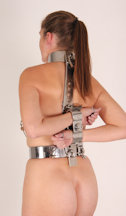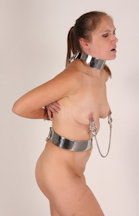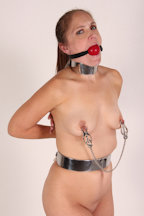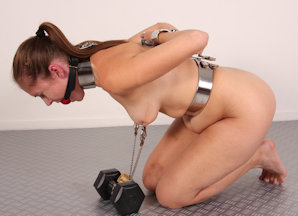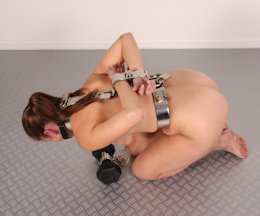 The small solid steel ball has defeated a number of models already. Elizabeth is a brand new local girl, and she says she loves a challenge! Well, the challenge is to escape from this metal bondage setup! Or even just move away from your spot. Will Elizabeth be able to do it? Her beautiful boobs are stretched as she tries to get up, but 2 kilos is a bit much for her sensitive nipples. With her hands locked behind her back, there's not much she can do!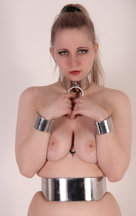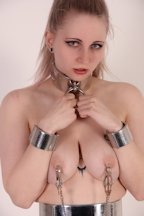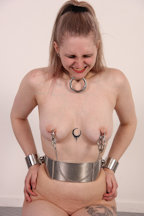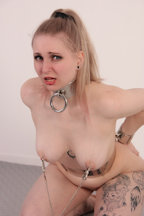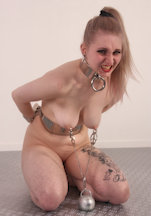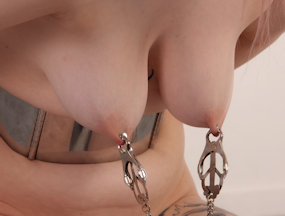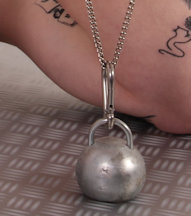 Cute 18-year old Olivia is back for another challenge! Remember her update with the One Bar Prison? She is just so awesome! Today, Olivia is locked in heavy steel: collar, waist belt and wrist cuffs. She nipple clamps herself, and it is painful and exciting at the same time. Soon, Olivia finds her clamps locked to a 2 kilogram weight resting on the floor. Her wrists are locked to the back of her waist belt. Can she escape? She can't move too much or it will hurt! Don't miss this cute update!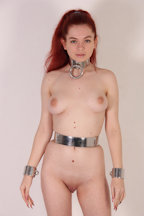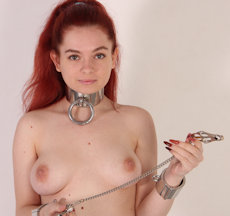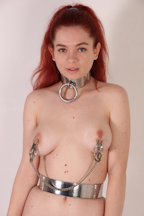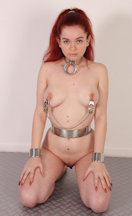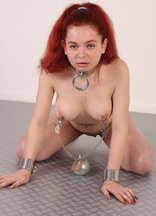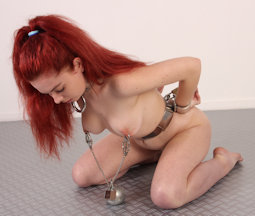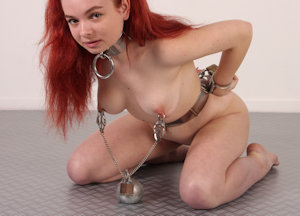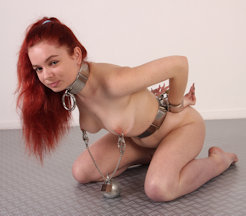 Julia Green! Such a cheerful and happy creature. She is just amazing. Locked in her My-Steel belt and her big collar, she was eagerly awaiting what was in store for her. But unfortunately, it was not something to smile about: dreaded clover clamps! Julia hates these, they hurt her so much. She put them on herself, and before she could take them off, her hands were locked in steel mitts already. She was gagged – another thing she doesn't like because she is a massive drooler – and soon she was on her knees with her nipples locked to a 2 kilogram weight on the floor. She tried everything, but there was no escape!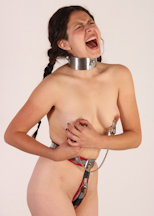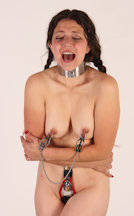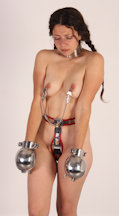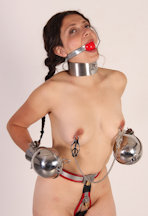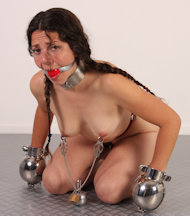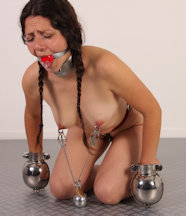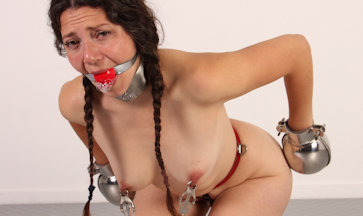 Well, Liz Rainbow does not like nipple clamps! She hates them! Which makes her a perfect candidate for our 2kg weight challenge. Can she move away with 2 kilograms of steel attached to her nipples? Probably not! But what if she just took off the nipple clamps? Well, we have a perfect device to prevent that: the Ballet Stocks (or Ape Hangers, or Overhead Stocks, we're still not sure about the name). Liz can't take off the clamps, and she can't run away. It's perfect metal bondage!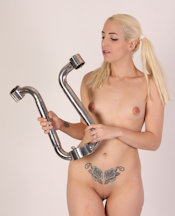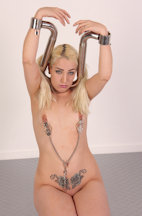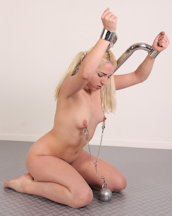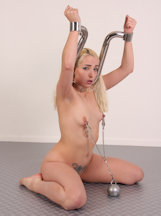 Tiny Polina is back! Remember this exceptional bondage talent? She needs more training though, today will be her first time trying clover clamps. And they suck, we all know that. Polina tried them and wanted to take them off straight away, the sting was a lot for her! We had to put some steel mitts on her to prevent her from removing the clamps. Polina tried, but without her finger she couldn't do anything about these evil clamps. Which gave us a great idea: what if we attached the clamps to a 2kg (4.4 pounds) weight? Polina would be stuck, without any bondage! Check out the amazing video, she really couldn't do anything about her predicament!