All updates featuring
Polina
Two tiny slave girls with ultra sensitive nipples are going to get a training they won't easily forget! They are told to ballgag each other, then lock the collars to the double slave training post. The dreaded nipple clamps are locked to the post as well and their hands get locked behind their backs. Will they be able to free themselves? Or will they just cry and drool because their poor nipples hurt so much? Don't worry, Polina and Nedda were fine, although watching this video is not for the faint of heart, it is really a nightmare for these tiny sub girls!!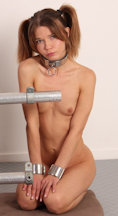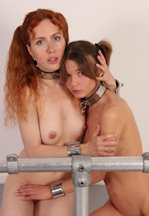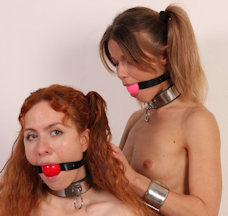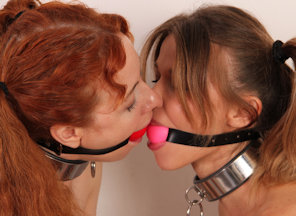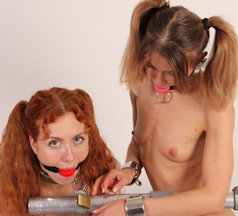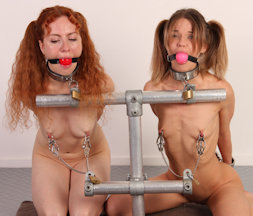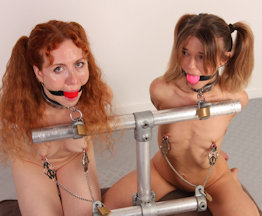 Poor Polina! She is the most flexible girl we have ever seen, and the only one who can do reverse elbow bondage! She also HATES nipple clamps. Which is quite unfortunate, because she can not reach the clamps when we keep locking her in tight elbow bondage devices. The Bagno arm screw makes her elbows touch, and a double hinged handcuff locks her wrists into place. Now it is time for the nipple clamps again, with an added padlock for weight. Polina soon starts crying. But don't worry, she asked for this training herself! She wants to improve!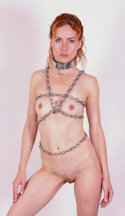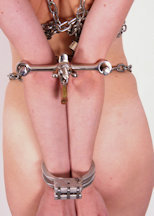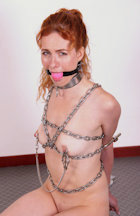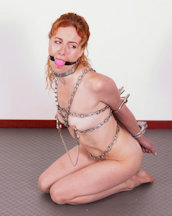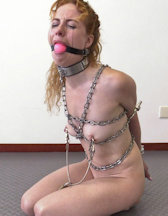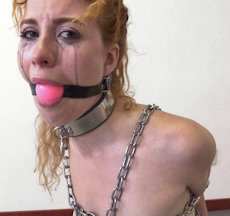 Clover clamps hurt a lot! Polina did NOT like her previous encounter with these vicious things. We decided she needed some more training, so we told her to clamp herself again. She started sobbing immediately. We had to lock her in the heavy custom stocks to prevent her from removing the clamps. Ballgagged, Polina would have to wait quite a while before she would be allowed to take off her clamps. She cried and cried… poor Polina!!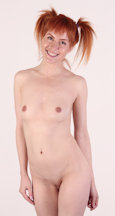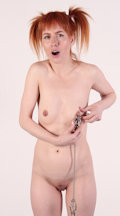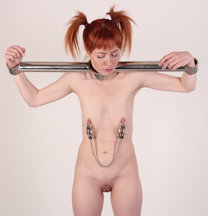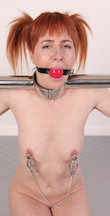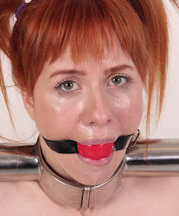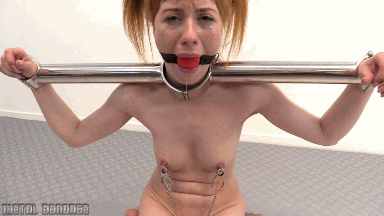 In today's update, a very excited but nervous Polina will get screwed to the wall. Literally. In her full chastity outfit (tight chastity belt and chastity bra) and a locking Carrara mask, this tiny girl anxiously awaits what's next. The mouth plate grill is added and locked to the mask, so we can still see her expressions during the next step: screwing her wrists to the wall! These metal brackets are exactly the size of her wrists, so once she is secured to the wall, she can barely move her arms. Polina tries to get comfortable, but she can't kneel and she can not move much at all. Very challenging and exciting! Polina loved it, and she wants to come back for more metal bondage!!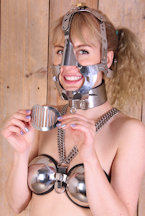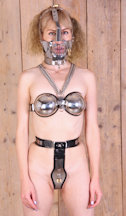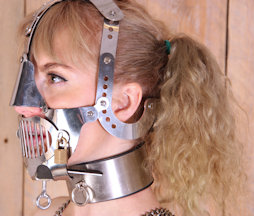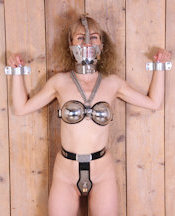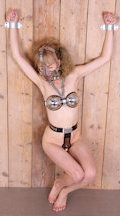 Tiny Polina is back! Remember this exceptional bondage talent? She needs more training though, today will be her first time trying clover clamps. And they suck, we all know that. Polina tried them and wanted to take them off straight away, the sting was a lot for her! We had to put some steel mitts on her to prevent her from removing the clamps. Polina tried, but without her finger she couldn't do anything about these evil clamps. Which gave us a great idea: what if we attached the clamps to a 2kg (4.4 pounds) weight? Polina would be stuck, without any bondage! Check out the amazing video, she really couldn't do anything about her predicament!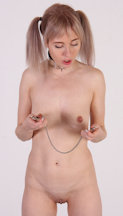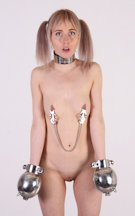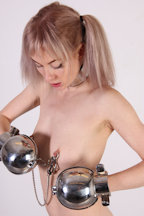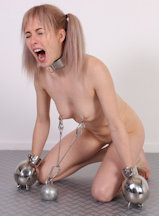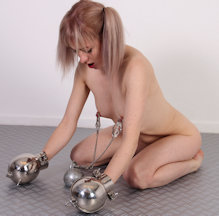 You have probably not seen this before! When Polina was doing her Chastity Deal at www.chastitybabes.com, we noticed something unusual about her. Polina is super flexible and one of the rarest bondage talents we have ever seen! This is only the second girl we ever shot who can do elbow bondage with her PALMS OUT!! This incredible skill does not even seem to take any effort from her. She is so relaxed with her arms twisted in this tight, almost impossible position. We use a Bagno arm screw for the elbows, added butterfly cuffs for upper arms, Irish 8 for her wrists and thumbcuffs to keep her from rotating her wrists back. You have got to see this picture set and video! Don't try this at home!