Search Results For
"Feature:"
This is another feature update of the kidnapped CEO theme. The one we did last time was very popular! It seems a lot of people have the fantasy of teaching their female office boss a good lesson! When we saw arrogant office worker Lana, with her tight leather skirt and big jewelry, we knew she was going to be a perfect victim for our feature. It wasn't long before she woke up in a dark basement, chained to the wall, stripped of her clothes, locked in a super heavy steel collar. That's better! We are going to keep her for a while, maybe she will change her attitude!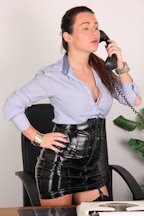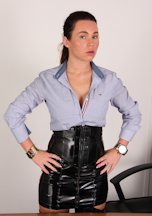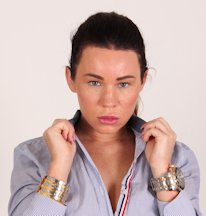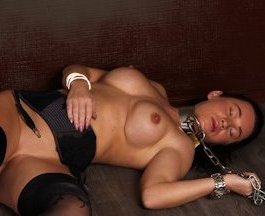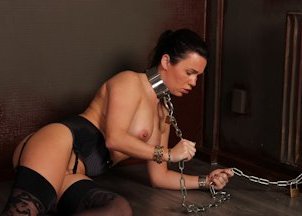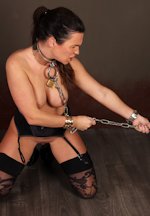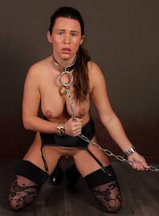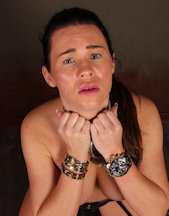 Welcome to update 350! A milestone deserving a special feature update! We all have had this fantasy! The arrogant boss sitting at her desk, she is beautiful but you know she hates you. She treats people like slaves. How great would it be to abduct this arrogant CEO and chain her to the wall in a cellar, naked of course! She can keep her fancy stockings and heels, but we removed all of Tiffany's clothes and replaced them with super heavy restraints which are locked tight onto her body. A heavy chain runs from her ankles to her wrists to her neck and then to the wall. This will teach our arrogant CEO some manners!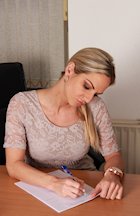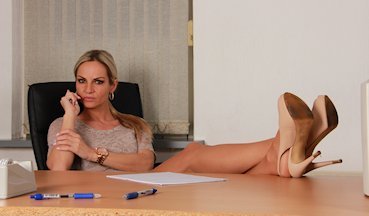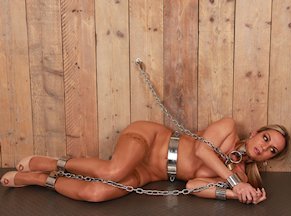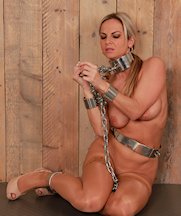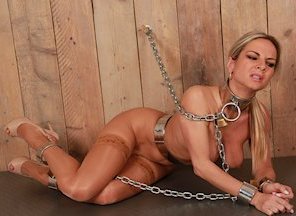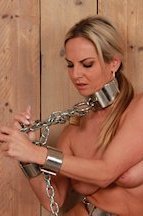 Gorgeous blonde Jenni C is enjoying a good workout on the treadmill in her sporty outfit. She is exercising for quite some time, when all of a sudden she finds herself chained to the treadmill by a huge heavy waist belt! She is locked in a heavy collar and her shirt is gone!! 'What the hell!', Jenni exclaims, as her captor approaches to restart the treadmill. 'Really?' But Jenni doesn't have a choice, after her hands have been padlocked behind her back, she can never reach the controls, so she will have to keep up the pace as her captor plays with the treadmill's speed. This is not what Jenni had in mind! But at least it will be a good workout with all the extra added kilos of metal!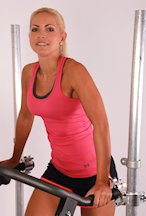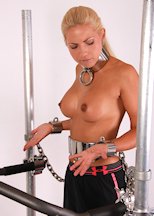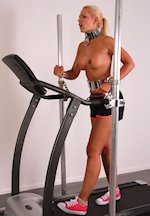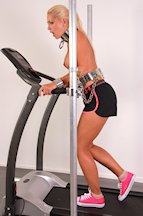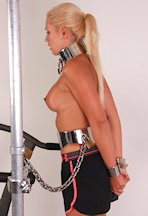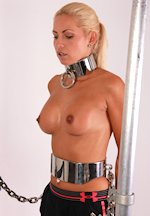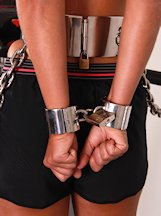 A new installment in our FEATURE series! The lovely Ariel Anderssen is an accomplished ballet dancer (as well as a very kinky bondage model), and she has done many ballet shoots. We asked her to come over in her ballet outfit and perform a little dance for us. "I don't think I can do any full splits today", Ariel said before we started. Well, don't worry about that… we will help you a little! Ariel woke up in heavy chains, collared, and waist belted, with her arms high above her head. Her long legs are pulled all the way into a very extreme full split and chained to the wall. Good exercise Ariel, just stay there for a while, that will stretch those muscles!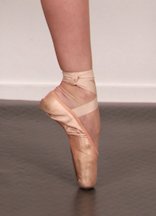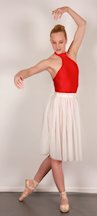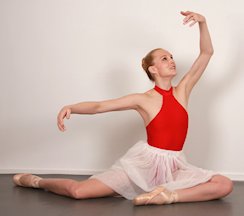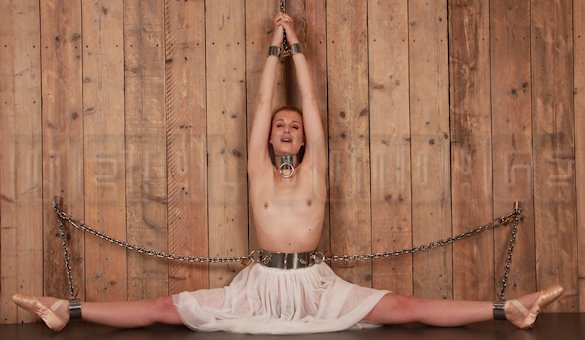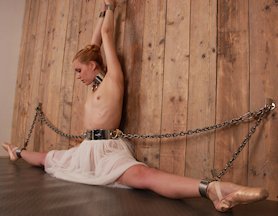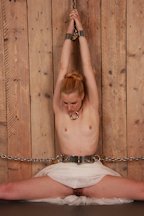 Another fantasy feature update! Wouldn't it be great if you could own a fashion model pet! As it happens, we know one of the most beautiful professional fashion models in the world! The gorgeous Sylvie has travelled to almost every country, modelling for big brands at the most amazing locations! And now she is modelling her pretty dress for us… such a spoiled rich girl! With her tall slender body she would make a lovely pet to have around the house for 24 hours a day! Let's kidnap her!! She can keep her fancy jewelry and lingerie, we just removed her dress and locked her neck in a heavy tight metal collar! Chained to the wall, her only company a pet water bowl, Sylvie wakes up in a completely different world…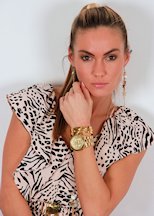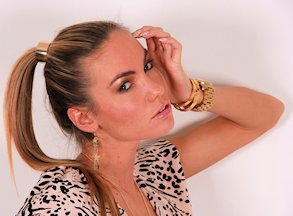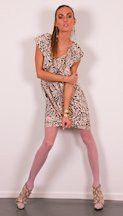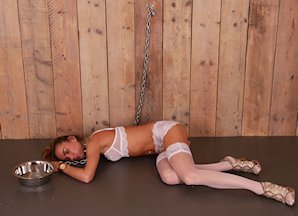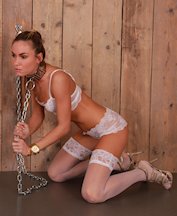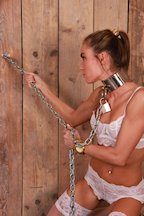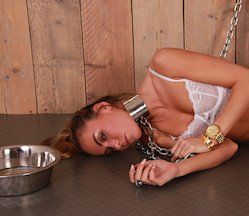 Welcome to a brand new series on MetalBondage.com! We will be doing some requests for fantasy abductions, starring some of our best models in their actual professions, being suddenly put in a heavy metal bondage situation. French model Lily has always been one of our top models, thanks to her unmatched flexibility. Lily is a professional gymnast, so the possiblities are endless! What if her quiet serene gymnast routine was suddenly changed into a horror scenario where she would find herself chained to a wall in an extreme leg split? Her feet aren't even touching the floor! Lily may be stuck in this ultra stretching position for a long time! Can she do it? Poor gymnast girl! Well, it's her own fault for being this flexible.