Search Results For
"reverse prayer"
Misha! The fitness babe who loves (and hates) chastity belts! She just looks incredible in her tight NeoSteel belt, her muscular body is just asking to be restrained in lots of sturdy metal! We have an extreme position for her today: her arms are completely immobilized in a reverse prayer! Her biceps are straining against the elbow cuffs, and the chain prevents her from even moving an inch. Her arms are perfectly pinned behind her back with no movement at all. We can even see her fingertips over her shoulders, it is that tight! When we throw the keys on the floor, Misha can't even reach them. She is helpless in this extreme heavy metal bondage position!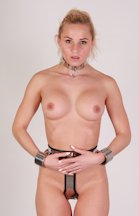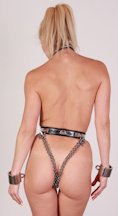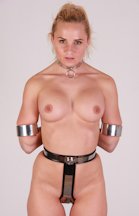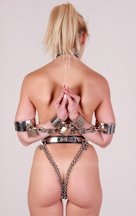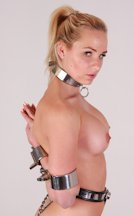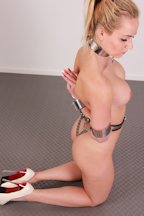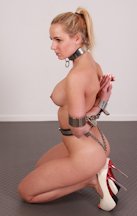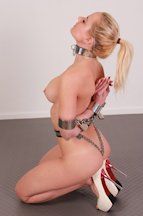 When cute young Vanessa was over from Finland to visit ChastityBabes.com, we just couldn't resist testing her flexibility. Those slender arms can go all the way together, and she can do a reverse prayer too! We just love fresh talent, and Vanessa is about as talented as they come. She did some metal elbow bondage tests, and an inescapable reverse prayer, all in her full chastity gear! That is very impressive for a young inexperienced girl like Vanessa! Don't miss this!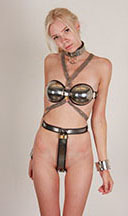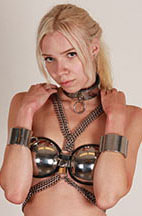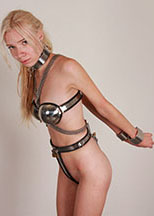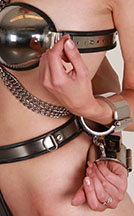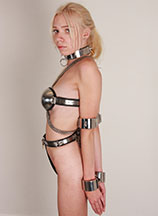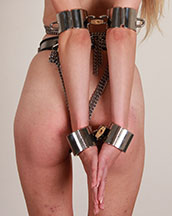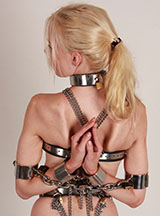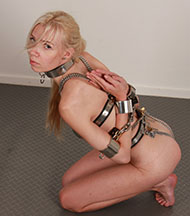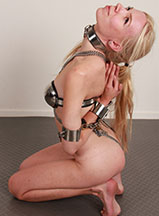 Pling is back! The Swedish bondage model comes with her own chastity belt that is locked onto her most of the time, so that's great, saves us a lot of work. But we always need to lock more gear on Pling, because loves it! So here she is, in the tall Giraffe Collar, chained to a pole, in a tight metal reverse prayer. Now here's the challenge: the keys to her cuffs are on the floor. In a reverse prayer, most models can not even pick them up. But Pling is a struggler, she manages to get the keys, accidentally releasing her extremely long hair out of its bun, which does not help her struggles at all! In fact, she gets more and more tangled in her own hair. Big troubles for Pling!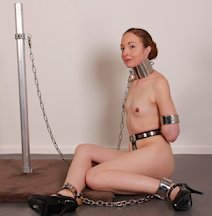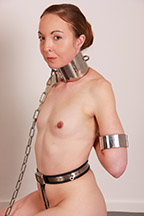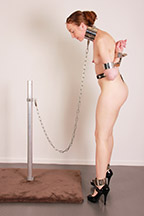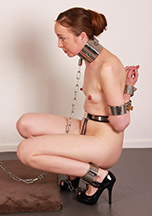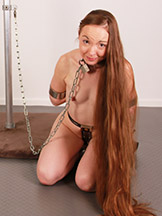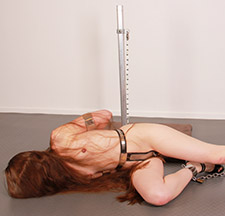 Only 2 bondage models have done this before!! Of course, when Australian bondage model Cobie saw this, she really NEEDED to try this as well! It is brutal! Cobie's arms are pulled up so high she can touch her collar's padlock! There is absolutely no way for her to escape this predicament, and it is exhausting to even be in this position. Cobie can not move her arms at all! Of course, I gave her the keys to frustrate her a little bit more! This is hard metal bondage! Enjoy watching Cobie's struggle and don't forget to read her chastity adventures at ChastityBabes.com!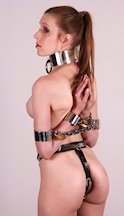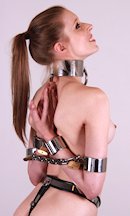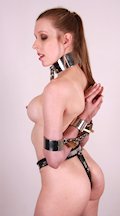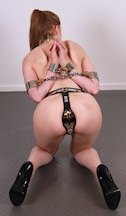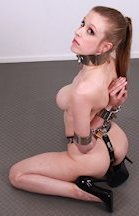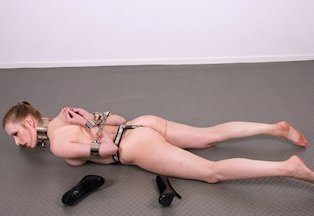 We love to test Ariel Anderssen! This tall blonde bondage diva can handle a lot and she likes to come over to try new and exciting metal bondage positions! Of course, she knows she will be locked in a chastity belt whenever she is visiting (and not just for the duration of the shoot), but we suspect she secretly loves that as well! This week, we suspend her reverse prayer to the ceiling! This is a very tough position, even for Ariel Anderssen! To prevent her from standing up, her ankles are locked together! It is a real predicament, because she is getting more and more tired, and she wants to bend down, but that will pull her wrists up even more. Don't you just love to watch a little suffering?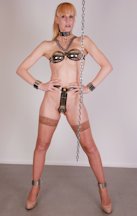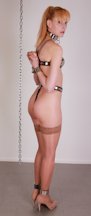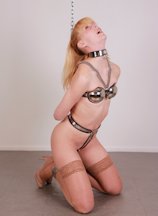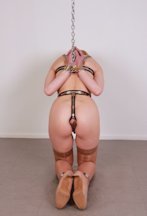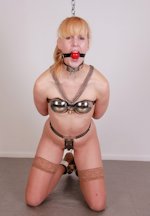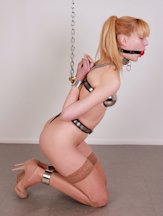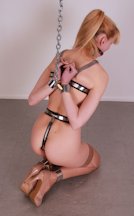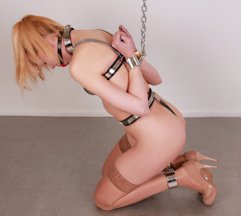 Elise Graves returns! She is such a tough girl, perhaps the toughest of all!! She can do anything, any extreme pose, and she really WANTS TO stretch her limits! There was only one position I could think of that is a challenge for Elise! She has done reverse prayers before, but never in unforgiving metal! I started warming up her shoulder muscles by cuffing her elbows together in heavy steel. The extreme Giraffe Collar made sure I got her attention. Then I proceeded to lock her into the reverse prayer position, with a heavy chain and padlocks to make sure she couldn't move an inch! A bit gag completed this awesome challenge, now let's see her struggle!!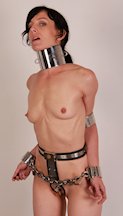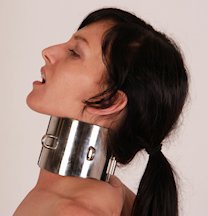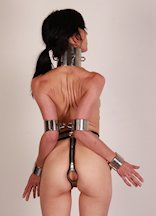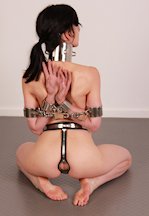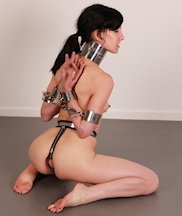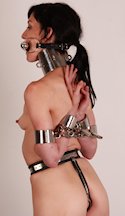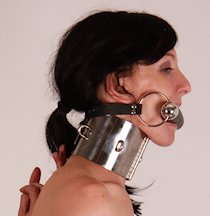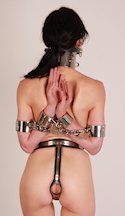 Ariel Anderssen! She is famous for her reverse prayers, but never has she done one in metal. In fact, this may be the first metal bondage reverse prayer on the internet! It is a brutal position that even challenged Ariel! Her second set on this website, we had to lock her into a chastity belt, the main reason why Ariel came to visit us (yes, she actually wanted to be belted!). And her reaction to the VERY tight custom metal collar? 'Yaaay, I love it!'. What a woman, you really have to see this update to believe it!
Dear members: we have worked hard to improve the video quality to a sharper high quality image, please send us feedback!