All updates featuring
Lucy Lauren
Our newest invention is the spring loaded One Bar Prison! Members have asked if it is possible to put a spring mechanism inside the One Bar Prison, so the dildo will be pushed up all the time. We found a very high tension industrial spring that fits! Lucy Lauren was brave enough to try it, but it was pretty scary! The problem, of course, is that it's no longer a real Prison, because she can push down the dildo pole with her hands and step off. She we fiddled Lucy, now she couldn't escape anymore. It was very frustrating, she could go down but she could not step off it. We even made her take off her high heels, which was a HUGE challenge! You have to see the video to see how well this worked! Amazing!
Also: don't try this at home :)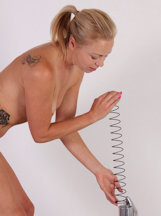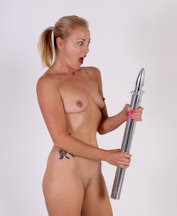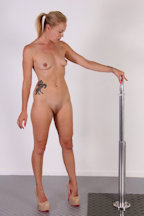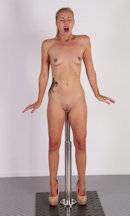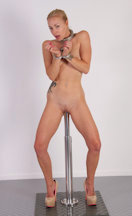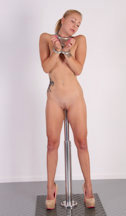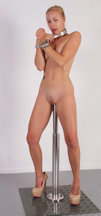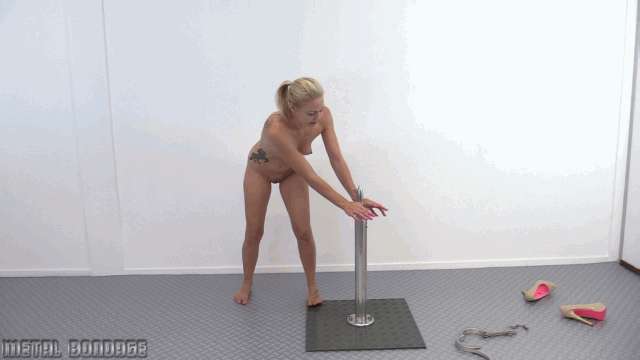 Another new machine this week!! After the Blowjob Machine, we just had to invent a Handjob Machine too! It's great for training girls, and they don't have to do anything at all! The awesome Lucy Lauren was the first to try it. She had no idea what was about to happen, as dildo was not mounted at the start of the shoot. She just guessed her wrist would be locked into the machine. After we restrained her other hand to her waist, we gagged her with a huge ballgag, and then we put the big dildo in place. It was too late for Lucy now, she would have to keep giving a handjob for a long time (a very long time, it turned out). We can modify the speed of the stroke, it is rather brilliant. Lucy got really tired, because we had so much fun with this we couldn't stop playing with the new machine. Machines are awesome!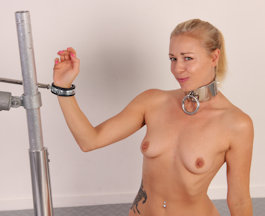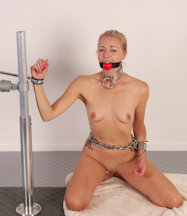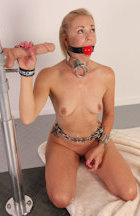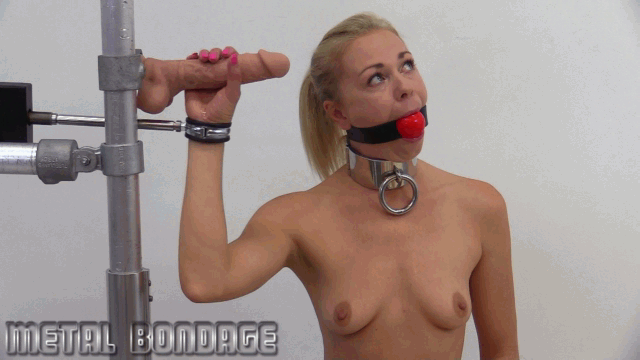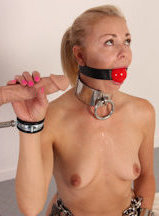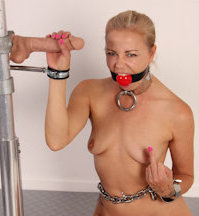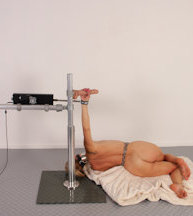 Lucy Lauren is back for a new challenge! Locked in the Rigid Box Tie Device, she wonders what the big pole is for. She soon finds out, as her nipples clamps are locked to the pole, making her stand on her toes. It's a hard challenge, she needs to stay on her toes to avoid pulling on the clamps very hard. But then it gets a lot harder! The attachment point is loosened, completely free to slide down the pole. It is very heavy, and Lucy tries to stop it from sliding, but it pulls her down hard by her nippples. She struggles against the weight, but soon she is down on the floor. Kneeling at the base of the pole, Lucy finds some keys, but she can't reach them. We make her stand up again by pulling the weight back up the pole. And then we release it again… ouch…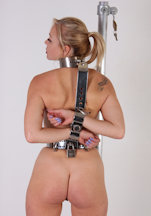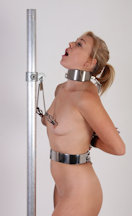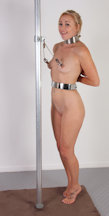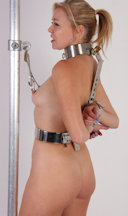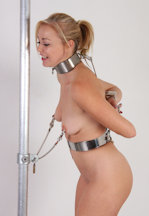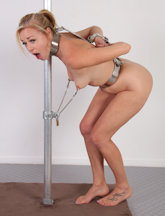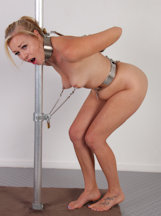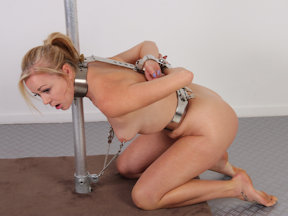 UK girl Lucy Lauren noticed our RigidSpreader escape challenge and she thought she could do it! Well, no problem, let's see her try! Lucy is locked in a super heavy steel collar, so when she rolls over, it will only get harder for her with the weight on her neck. She is a true kinky girl with lots of bondage experience, but she was never locked in rigid steel devices. Watch her roll around completely nude and vulnerable, until she gets her hands on the key and tries to escape the RigidSpreader! Lots of fun!