All updates featuring
Pipe clamps
Tiny redhead Olivia is so curious! She couldn't keep her eyes (and hands) off the Sybian, so I decided to build her a nice bondage frame. Olivia was very excited to go for a ride, she slid right onto the dildo, and planted herself on the Sybian. I let her play with the controls for a bit, but then I secured her wrists and ankles in place. Now I got to play with the controls! The red button controls the vibration and the green one controls the rotation of the dildo inside her. It was a wild ride! Good thing I secured her in place! Olivia is so awesome, you don't want to miss this cute metal bondage update!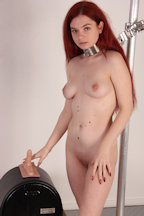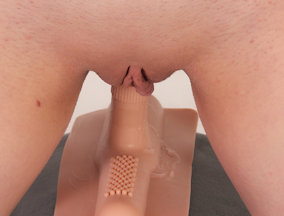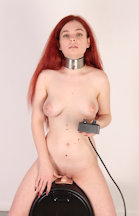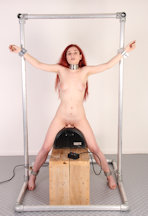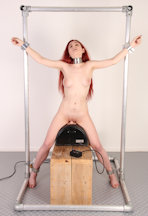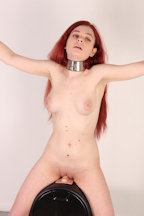 Liz Rainbow is back! Check out all of her legendary updates, we sure like to test this girl! She hates nipple clamps, so that's exactly what we are going to use today. But in order to prevent her from taking them off, we built a frame to hold her in chains with as little movement as possible. Over the top? Yes, of course! We love lots of steel on nude girls! Liz is chained by her ankles, waist, and head (scold's bridle!), while her wrists are clamped to the frame by pipe clamps. All she can do is moan as we play with her nipple clamps.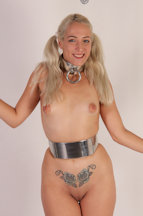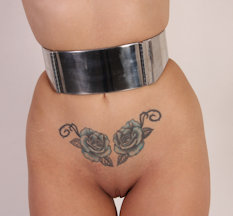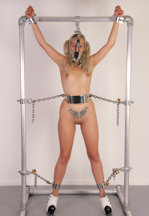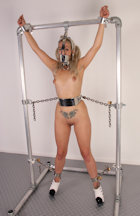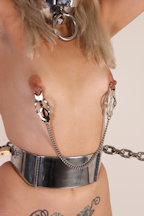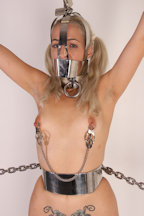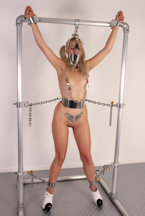 One of the most gorgeous and elegant girls in our model selection, Dominique is a tall stunning professional model who loves a bit of fun. We have been shooting with her for many years, she is always in for some heavy steel bondage. This time, she will be locked in a steel frame, spread eagle style! Dominique gets padlocked into a tight waist belt, a heavy collar, and a scold's bridle. It all locks on so she can't remove it. She is then chained standing spread eagle to a pipe frame. Her waist, ankles, wrists, and head are locked to the frame. She can't move much at all!!