All updates featuring
Blondie Fesser
Liz and Blondie are two hot Spanish girls who love to touch each other! They like kissing, and fondling each other's boobs. So I tried to keep them apart by impaling both of them on One Bar Prisons. Did it work? They only got more horny, and they still tried to touch each other, but leaning over on a One Bar Prison is not without risk! Balancing precariously in their high heels, Liz and Blondie try to grab each other's boobs, and even kiss! Wow, they must be really getting aroused from the 3-ball metal dildos inside of them!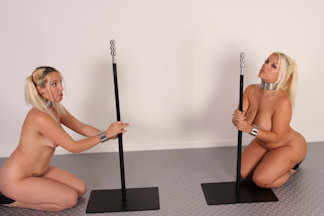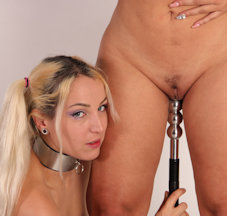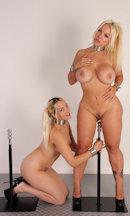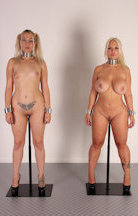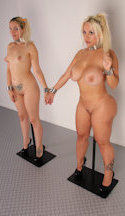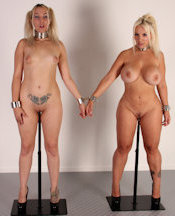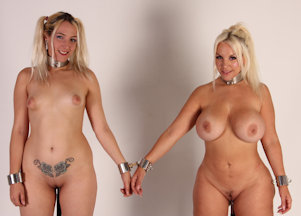 Many requests have been emailed to me for a Double Blowjob Trainer! So I tried building a prototype for best friends Liz Rainbow and Blondie Fesser. Their collars are connected by springs. The idea is that one girl has to deepthroat her dildo to allow her friend a breathing pause. It's a prototype so it needs some tweaking as the girls were stronger than I expected. Well, at least at the start. As soon as they got more tired, this new FoToRo invention started to work! Would you save your friend? Or pull the dildo into your friend's throat so you can breathe? It's a hard choice!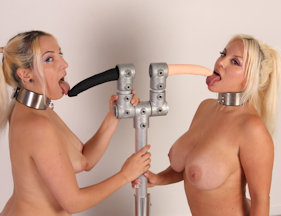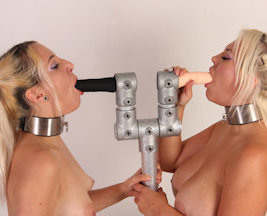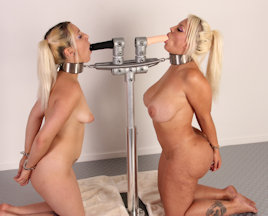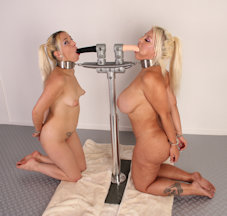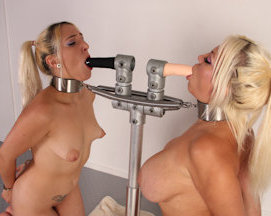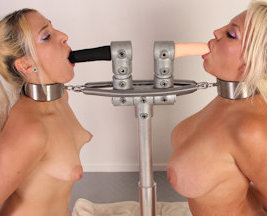 I did a very fun experiment with Liz Rainbow and Blondie Fesser! Liz was locked in full chastity (with plugs) for a day, and she could give her friend Blondie as many orgasms as she wanted. All day long. Blondie was nude and not locked in any chastity gear. At first, both girls thought this would be a very fun day. But as the day went on, Blondie got very tired and Liz got very very horny and jealous. We filmed this experiment mostly for ChastityBabes.com, but of course, we had to lock Blondie to a Sybian during the day. Her collar and wrists are attached to a pole, and Liz was free to play with the remote. It was fun for Liz, but her frustration was growing when she saw Blondie reach another orgasm!