All updates featuring
Carrara Locking Mask
Lolly Anne has never seen any steel bondage items, so she was very intrigued to find a locking mask chained to the wall. There was also a pair of steel mitts which interested her, even if she had no clue how all of this worked. Of course, moments later, she found herself waking up locked in the super tight mask, with her hands secured in the steel mitts. Her clothes were gone, and her nipples hurt a LOT from a pair of nipple clamps. Poor Lolly! She did not tell us about her extremely sensitive nipples, and her mask was so tight she couldn't even speak. Lolly tried everything she could to remove these evil clamps with her fists secured in metal, a painful ordeal!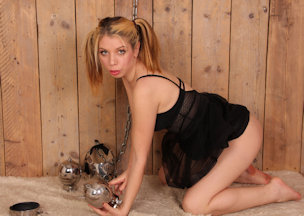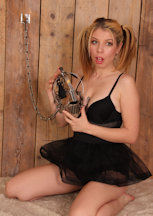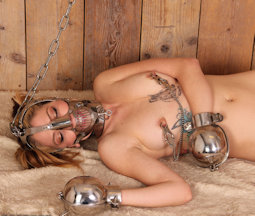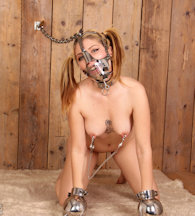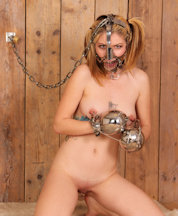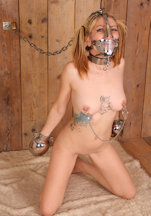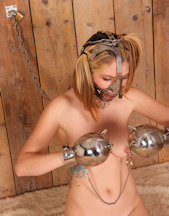 Of all the positions we can do with the RigidSpreader Jo-2, the 'hogtie' one is the most extreme, and there are actually not that many girls who can do it. Of course, talented bondage star Rachel Adams is one of the girls who is tough enough to get into this position and maintain it for a long time. We even locked her in a super tight Carrara face mask, pulling her head back to the RigidSpreader with a chain. This requires a lot of focus, keeping the right angle at the wrists and ankles, head up, stomach muscles tensed… Rachel is such a trooper! She wasn't able to move much, but she suffered beautifully through this extreme metal hogtie! Rachel Adams always loves a challenge!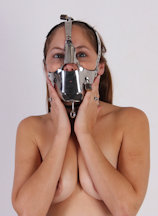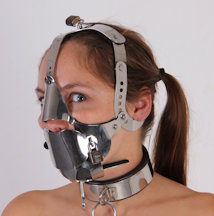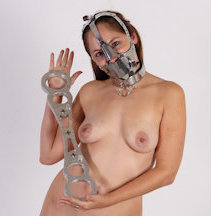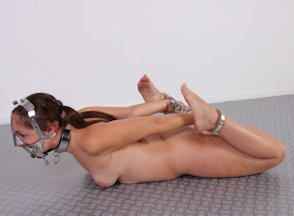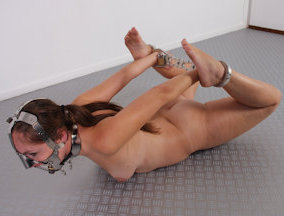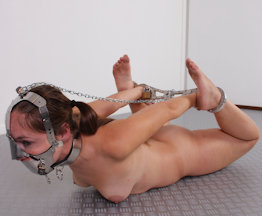 In today's update, a very excited but nervous Polina will get screwed to the wall. Literally. In her full chastity outfit (tight chastity belt and chastity bra) and a locking Carrara mask, this tiny girl anxiously awaits what's next. The mouth plate grill is added and locked to the mask, so we can still see her expressions during the next step: screwing her wrists to the wall! These metal brackets are exactly the size of her wrists, so once she is secured to the wall, she can barely move her arms. Polina tries to get comfortable, but she can't kneel and she can not move much at all. Very challenging and exciting! Polina loved it, and she wants to come back for more metal bondage!!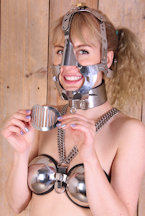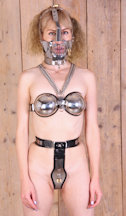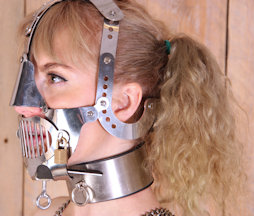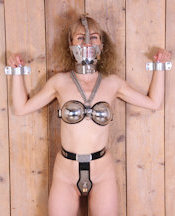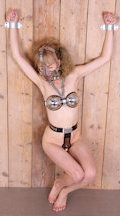 Remember Bree, the amazing flexibile submissive girl from the USA? She is back for more! We love to play with her flexibility. Not only can she do easy full splits, but she also can do crazy back arches. We made a small steel frame to chain her ankles to. Then we bent her around the frame by locking her toe cuffs to her Carrara mask! She supported herself with her arms, creating a beautiful arch with her amazing boobs pointing out straight ahead. We need to work a bit more on this position but it is an amazing first attempt!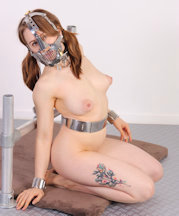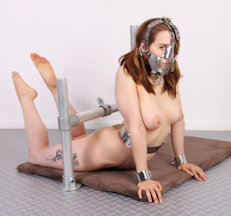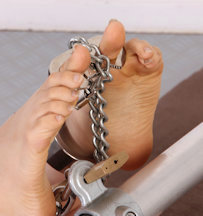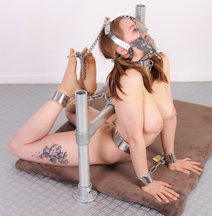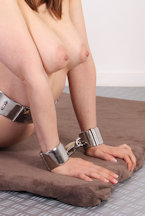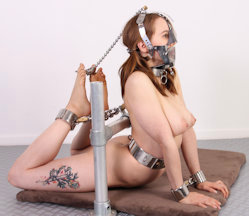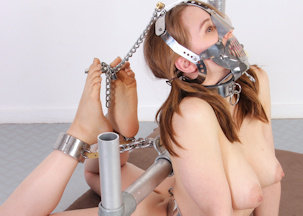 New gear time!! First of all, we are proud to present the Rattlefree Collar! It is an improvement on our standard Padded Collars. By using a big D-ring at the front and a double locking post at the back, there's no more rattling! In some situations, that is a good thing! But the biggest reveal today is definitely the Carrara Locking Mask! What a beautiful piece of gear, made by Carrara Designs! It is a fully adjustable mask, and it locks into place, so our poor test subject Melisa Mendini can't take it off. She can still talk though, she just can't eat (or do naughty things with her mouth). The mouth piece has a separate padlock so she can be fed without taking off the mask! And the chin rest can be raised by turning a screw, to close her mouth if we are tired of hearing her talk. Gorgeous girl in gorgeous gear! Don't miss the picture set and video!